The town of Cody, Wyoming, named for scout, frontiersman, and showman William F. "Buffalo Bill" Cody, commemorates his birthday in style every February. The Buffalo Bill Center of the West celebrates his 168th birthday with a free evening event February 21, 5 – 7 p.m.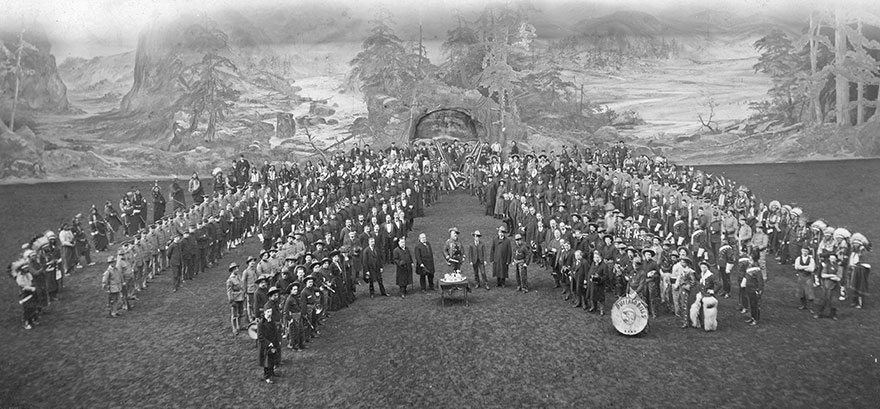 Always a highlight of the evening, the Buffalo Bill Band, under the direction of Dr. Mike Masterson, performs tunes from the era of Buffalo Bill's Wild West in the Center's Cody Firearms Museum Breezeway from 5 – 6:30 p.m. The band then provides accompaniment for a special screening of the 1912 film The Life of Buffalo Bill, produced by the Buffalo Bill and Pawnee Bill Film Company and billed as "Thrilling incidents in the life of the last of the great scouts."
Special guest Sandra Sagala, author of Buffalo Bill on the Silver Screen, published in 2013, discusses the subject in the Coe Auditorium from 5:30 – 6:15 p.m. and signs copies of the book, for sale at the Center's Museum Store, following the presentation. Buffalo Bill on the Silver Screen is the flagship volume in the University of Oklahoma's "William F. Cody Series on the History and Culture of the American West."
Throughout the evening, families with children enjoy a "Make Your Own Buffalo Bill Movie Poster" activity in the Buffalo Bill Museum, open to all during the party.
Light refreshments and a cash bar round out the evening.
Other events in the community commemorating Buffalo Bill's birthday include the annual birthday ball thrown by the local Knights of Columbus on Saturday evening, February 22, and a wreath-laying ceremony conducted by the Cody High School FFA at 11 a.m. February 26. The wreath-laying takes place at The Scout sculpture on the north side of the Center. For more information on these and other activities in Cody, visit www.codychamber.org.
For more information on the Center of the West's birthday party and other upcoming events, visit centerofthewest.org/calendar.
---
Since 1917, the Buffalo Bill Center of the West has been committed to the greatness and growth of the American West, keeping western experiences alive. The Center, an affiliate of the Smithsonian Institution, weaves the varied threads of the western experience—history and myth, art and Native culture, firearms, and the nature and science of Yellowstone—into the rich panorama that is the American West. The Center of the West has been honored with numerous awards, including the prestigious 2012 National Tour Association's Award for "favorite museum for groups," the 2013 TripAdvisor Certificate of Excellence, and, most recently, one of the "Top 10 Must See Western Museums" by True West magazine.
For more information, visit centerofthewest.org or visit the Center's page on Facebook.