On any given day during the busy summer season at the Buffalo Bill Center of the West, visitors in the Whitney Western Art Museum can be found creating their very own "masterpiece." But wait—they're not wielding brush and paint; they're seated at a computer kiosk, and their canvas is digital.
Now, the popular "Create Your West" activity expands beyond the physical space of the Whitney museum with a move to the Center's website, broadening its reach to a worldwide audience. Introduced as one of several hands-on activities when the Whitney reopened in 2009 after renovation, the new program, called "History Canvas," has been revamped for a web-based audience.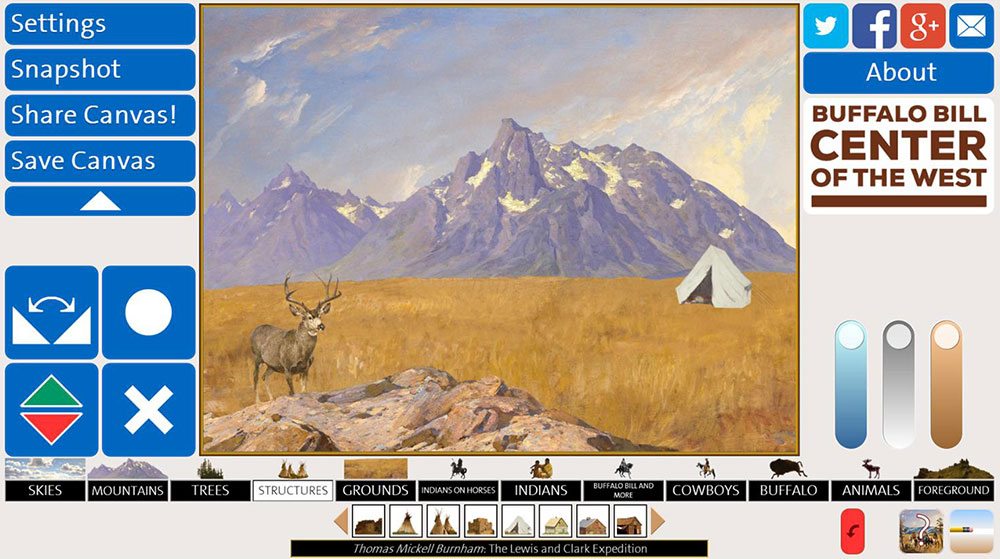 Using images of various elements from paintings in the Center's art collection, the online interactive program encourages users to mix and match them to create their work of art. "This is a great way for us to share our art collection with a much larger audience," says George Miller, Outreach Educator and Web Content Creator for the Center's Interpretive Education Department. School Services Coordinator Megan Smith adds, "The interactive is both educational and enjoyable, so will appeal to people of all ages, young and old alike."
"As people explore the art and make decisions about how they would compose a painting themselves, they engage with the art in a way they otherwise might not," continues Miller. "And we're looking forward to the day when someone who has explored elements of our art collection online through 'History Canvas' walks into the Whitney and discovers the original works from which they were created."
Customizing the program for use on the Center's website was a collaborative project coordinated by Miller, who worked with Developer Michael Romanovsky, as well as other Education and Information Technology staffers at the Center, notably Smith, IT Technician Seth Johnson, and Web Developer Lloyd Johnson. The project was made possible through a generous donation by J Bar 9 Ranch, Cody, Wyoming.
Once an online visitor has created his work of art, "History Canvas" offers sharing options, including e-mailing the finished design, and sharing through the social media sites Facebook, Twitter, and Google+. Miller notes, "Social media is important to many of our visitors, and now they can share their experiences through their online social circles and have fun with the program."
Explore "History Canvas" and create a work of art at canvas.centerofthewest.org.
---
Since 1917, the award-winning Buffalo Bill Center of the West has devoted itself to sharing the story of the authentic American West. The Center is an affiliate of the Smithsonian Institution. For additional information, visit centerofthewest.org or the Center's Facebook page.