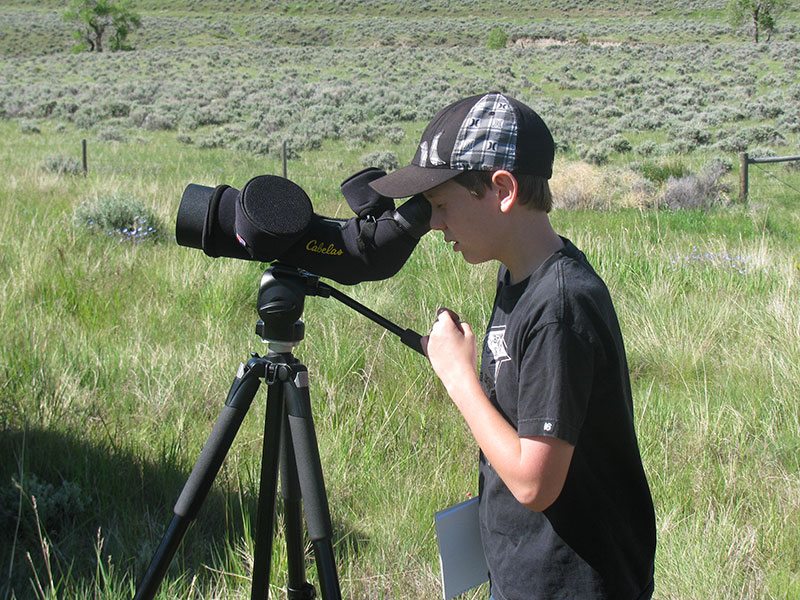 This summer, the Buffalo Bill Center of the West has three adventures planned for middle-school-aged students. Discovery Field Trips offer kids the opportunity to enjoy the outdoors while learning about the nature, wildlife, and geology of the Bighorn Basin and Greater Yellowstone region. Activities range from camping and canoeing to counting rabbits and chasing butterflies. No prior experience is necessary.
Open to those who will be entering grades 7, 8, or 9 in the fall, the trips take place June 9 – 10, July 8 – 9, and August 4 – 5. Students can sign up for any or all trips.
June 9 – 10: "An Eye on Eagles" takes students to the field to assist the Center's Draper Natural History Museum Curator Dr. Charles Preston with real scientific research, watching golden eagle nests, conducting nighttime surveys for rabbits, and studying eagle prey remains in the lab. "An Eye on Eagles" includes an overnight stay at the Buffalo Bill Center of the West.
July 8 – 9: During "Butterfly Bonanza," students take part in a butterfly survey to learn about patterns and distributions of butterflies in the Rocky Mountain West, and even plant a butterfly garden. "Butterfly Bonanza" includes an overnight camping trip to Sunlight Basin.
August 4 – 5: During "Paddling through Time," participants explore the amazing geology of Bighorn Canyon from the water while learning to canoe. "Paddling Through Time" includes camping along the shores of Bighorn Lake.
Each Discovery Field Trip begins at 8:30 a.m. from the Center and finishes the following afternoon at 4:30 p.m. Participants should pack a lunch for the first day; other meals are included in the cost of the trip. Space is limited, so parents are encouraged to register their children early. Cost for each trip is $70 per student for Center of the West members, and $75 for non-members. A limited number of scholarships are available.
For more information, and to register your middle school student for one or more of the trips, contact Emily Buckles at emilybuckles or call her at 307-578-4110. Find out more about each trip on our on Educational Field Trips page. Discovery Field Trips are made possible through a grant from the R. Harold Burton Foundation.
---
Since 1917, the award-winning Buffalo Bill Center of the West has devoted itself to sharing the story of the authentic American West. The Center is an affiliate of the Smithsonian Institution. For additional information, visit centerofthewest.org or the Center's Facebook page.