William F. "Buffalo Bill" Cody, namesake of the town of Cody, Wyoming, as well as the Buffalo Bill Center of the West, would be 169 years young this year, and the Center celebrates that fact with a free event on Friday, February 27, 5 – 7 p.m.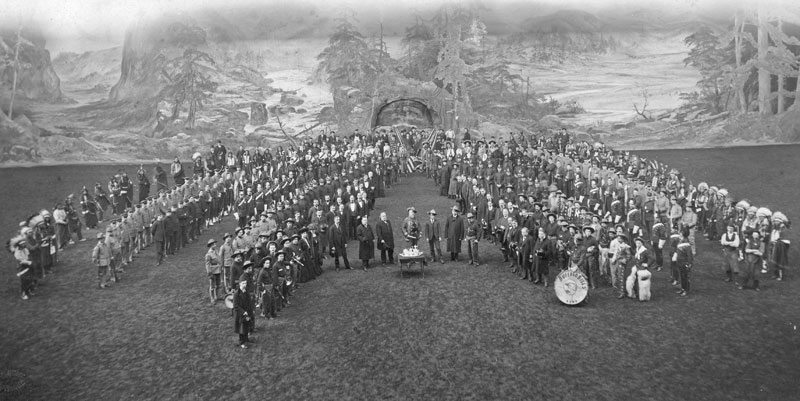 This year's birthday bash highlights the music of Buffalo Bill's Wild West through the live entertainment of the Buffalo Bill Band under the direction of Mike Masterson. The band begins promptly at 5 p.m. and plays through the evening. In addition to the traditional favorites, the band unveils a piece of music new to their repertoire titled "Buffalo Bill," which was composed by a member of the original Wild West band, Carl Frangkiser.
At the end of the evening, attendees are welcome to visit with band members. Families with children also enjoy music-themed activities throughout the evening. Birthday cake, snacks, and a cash bar round out the Center's birthday bash.
Additional events in town commemorate Buffalo Bill's birthday. On Thursday, February 26—Cody's actual birthdate—the Cody High School FFA conducts an annual wreath-laying ceremony at the Buffalo Bill—The Scout sculpture just north of the Center of the West at 11 a.m. On Saturday, February 28, the annual Buffalo Bill Birthday Ball takes place at Cody Auditorium. For more information on these events, visit www.codychamber.org.
To keep up with all the events and programs coming up at the Buffalo Bill Center of the West, visit our online calendar. Effective February 26, the Center's hours shift to a spring schedule of 10 a.m. – 5 p.m. daily.
---
Since 1917, the award-winning Buffalo Bill Center of the West in Cody, Wyoming, has devoted itself to sharing the story of the authentic American West. The Center is an affiliate of the Smithsonian Institution. For additional information, visit centerofthewest.org or the Center's Facebook page.