Your most important travel tool… a phone?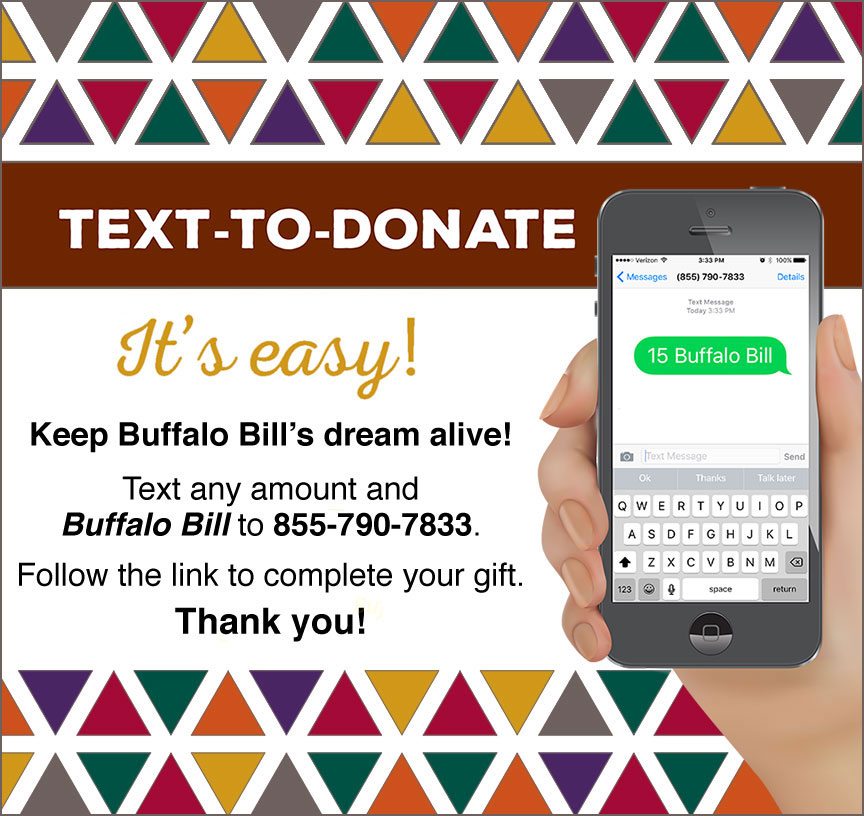 A great many of our visitors at the Buffalo Bill Center of the West wield their smart phones for everything from checking the Center's hours, buying admission tickets, taking photographs, sharing their experiences in our museums on social media—and sometimes to text family members to gather the troops spread out throughout the Center and its museums. To our delight, they use their phones to access additional museum content through our iScout mobile platform. Oh, and occasionally they even make phone calls…
The Center of the West launches "Text-to-Donate"
Those same indispensable smart phones now give our visitors the opportunity to quickly and conveniently make a small donation on the spot to support the Center in general or specific programs they've enjoyed during their visit. A non-profit institution, the Center's mission is to inspire, educate, and engage global audiences through an authentic experience with the American West. We depend on donations to help us fund and enhance our public programming, and "text-to-donate" is a way for guests who are indeed inspired, educated, or engaged to make a quick donation without the hassle of writing a check, making a call, or visiting an office; they can simply donate using that phone that is now so much a part of nearly everyone's vacation.
It's simple: text any amount to 855-790-7833. Further details below.
Current text-to-donate options for the Center
As we launch our text-to-donate program, these are the current options and instructions for each. Please note that using data rather than wifi makes for faster processing.
A general donation to the Center
Keep our namesake Buffalo Bill's dream "to teach people by seeing history" alive. Text any amount and the words Buffalo Bill to 855-790-7833. Follow the link to complete your gift.
Visitor programming
During the summer our education department offers three guided tours a day. Those who love a tour they took may text any amount and the word Tour to that same number, 855-790-7833 and follow the link.
The authentic chuck wagon
Our cook, Ron, demonstrates chuck wagon cooking and gives away samples of biscuits, beans, and camp coffee during the summer. Now our appreciative visitors may text any amount and Beans to the same number, 855-790-7833, and follow the link to donate to that program.
Draper Museum Raptor Experience
Folks adore our live birds of prey and their daily programs—and now our new bald eagle housed in the Braun Garden. Show your support of these avian ambassadors by texting any amount and Raptor to, you guessed it, 855-790-7833 and, (right again), follow the link to complete the transaction.
As always, we greatly appreciate each and every donation and expression of wonder, joy, and enlightenment we are privileged to see at the Buffalo Bill Center of the West. For more information about text-to-donate or donations in general, please contact our Development staff by e-mail at [email protected] or phone at 307-578-4008.