On August 16, 6:15 p.m., Dr. Charles R. Preston presents the third and final lecture of a summer series exploring Transboundary Conservation in the Greater Yellowstone Ecosystem (GYE). Sponsored by the Buffalo Bill Center of the West's Draper Natural History Museum and the Greater Yellowstone Coalition, the free talk takes place at the Center of the West and is followed by an hors d'oeuvres reception with cash bar.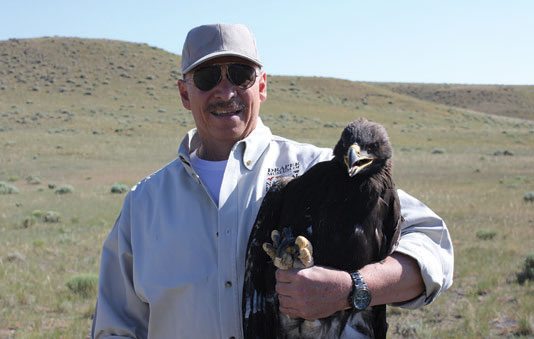 Preston, the Willis McDonald IV Senior Curator-in-Charge of the Draper Museum, asks the question, "Where do we draw the lines?" on and around the GYE and the many animals that move across the human-imposed boundaries. The lecture coincides with the special exhibition Invisible Boundaries: Exploring Yellowstone's Great Animal Migrations, on view at the Center through the end of the year, and featuring the work of Arthur Middleton, Joe Riis, James Prosek, and Jenny Nichols.
Widely recognized as a leading authority on wildlife and human-wildlife relationships in the GYE, Preston is trained as a wildlife ecologist. His current research explores breeding ecology and predator-prey dynamics of golden eagles and other large raptors in shrub-steppe environments of Greater Yellowstone and the western Unites States. He has authored, co-authored, or edited seven books as well as numerous scholarly and popular articles on a wide range of topics in ecology and wildlife conservation.
For more information on the Transboundary Conservation in the Greater Yellowstone Ecosystem series, please contact the Greater Yellowstone Coalition's Jenny DeSarro at [email protected] or 307-527-6233; or Draper Curatorial Assistant Bonnie Smith at [email protected] or 307-578-4020. For the Center of the West's full calendar of events, explore centerofthewest.org/calendar.
---
Since 1917, the award-winning Buffalo Bill Center of the West in Cody, Wyoming, has devoted itself to sharing the story of the authentic American West. The Center is an affiliate of the Smithsonian Institution. For additional information, visit centerofthewest.org or the Center's Facebook page.