After more than three-and-a-half decades, the Buffalo Bill Center of the West's longest running public event is still going strong. The 36th annual Plains Indian Museum Powwow takes place Saturday and Sunday, June 17 and 18 at the Center's Robbie Powwow Garden. The Powwow celebrates the Native cultures of the Plains by bringing together Native dancers, drum groups, families, along with artisans and appreciative spectators.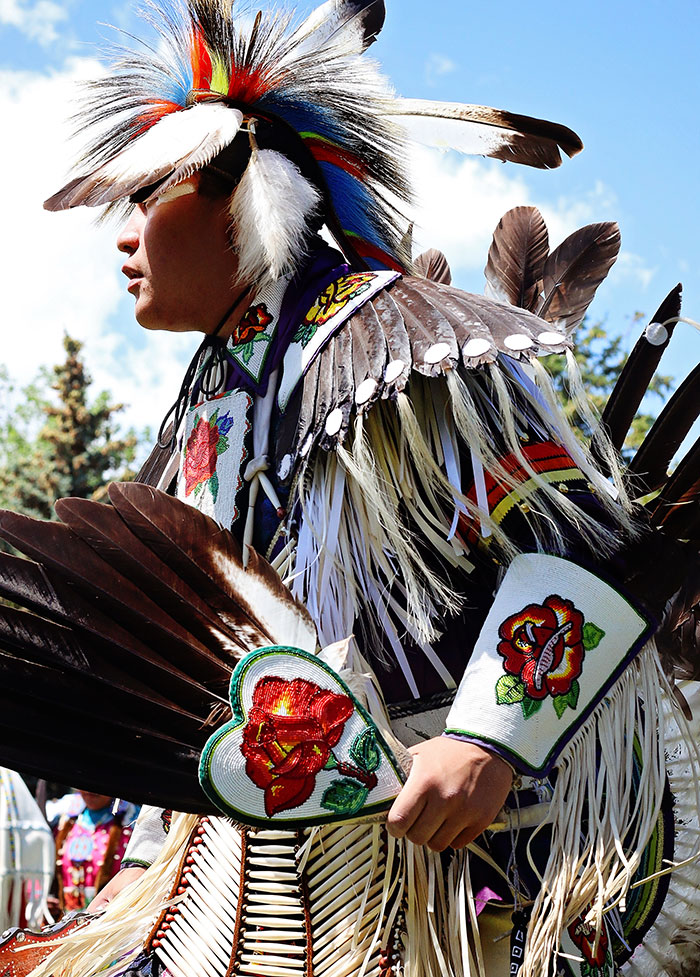 Grand entries start off dance sessions at noon and 6 p.m. Saturday, June 17, and noon Sunday, June 18. After a welcome from Center of the West officials and an opening prayer, host drum Crow Song Dogs from Crow Agency, Montana, sings flag and victory songs.
Competitive dancing begins after the posting of flags by color guard Apsáalooke Nation Guard from Crow Agency, Montana. Arena Director for this year's Powwow is Chico Her Many Horses, and Master of Ceremonies is Corky Old Horn. Invited drums participating include Arapaho Nation, Fights Alone, Littleshield, Nighthawk Juniors, River Bottom, and White Bull. Additional drums are welcome and may register at the dancer registration table upon arrival.
Vendor booths surround the perimeter of the garden and feature authentic Native-made arts, jewelry, photography, beadwork, and more. Vendor space is still available and interested vendors who are enrolled members of North American Indian tribes and nations are encouraged to contact Hunter Old Elk, Plains Indian Museum Curatorial Assistant, at 307-578-4012 or [email protected] to reserve a space.
Dancers range in age from Tiny Tots (children 6 and younger) to Golden Age (55 and older). Competitive dance categories include traditional, grass, and fancy for men and boys; and traditional, fancy shawl, and jingle for women and girls. Specials include Women's Fancy, Men's Traditional, Men's Chicken Dance, and Team Dancing.
Admission to the Plains Indian Museum Powwow is separate from general admission to the Center itself. Tickets (good for one day only), are available at the Powwow Garden gate during the event, and at the Center's admissions desk for the week preceding. Gates open at 9:30 a.m. Tickets are $10 for adults 18 and older; $5 for youths 7 to 17; and free for children 6 and younger.
Center of the West members receive a $1 discount with a valid membership card. Dancers and drums participating in the Powwow, as well as their family members, are admitted free to the Powwow and to the Center for the weekend.
The Robbie Powwow Garden, located at the southeast corner of the Center of the West's campus, is an outdoor grass amphitheater with limited bleacher seating; visitors may bring lawn chairs or blankets. In addition to the arts vendors, the Powwow also features fry bread and Indian taco vendors, Kettle Korn, and other food and beverage concessions.
The Plains Indian Museum Powwow is sponsored through the generous support of Choice Aviation; The Local; Whole Foods Trading Company in Cody, Wyoming; Artie Yellowhorse Jewelry; and Frontier Fortitude Photography.
For general visitor information about the Buffalo Bill Center of the West or the Plains Indian Museum Powwow, visit centerofthewest.org or e-mail [email protected]. To find out about all upcoming Center programs and events, go to centerofthewest.org/calendar.
---
Since 1917, the award-winning Buffalo Bill Center of the West in Cody, Wyoming, has devoted itself to sharing the story of the authentic American West. The Center is an affiliate of the Smithsonian Institution. For additional information, visit centerofthewest.org or the Center's Facebook page. #100YearsMore