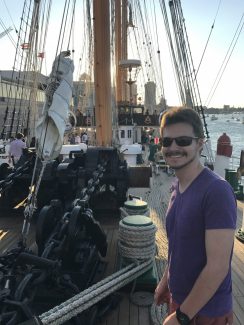 Hi! I'm Conor McCracken-Flesher and, as I often have to remind myself, I'm a historian. I'm also the new Firearms Records Intern at the Buffalo Bill Center of the West. As of a month or so ago I graduated from Boston University, with a BMus in Musicology and a BA in History. Together those two degrees give me a unique perspective on the history of the world that I hope to expand and apply here at the Buffalo Bill Center of the West.
During my four undergraduate years I started turning into a Bostonian. That's why I took some time back in my hometown of Laramie to remember how to be a Wyomingite before coming up to Cody for this internship. Thankfully some of the old Wyoming habits have returned. It's great to be back in the state I grew up in, to be working at the Buffalo Bill Center of the West, and to see the Firearms Museum for the first time.
Hold on—the first time?
Yep.
While I've visited Cody many times before (I even used to march in the parade!) I never set foot in the Firearms Museum before last Tuesday. Now though I can safely tell you that it's a fascinating museum. There's no better place to see the artifacts whose history we track daily down in the records department on display. So far it's been a bit of a whirlwind; between helping collectors find information about firearms, plumbing the stacks of the McCracken Research Library to piece together untold stories, and writing what I find up for blogs, I have my work cut out for me. If you see posts from me up here on a weekly basis, then I'm keeping on top of it.
Next week, I want to give you—anyone who's reading this—an insight into the way this new intern—me—thinks. Last year I mostly thought about Germans. I was writing my thesis, laying bare the connection between German choral culture and national identity in the nineteenth century. I'm still recovering. It's always hard to move on knowing there's more to say.
The short version is that before Germany was a nation, it needed something to bind the people living in the different German kingdoms together. Male choirs filled that role. Almost every city and town had one, and they gathered together in massive festivals where they ate, drank, and socialized. These festivals solidified their concept of a broader German community and helped to put them in the mindset for unification.
Next time I post I'll try to connect this past year that was so focused on Germans with this summer, during which firearms will take center stage. It'll be somewhat more dense, but also much more interesting than me talking about myself. Keep an eye out for it!