Frank H. Goodyear III, co-director of the Bowdoin College Museum of Art in Brunswick, Maine, knows a thing or two about the history of photography. When he learned that F. Jay Haynes, one of the era's most famous photographers, had joined President Chester Arthur's expedition to Yellowstone National Park in 1883, he had reason enough to take note. In fact, he eventually wrote a book about the president's trip using Haynes's images—and talks about his work with Buffalo Bill Center of the West friends on July 26.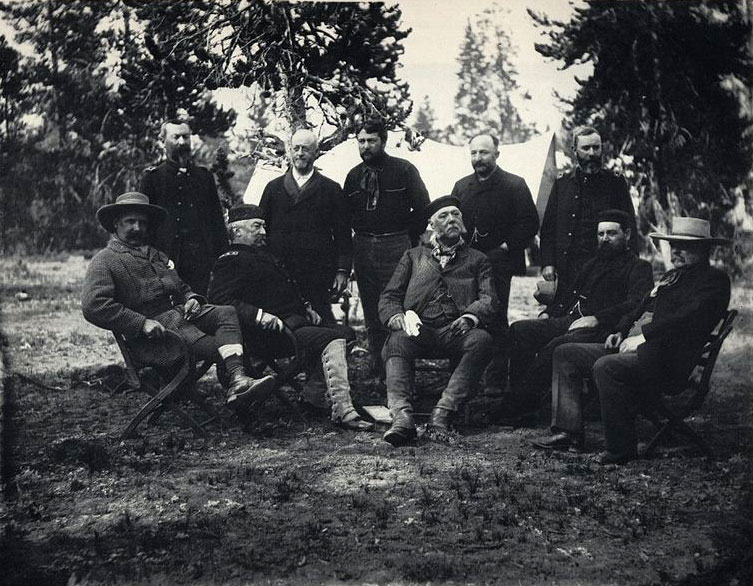 On July 26, 5:30 p.m. in the Buffalo Bill Center of the West's Coe Auditorium, Goodyear shares his 2013 work, A President in Yellowstone: the F. Jay Haynes Photographic Album of Chester Arthur's 1883 Expedition. The free lecture explores the history and significance of the excursion using images from Haynes's photo album of the trip. A reception with appetizers and cash bar, and a book-signing follow.
From the White House on the morning of July 30, 1883, Arthur departed for Yellowstone—established by an act of Congress only 11 years earlier—beginning the longest trip he'd ever taken. The president's host and primary guide was Philip Sheridan, the famed Union general who then served as the commander of the Military Division of the Missouri. Along with Haynes, the presidential party embarked on a month-long overland journey, traveling northward from the railroad depot in Green River, Wyoming, through the area's Wind River and Teton Ranges into Yellowstone. To commemorate the expedition, Haynes created the album of photographs from the group's travels.
A graduate of Princeton University (BA) and the University of Texas at Austin (MA and PhD), Goodyear has conducted research in the history of photography, American art history, and the history of the American West. He is the author of a dozen scholarly essays and six books, including Red Cloud: Photographs of a Lakota Chief (2003), Faces of the Frontier: Photographic Portraits from the American West, 1845–1924 (2009), and, with Joel Dinerstein, American Cool (2014). His most recent project concerns artist Winslow Homer's relationship with photography, the subject of a new exhibition at the Bowdoin College Museum of Art this summer.
Goodyear received support from the Yellowstone Foundation for his Haynes book project. This special event is hosted by Linda and Reid Murchison, and Anne Young and Jim Nielson in memory of Harriet and Ed Spencer, longtime supporters and cherished friends of the Center.
Early arrival is advised as limited seating is available.
---
Since 1917, the award-winning Buffalo Bill Center of the West in Cody, Wyoming, has devoted itself to sharing the story of the authentic American West. The Center is an affiliate of the Smithsonian Institution. For additional information, visit centerofthewest.org or the Center's Facebook page.