On Wednesday, July 10 at 5:30 p.m. Tony Foster, an artist who captures wilderness landscapes using watercolors, will present an evening lecture in the Coe Auditorium at the Buffalo Bill Center of the West.
The Exploring Beauty—35 Years Making Art in Wild Places lecture will bring listeners closer to learning about the process of working in the field as an artist, the challenges faced when painting outdoors with minimal supplies, and contending with harsh climates and few creature comforts.
Foster—a skilled artist from England—has traveled to 15 countries, painting in wild and extreme places in the world.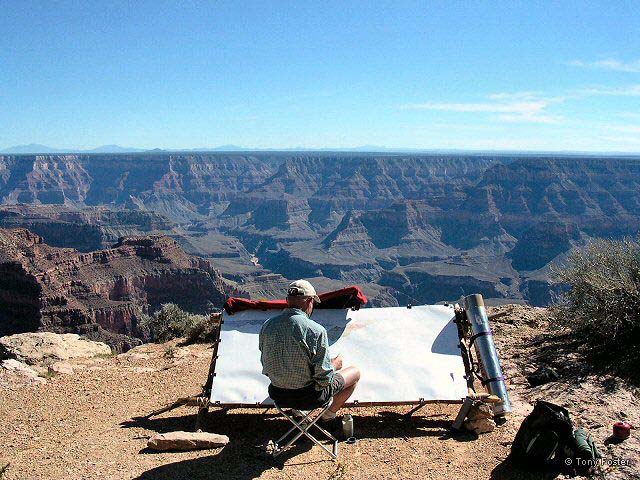 So far, Foster has completed 16 journeys and is currently working on his 17th. He travels slowly, on foot or by canoe or raft, and carries his painting and camping equipment. Each journey can take up to ten years to complete.
"He works on his art while he is on these journeys; this is what impresses me the most, that he doesn't take sketches and then work up the sketches into large scale paintings in his studio. He actually works at scale," said Karen McWhorter, Scarlett Curator of Western American Art, at the Center's Whitney Western Art Museum.
Some of his journeys include subjects ranging from mountains and canyons, rainforests and deserts, the Arctic and the tropics, to volcanos, coral reefs, and iconic places such as the Grand Canyon. He frequently endures extreme weather conditions, including high winds, extreme heat, rain, hail, snow, crumbling slopes, underwater currents and more to reach his remote sites. His most recent journey was the Green River in Utah.
"Tony is really working in a contemporary artist explore mode, he literally gets out there into some of the most remote wilderness areas in the U.S. and the world over and brings us depictions of landscapes that are so fragile and beautiful," McWhorter said.
In addition to the lecture, Foster will explain his approach and process as he works to complete paintings from his Green River journey, July 9–13, 2:30–3:30 p.m., and again from 4 – 5 p.m. each day. Foster will be set up in the Whitney Museum's Inspiring Sights alcove, displaying his watercolors-in-progress as well as a completed, framed painting.
Foster's paintings and complete journeys have been shown throughout the world including at the Yale Center for British Art, New Haven, CT; Royal Watercolor Society, London; Frye Art Museum (Retrospective), Seattle, WA; the Royal Geographical Society, London; Smithsonian National Museum of Natural History, Washington, D.C.; and the Phoenix Art Museum, Phoenix, AZ.
To stay informed about Center of the West programs, events, and activities, visit centerofthewest.org/calendar.
---
Since 1917, the award-winning Buffalo Bill Center of the West in Cody, Wyoming, has devoted itself to sharing the story of the authentic American West. The Center is an affiliate of the Smithsonian Institution. For more information, visit centerofthewest.org or the Center's Facebook page. #centerofthewest
Contact: Nicole Harrison, Whitney Western Art Museum, [email protected], 307-578-4051.