When:
February 22, 2014 @ 12:00 am – 2:00 am
2014-02-22T00:00:00+00:00
2014-02-22T02:00:00+00:00
Where:
Buffalo Bill Center of the West
720 Sheridan Avenue
Cody, WY 82414
USA

Buffalo Bill's Birthday Bash
Wish Buffalo Bill a "happy birthday!" at a free event at the Buffalo Bill Center of the West Friday, February 21, 5 – 7 p.m. William F. "Buffalo Bill" Cody's birthday is February 26, and each year we celebrate the event with a free birthday party on a Friday evening close to the date.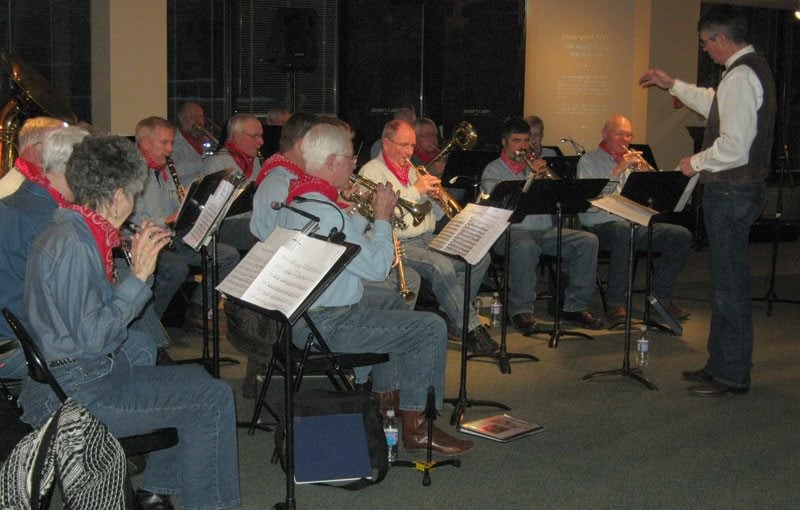 The Buffalo Bill Band is always a highlight of the event. Mike Masterson leads a lively group of musicians as they play tunes from Buffalo Bill's Wild West. Cody Firearms Museum Breezeway, 5 – 6:30 p.m.
At 5:30 p.m. in the Coe Auditorium, join author Sandy Sagala with her presentation about the topic of her latest book, Buffalo Bill on the Silver Screen. She then moves to our Museum Store where she signs copies of the book for sale.
For families and kids, you can make your own Buffalo Bill movie poster at a stop in the Buffalo Bill Museum.
Finally, enjoy a showing of the 1912 film The Life of Buffalo Bill at from 6:30 – 7 p.m., with accompaniment by the Buffalo Bill Band.
This silent film features William F. Cody appearing as himself, along with an unknown actor playing a younger Buffalo Bill. Produced by the "Buffalo Bill and Pawnee Bill Film Company" and directed by John H. O'Brien, it offered what was billed as "Thrilling Incidents in the Life of the Last of the Great Scouts." It is not clear where it was filmed—possibly in Wyoming or Nebraska. Originally a longer production in three reels, what survives is a roughly 15-minute presentation, edited in 1959 by Blackhawk Films from a 35-mm film in the Library of Congress. Though scratchy and blurry, the film is still a remarkable relic from the early years of the motion picture industry, as well as a rare glimpse at an aging, though still fairly spry, William F. Cody in the twilight of his career. Our presentation will mark the first time we've screened the film here in many, many years, as well as the first time the Cowboy Band has provided musical accompaniment for it.
And of course, enjoy light hors d'oeuvres and a cash bar in the Hub throughout the party.
---
A "Buffalo Bill" weekend in Cody!
Our celebration at the Center is just one of the events in town centered around Buffalo Bill's birthday.
The Buffalo Bill Birthday Ball, a charity event organized by the Knights of Columbus, takes place Saturday, February 22 with dancing, a prime rib dinner, live and silent auctions, and turn-of-the-century dress.
The Cody High School FFA chapter hosts its annual wreath-laying ceremony at Gertrude Vanderbilt Whitney's sculpture Buffalo Bill—The Scout on Buffalo Bill's actual birthday, February 26, 11 a.m.