Camels, Climbing, and St. Catherine: An Expedition to Egypt
By Mark Jenkins
March 14, 2018
7 p.m. (preceded by student presentations that begin at 6 p.m.)
Join us for a free lecture by National Geographic writer Mark Jenkins, a part of the University of Wyoming's "World to Wyoming" Lecture Series.
Hidden in the heart of the desert mountains of the Sinai Peninsula is the oldest continuously operating Christian monastery in the world: St. Catherine's. It was built in 565 A.D. upon the site where Moses saw the burning bush, near Mt. Sinai where, according to the Old Testament, Moses received the Ten Commandments. Despite being Eastern Orthodox, this site is holy to not only Christians, but also to Jews and Muslims. Here, unlike much of the Middle East, Christians and Muslims have been living and working together in harmony for centuries.
The mountains surrounding St. Catherine's Monastery—with their enormous granite domes—are unique. It's an undiscovered little Yosemite. This past November, Mark Jenkins led a four-man team of highly accomplished Wyoming climbers to South Sinai. The team lived with the Bedouin, traveled by camel caravan, and put up new routes on 1,000-foot walls.
Jenkins's presentation, Camels, Climbing, and St. Catherine: An Expedition to Egypt is about that epic expedition to climb big rocks in a remote land; it is about the Christian monks and Bedouin nomads who live there; it is about a place where tolerance is more powerful than terrorism.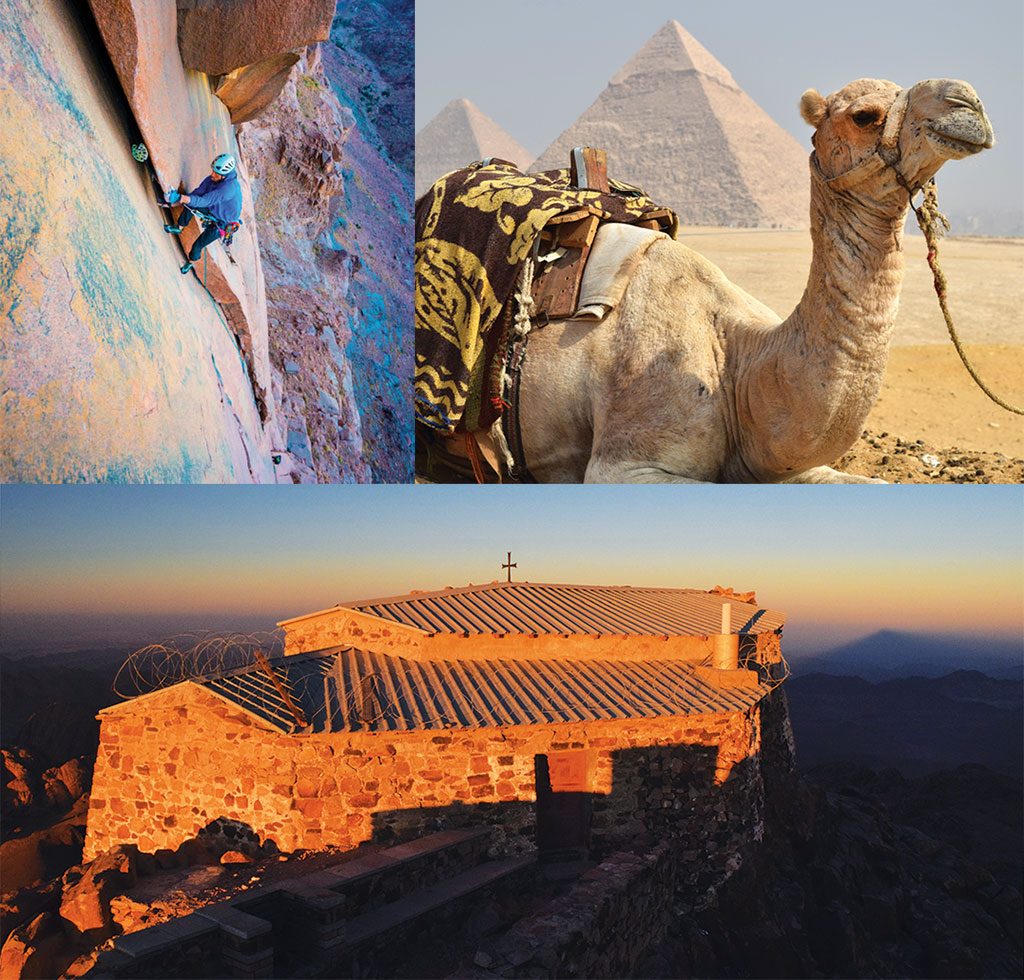 Photo credits: Mark Jenkins climbing, photo by Kyle Duba. Camel with Giza pyramids in background, photo by Mark Jenkins. Cathedral, photo by Mark Jenkins.
About our speaker
Mark Jenkins is a critically acclaimed author and internationally recognized journalist who covers geopolitics and adventure for National Geographic. A Wyoming native and graduate of University of Wyoming, he is the author of four books and his work has appeared in dozens of national and international magazines.
---
Sponsors