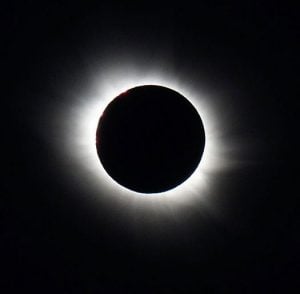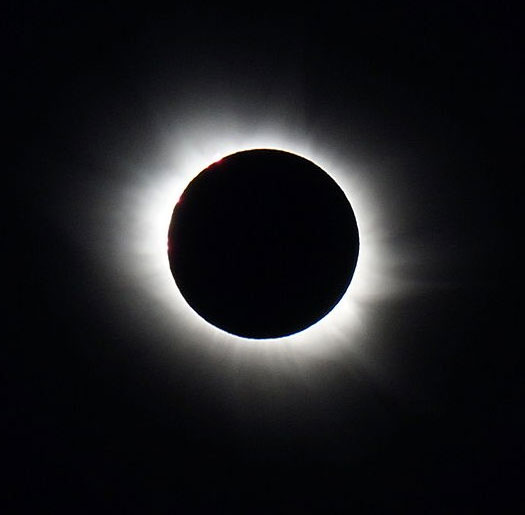 Chasing the Moon's Shadow: The Total Solar Eclipse of August 21, 2017
By Larry Sessions
August 9, 2017
5:15 p.m.
Join us for a talk by astronomy educator Larry Sessions about this August's solar eclipse and how to safely view it.
About the talk
In the late morning of August 21, 2017, the moon glides across the face of the sun in the first total solar eclipse to cross the contiguous United States in 38 years. This event will span the country from the Pacific Northwest to the Atlantic Southeast. The path of totality stretches across Wyoming, offering prime observation opportunities from Jackson to the Nebraska border. Although the northern edge of totality passes only about 48 miles to the South and 98 percent of the sun will be blocked at Cody, direct observation of the partial phase is dangerous to the eyes. Fortunately, however, there are simple, inexpensive, and safe ways to view the partial eclipse for those who cannot travel into the moving "Zone of Darkness." Please join Larry Sessions as he discusses the specifics of this wondrous natural event, including the path across Wyoming, suggested observation sites, and options for viewing this event whether as a partial or total eclipse.
About our speaker
Larry C. Sessions is an astronomy educator and adjunct professor at Metropolitan State University of Denver's Physics Department, as well as at the Community College of Aurora, Colorado. He formerly served as planetarium director  for the Museum of Science and History in Little Rock, Noble Planetarium in Fort Worth, and Gates Planetarium at the Denver Museum of Natural History (now Denver Museum of Nature and Science). Sessions viewed the last continental U.S. total solar eclipse in 1979 from Williston, North Dakota.
For years he also was a member of NASA's Solar System Ambassadors program, bringing updates on NASA programs to the public. He also served as a board member of the Adult Education Council in Denver. Today, he teaches both traditional lecture courses as well as online courses. Using the latter method from Denver, he taught the first college-level course in introductory astronomy for students physically located at South Pole Station and McMurdo Station in Antarctica.
His articles have appeared in numerous publications including  Sky & Telescope, Astronomy and Rolling Stone; as well as online on Space.com and EarthSky.org. His small book on world star lore, Constellations, was published by Running Press. His emphasis is science education through observations with the unaided eye for members of the public.
For more information, contact Bonnie Smith e-mail Bonnie Smith or call 307-578-4020.