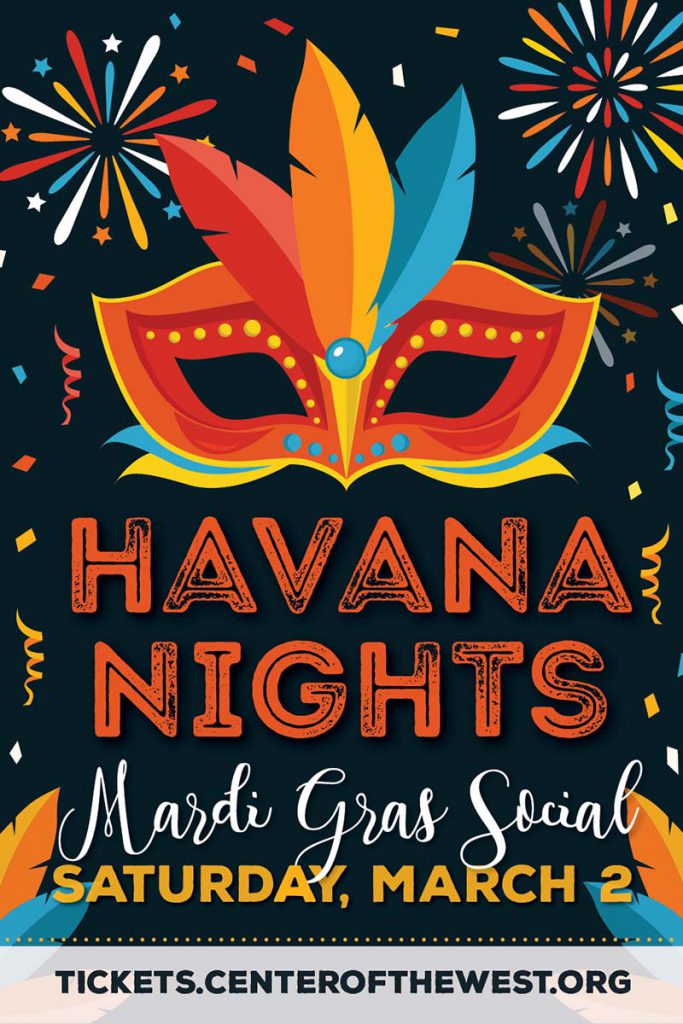 Havana Nights: A Mardi Gras Social with John Roberts y Pan Blanco
Saturday, March 2
Cajun-inspired Dinner: 7 p.m.
Show by John Roberts y Pan Blanco: 8–10 p.m.
Join the Buffalo Bill Center of the West for Havana Nights, a Mardi Gras Social featuring a Cajun-inspired dinner and a musical performance by the popular dance band John Roberts y Pan Blanco!
Ticket Options:
Reserve your tickets in advance for this limited-seating event…
For the dinner and show (Reservations are required by February 28)
$50 per person
$90 per couple
For the show only
$25 per person if reserved in advance
$30 per person at the door
Tickets for Havana Nights are likely to sell out, so click the link below to reserve yours today!
---
More about John Roberts y Pan Blanco
In John Roberts's own words:
The band, John Roberts y Pan Blanco, is inspired by my international musical experiences on 6 continents, most recently recording in Santiago de Cuba and Buenos Aires!  We are a high energy, dance-focused Latin Jazz, Salsa and Afro-Funk ensemble that is interactive and family friendly, performing at many summer festivals, performing arts centers, brew festivals, dance clubs, and even intimate jazz settings. I compose and sing music in English, Portuguese and Spanish.

The band consists of instrumental soloists (Sax, Violin, Trombone) and a contemporary Cuban rhythm section that includes the sound of African guitar and American funk. I have a deep love for these styles and have performed extensively, nationally and internationally, with multiple Cuban, African, Jazz, Argentine and R&B ensembles (Chris Botti, Bobby Womack, Ricardo Lemvo, Celia Cruz, Chaka Khan, Sting, Mariah Carey, Fallout Boy, The Temptations, New Orleans Jazz Orchestra, Christina Aquilera, Los Pinguos to name a few).
Learn more about the band at www.johnjroberts.net.
---
Take a listen! John Roberts y Pan Blanco performing Aqua de Beber: