Frequently Asked Questions: F.A.Q.
Our Buffalo Bill Museum staff answers these frequently asked questions about Buffalo Bill, his Wild West, collectibles, and more.
Q: Can you appraise my Buffalo Bill-related objects or memorabilia?
A: No, we cannot. The Executive Director and all other staff members of Buffalo Bill Center of the West are expressly forbidden to appraise objects offered for sale or donation to Center of the West. The Buffalo Bill Museum at the Center provides this list of experts and appraisers of Western memorabilia as a courtesy and does not endorse any specific appraiser on this list. This list does not include current or former staff or board members of Buffalo Bill Center of the West. The appraisal of objects offered as donations must be secured by the donor. The computation and filing of all deductions taken on donated objects by a donor on his/her personal tax returns are the sole responsibility of the donor.
Q: What was William F. "Buffalo Bill" Cody's ancestry?
A: It has been a persistent belief, one perpetuated by William F. Cody's sister Helen Cody Wetmore in her book, Last of the Great Scouts, that their family came from Ireland. In fact, the original American ancestors were Huguenots who emigrated to Massachusetts from France via the Channel Islands sometime before 1698. The family name gradually became anglicized from LeCaude to Cody. One branch of the family moved on to Ontario, Canada, where Buffalo Bill's father, Isaac, was born in 1811. As recently as 1972, the Cody Family Association believed that the Irish and Huguenot lines might have been connected early on, but the two families in America have been quite distinct, and any connections are modern. The Irish Cody family can claim at least one legendary descendant of its own. The mother of the Australian frontiersman and outlaw hero, Ned Kelly, was one Mary Cody of Tipperary.
Q: How do I find out if my relative was part of Buffalo Bill's Wild West?
A: Over the years, the Buffalo Bill Museum has compiled a list of friends and acquaintances of William F. Cody's, and employees of Buffalo Bill's Wild West. Information in this "Buffalo Bill Names List" is drawn from a wide range of published and unpublished sources, including Wild West programs, route schedules, biographies of William F. Cody, newspaper articles, and payroll records. The Names List currently numbers some 8,000 names. It is very much a "work in progress": misspellings are being corrected, double-listed names are being eliminated, and new names are added as we consult new sources. If you would like to find out more information, or have information to share about someone you believe belongs on the Names List, please contact the Buffalo Bill Museum.
Q: The Buffalo Bill Museum receives numerous inquiries about signed and stamped Wild West souvenir cards. Are they fakes?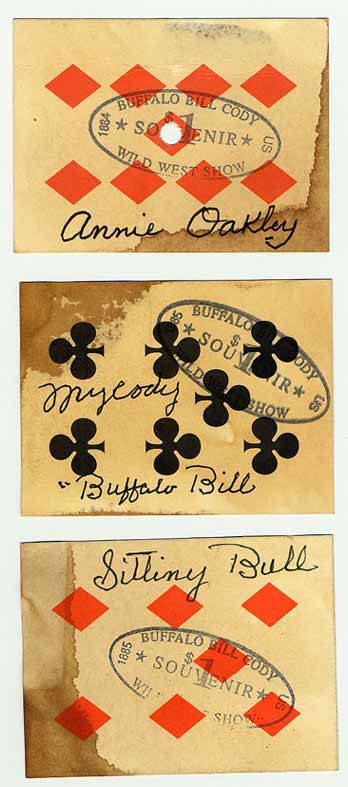 A: The Buffalo Bill Museum has received numerous examples of souvenir playing cards with Wild West performer signatures; however we believe the items we have seen are undoubtedly fake (see image to left). Here's why: First, there are several anomalies in the circular stamp. There are no known authentic usages of that stamp. The name of the show was always "Buffalo Bill's Wild West." Never in any of the advertising or show papers was it called "Buffalo Bill Cody's" or "Wild West Show."
Second, we know of no similarly autographed playing cards existing in any collections or appearing on the market before 1998. The image to the left shows examples that have been given to the museum to validate our case. In other examples we have received, the cards all have the same stamp with the same date for the year 1884; especially noteworthy is an example signed "Sitting Bull." Sitting Bull was with the show for only one season—the summer of 1885.
Third, there are anomalies in the card itself. For example, the symbols are not uniform. Considering the soiling of the card, the signature seems to be unnaturally fresh. Also, for a card showing so much wear and soil, the edges and corners show none of the rubbing or chipping that one would expect. The Buffalo Bill museums at Lookout Mountain, Colorado, and North Platte, Nebraska, received copies and inquiries independent of those that came to the Buffalo Bill Center of the West. So far, no letter or statement of authentication from a reputable collector or dealer has been shown to us, and none of the cards has been offered, so far as we know, with demonstrable provenance. Like the supposed Annie Oakley tintypes that appeared on the market a few years ago, these cards, and others like it, cannot, in the absence of clear proof to the contrary, be assumed to be what they are purported to be.
Q: The Buffalo Bill Museum receives numerous inquiries about several types of alleged Wild West show buckles. Do they originate from Buffalo Bill's Wild West?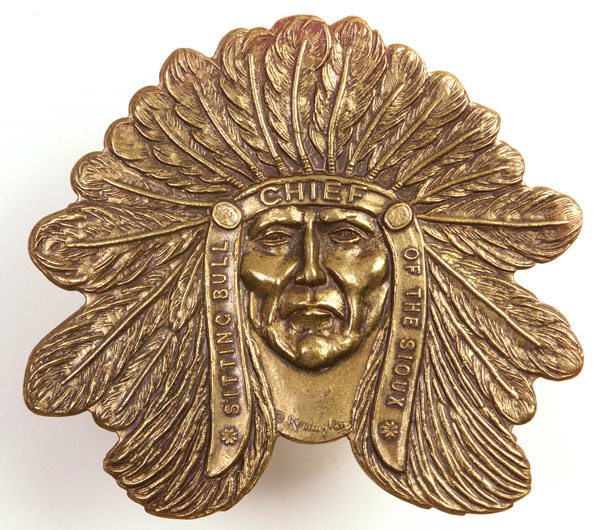 A: The Buffalo Bill Center of the West collections include a number of buckles with alleged Wild West show or other historical origins. These buckles include several "Sitting Bull" buckles, each slightly variant from the other, as well as several versions of the "Annie Oakley" buckle. In addition we have examined dozens more. Many of them are stamped on the back with a logo of Tiffany and Company. Many also contain the words "A gift from" or "A souvenir of" followed by a signature of W.F. Cody. The "Sitting Bull" buckles also contain on the front the signature "F. Remington."
There is no evidence to connect the buckles with Cody, Tiffany and Company, or Frederic Remington. According to some authoritative buckle collectors, there are no authentic "Tiffany" belt buckles at all. In fact, J. Duncan Campbell in his New Belt Buckles of the Old West (1973) makes a persuasive case that false evidence was published in about 1970 to coincide with a flood of allegedly historic brass belt buckles on the market. Not one of the "Tiffany"-style belt buckles that we have examined has had a conclusive early provenance or can be shown to have existed before about 1960.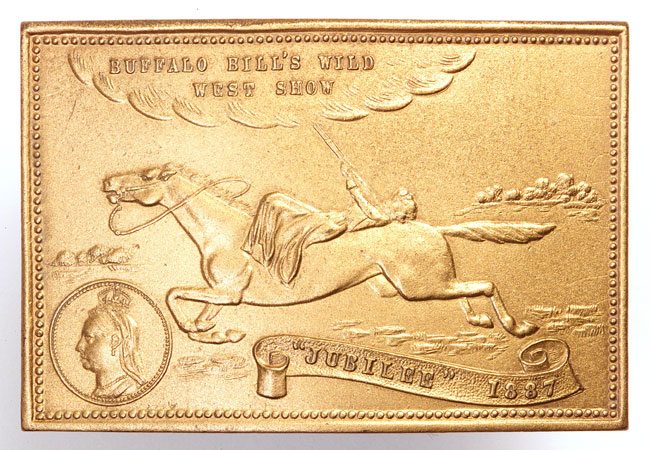 There are no known Wild West show records concerning buckles. Tiffany and Company has told us that no records exist to indicate that the company ever made buckles. Finally, there is nothing in the Remington Archives or the Cody/Remington correspondence to suggest that Frederic Remington produced an Indian head for Cody's use. It is not impossible, but it seems especially unlikely considering that no such buckles have ever shown up in photographs or other documents from before about 1970. Even if it could be shown that a buckle was made for distribution by Buffalo Bill or his Wild West show, the sheer quantity of reproductions or replicas would likely make authentication impossible.