Walter Snyder, Ithaca historian, has generously donated the surviving records from the original Ithaca Gun Company to the Center to be used by the Cody Firearms Records Office to provide factory letters and serial number searches.
Why we're excited
These documents provide valuable historical insight for collectors—including our own Cody Firearms Museum.
Associate Curator, Danny Michael, comments, "Accessibility to records from the time of manufacture augment our collection tremendously. We didn't know that this shotgun was a gift from Annie's husband, Frank Butler. And even if that detail had been included in the provenance when the firearm was donated to the museum, we have this additional proof now."
For non-museum collectors, knowing whether the gun they have today is the same as it was when it left the factory can dramatically affect the value of the piece.
What does that say exactly?
From the detail of the ledger page shown below, you can see that deciphering the various details that collectors care about most from these handwritten records requires a trained eye.
Firearms Records Specialist Jesi Bennett, Assistant Records Specialist Angela Bertalot, and the volunteers of the Cody Firearms Records Office work behind the scenes to generate factory letters and serial number searches for enthusiasts around the world.
"It's always exciting to come across names we recognize in the records, but my guys love to know who owned their gun first even if it wasn't someone famous. Maybe it was their great-grandfather or a general store they remember hearing about in their hometown. When you have a name, the history becomes more personal. Not all manufacturers included customer information in their records, but Ithaca often did."
True to the original
For each lookup, Records Office staff and volunteers reference digital scans of the original records or the original records themselves, which are housed onsite in the Center's McCracken Research Library. "You can find books out there with typed charts and summaries, but the further away you get from the primary source material, the more human error you introduce," Jesi notes. "It's important for us to reference the original record for every factory letter and serial number search we do."
Firearms Members and Records Office customers who want information need only provide a manufacturer, model, and specific serial number. Then, Jesi and Angela pull up the corresponding record and distill its contents into a readable format. All together, the Records Office's tight-knit crew has 30 years of experience analyzing the particular cursive handwriting of the bookkeepers employed by these firearms companies.
What can you expect from each manufacturer?
Here's a quick summary of what the Cody Firearms Records Office provides access to: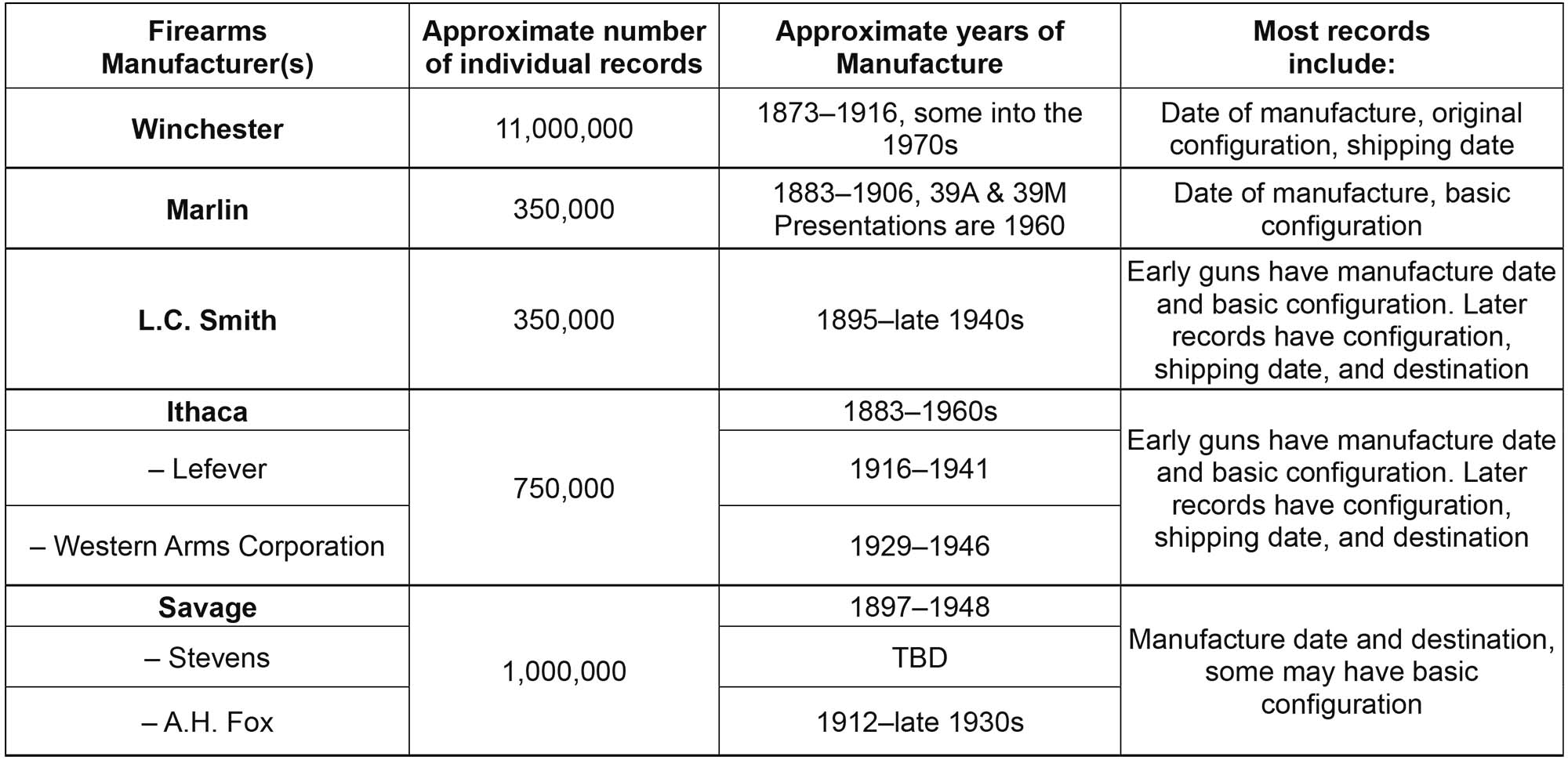 How to get info on your firearms
If you're already a Firearms Member, you can start requesting serial number searches and factory letters from these additional manufacturers now.
If you're not a member, you can find more detailed information about the Firearms Membership program, the Records Office, and the serial number ranges we have information for when you visit our Records Office webpage. Or give us a call at 307-578-4031.