The South Loop of Yellowstone National Park is open, including the South, West, and East Gates (the East Gate is 50 miles from the Center of the West)! PLEASE NOTE: A new interim visitor license plate entry system is in place and MUST be adhered to. Visit www.nps.gov for the latest updates and details on the new vehicle entry system.
CLICK HERE for links to resources we are gathering to help those who are affected by the flooding.
Explore the Center of the West's 5 Museums Under 1 Roof on your journey through Yellowstone and the West!
All the tools you need for a Yellowstone vacation that's enriching and exciting for all ages. Explore >>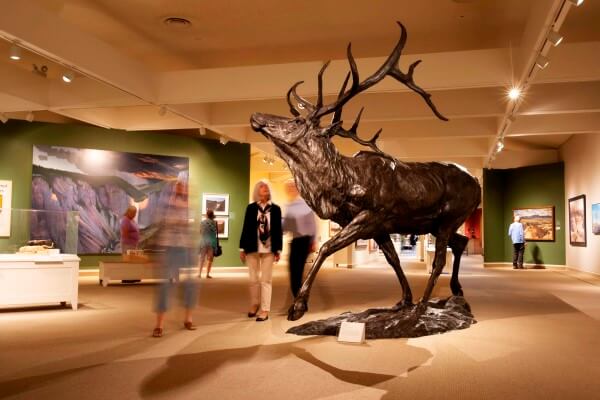 A must-see on your adventure to or from Yellowstone National Park
May 1 – Sept. 15

8 a.m. - 6 p.m.

Sept. 16 - Oct. 31

8 a.m. - 5 p.m.

Nov. 1 - Nov.30

10 a.m. - 5 p.m.

Dec. 1 - Feb. 28

Thu. - Sun., 10 a.m. - 5 p.m.

Mar. 1 - Apr. 30

10 a.m. - 5 p.m.

Closed NYD, Thanksgiving, Christmas
Adults

$23

Seniors

$22

Students with valid ID

$21

Kids 6-17

$16

Kids <5

Free

Members

Free
"To connect people to the stories of the American West"
Artist-in-Residence: Lee Post – 'The Boneman'
Artist-in-Residence Lee Post – aka "The Boneman" Draper Natural History Museum June 20–July 5 Monday–Saturday, 9 a.m.–6 p.m. Lee Post, aka "The Boneman," joins us at the Center of the West […]
Talk & Book Signing: The Earth Is All That Lasts
The Earth is All that Lasts: Crazy Horse, Sitting Bull, and the Last Stand of the Great Sioux Nation By Mark Lee Gardner Free talk, followed by book signing Monday, […]
Talk: Can behavior help species cope with a changing climate?
Can Behavior Help Species Cope with a Changing Climate? By Embere Hall July 7, 2022Free Join us for our July Lunchtime Expedition, Can behavior help species cope with a changing […]
Holly Young – Artist-in-Residence
Artist-in-Residence Holly Young Plains Indian Museum July 10–14 9 a.m.–3 p.m. Holly Young, a full-time artist from Standing Rock, joins us at the Center of the West July 10–14, 9 […]
WyoGives: Help Park County youth visit for free
WyoGives July 13, 2022 All Day! Online at wyogives.org Join the Buffalo Bill Center of the West for WyoGives, a special day of giving and community for non-profits across Wyoming. […]
Talk: Bob Richard, Cody / Yellowstone, 150 Years
Cody / Yellowstone: 150 Years A free talk by Bob Richard with Ryan Hauck Thursday, July 21, 2022 Noon–1 p.m. Join us for the July presentation in our "Local Lore […]
Coffee & Curators Members Event
Coffee & Curators: McCracken Research Library A camp cook makes coffee over an open fire. MS 3 Charles Belden Collection. PN.67.97b August 6, 10–11:30 a.m. Free for members! Coffee & […]
Talk: An Evening with Stephen Hannock
An Evening with Stephen Hannock The Stories Behind the Diary in "Flooded Cascade" Thursday, August 11 6:30 p.m. – 8 p.m. Free and open to the public, please RSVP to […]
Talk: Bob Richard, The Road to Yellowstone
The Most Scenic 72 Miles: The Road to Yellowstone A free talk by Bob Richard Thursday, August 18, 2022 Noon–1 p.m. Join us for the August presentation in our "Local […]
Talk: Bob Richard, Heart Mountain Internment Camp Story
The Story of the Heart Mountain Internment Camp A free talk by Bob Richard Thursday, September 15, 2022 Noon–1 p.m. Join us for the September presentation in our "Local Lore […]
Lunch & Lecture: Charlie Russell & the Silver Screen
Playing Cowboy: Charlie Russell and the Silver Screen A Buffalo Bill Art Show & Sale Event By B. Byron Price Thursday, September 22 12:30 – 2 p.m. This lunch and […]
Patrons Ball
September 24, 2022 6 – 11:30 p.m. This western formal features live music by Music City Groove and exquisite cuisine by Bravo Catering. The Patrons Ball is one of the […]
Coffee & Curators Members Event
Coffee & Curators: Plains Indian Museum A camp cook makes coffee over an open fire. MS 3 Charles Belden Collection. PN.67.97b October 1, 10–11:30 a.m. Free for members! Coffee & […]
Talk: Bob Richard, History of the Buffalo Bill Center of the West
The History of the Buffalo Bill Center of the West A free talk by Bob Richard Thursday, October 20, 2022 Noon–1 p.m. Join us for the October presentation in our […]
Coffee & Curators Members Event
Coffee & Curators: Draper Natural History Museum A camp cook makes coffee over an open fire. MS 3 Charles Belden Collection. PN.67.97b November 5, 10–11:30 a.m. Free for members! Coffee […]
Talk: Bob Richard, Sunlight and Crandall Country
Sunlight and Crandall Country A free talk by Bob Richard Thursday, November 17, 2022 Noon–1 p.m. Join us for the November presentation in our "Local Lore with Bob Richard" series […]
Talk: Bob Richard, Women in the Early Days and Other Old-timers
Women in the Early Days and Other Old-timers A free talk by Bob Richard Thursday, December 15, 2022 Noon–1 p.m. Join us for the December presentation in our "Local Lore […]