Center of the West admission includes five museums, all under under one roof!  Explore the Center on your journey through Yellowstone and the West!
NOTE TO TRAVELERS: Yellowstone National Park's South Loop is open and accessible via the South Entrance (Grand Teton/Jackson, Wyoming), West Entrance (West Yellowstone, Montana), and East Entrance (Cody, WY). The North Loop will reopen on July 2 and the the Alternating License Plate System will be suspended. 93% of Yellowstone's roadways will be open!
Visit www.nps.gov for the latest updates and details.
All the tools you need for a Yellowstone vacation that's enriching and exciting for all ages. Explore >>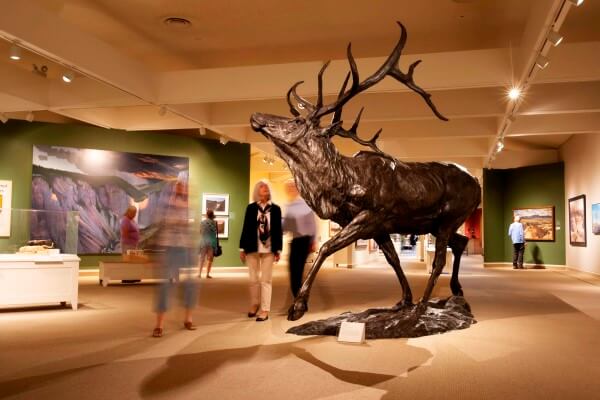 A must-see on your adventure to or from Yellowstone National Park
May 1 – Sept. 15

8 a.m. - 6 p.m.

Sept. 16 - Oct. 31

8 a.m. - 5 p.m.

Nov. 1 - Nov.30

10 a.m. - 5 p.m.

Dec. 1 - Feb. 28

Thu. - Sun., 10 a.m. - 5 p.m.

Mar. 1 - Apr. 30

10 a.m. - 5 p.m.

Closed NYD, Thanksgiving, Christmas
Adults

$23

Seniors

$22

Students with valid ID

$21

Kids 6-17

$16

Kids <5

Free

Members

Free
"To connect people to the stories of the American West"
Artist-in-Residence: Lee Post – 'The Boneman'
Artist-in-Residence Lee Post – aka "The Boneman" Draper Natural History Museum June 20–July 5 Monday–Saturday, 9 a.m.–6 p.m. Lee Post, aka "The Boneman," joins us at the Center of the West […]