Facility Rentals
Let Us Host Your Event
We are pleased to offered customized events at the Center of the West. Our unique facilities enhance any group experience with full service catering and bar packages. Schedule a site tour with our events team today!
"The catering staff was most helpful in suggesting a menu and providing the food that was cooked to perfection – the location was wonderful, the staff helpful, and the food spectacular! We had a fantastic buffet. Our members said it was one of the best meals they have ever had: the marinated beef tenderloin was cooked to perfection and the blue cheese butter was to die for! We would definitely recommend using the Center and its catering services for an event as the location, food, staff, and services equate to perfection." — Winchester Arms Collectors Association
Call or event for more information or to book your event:
E-mail us at [email protected] or call 307-578-4000.
Event Spaces
Click here to explore our event spaces through descriptions and photos. If you would like a personal tour of any or all of our event spaces, e-mail Events.
Parties
For all ages, parties are a memorable time to gather friends and family. Whether you're celebrating a birthday, anniversary, reunion, or holiday, let us help you plan and implement your party. Now's the time to book your holiday party!
"Thank you, [Center of the West], for providing the terrific facility, tasty food, and warm and friendly atmosphere for our annual Christmas party. It was a thrill to think our small group could have a party of world-class caliber at a famous museum. I would urge anyone who wants to have a fun-filled evening with good food, wonderful surroundings, and friendly staff to book a 'Night at the Museum' to make your party complete!" — Cody Styling Company
Call 307-578-4000 or e-mail Events to book your party.
Weddings and Receptions
Yes, you can have your wedding and reception at the Buffalo Bill Center of the West! Make your wedding even more memorable and extraordinary by holding it in one of many areas of the museum. A premier location: the south-facing window in the Whitney Western Art Museum. The raised platform at the end of the gallery faces a breathtaking view of the bronze sculpture Buffalo Bill—The Scout and the surrounding mountains. It's one of many "one-of-a-kind" areas at the Center. Below, a couple look from the upper level of the Draper Natural History Museum down to their guests below on the tile map at the base of the drum.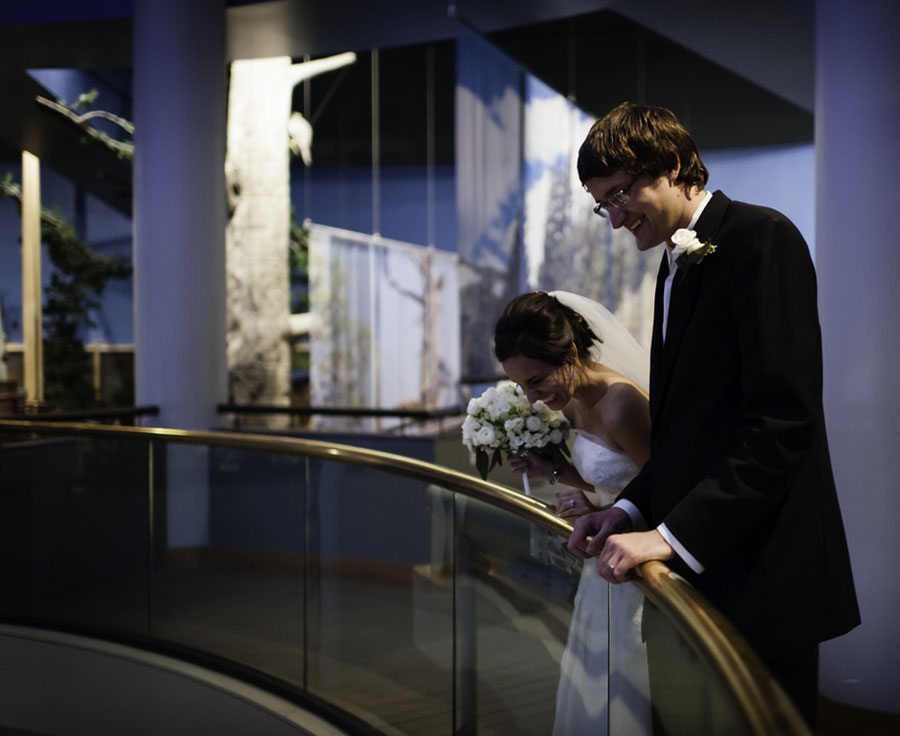 Other choice locations for a wedding or reception include two sculpture gardens, the Cashman-Greever and the Braun. These are summertime favorites for both nuptials and receptions. The grouped aspen and spruce trees make a beautiful backdrop to your most important photographs. And the sunken amphitheater is a perfect setting for group photos. Tables and chairs interspersed on the lawn among the trees makes for an intimate setting.
Meetings and Conferences
The area of choice for a meeting or conference depends on the size and type of gathering. From our Webster Boardroom to our Coe Auditorium, we have space for small to large groups in a professional and quiet atmosphere. All spaces can be fully equipped by our audio-visual team. In addition, our catering department is here to serve you. It is our goal to welcome you and to make sure your meeting or conference is a successful and efficiently-run event.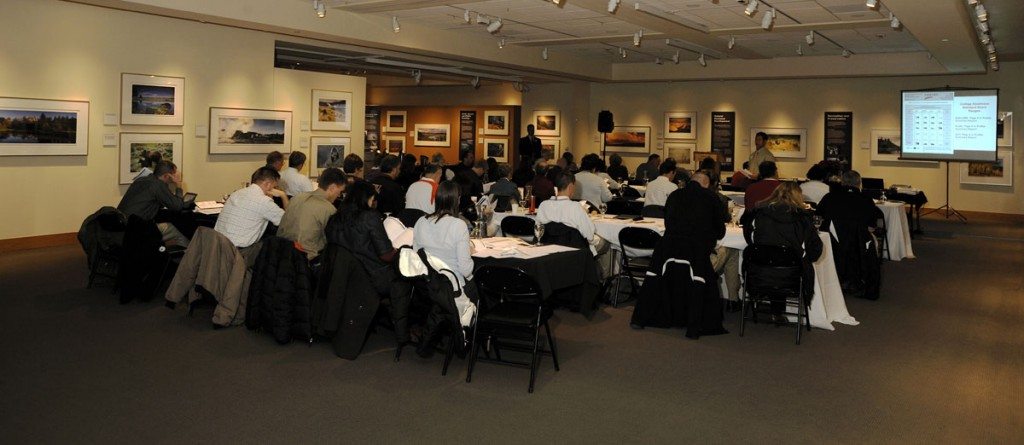 "A big Thank You for all your efforts in making our retreat a huge success. Our staff and members were greatly impressed with your facility, your staff, and you. Needless to say, we will be back!" — Wyoming Education Association
Keep the Center open after hours for your event!
To enhance the experience of your guests at an after-hours event, we can arrange to reserve one—or even all five—museums to remain open while they are here. This is a popular option for groups whose interests are related to one of our collections and subject areas. E-mail Events or call 307-578-4000 for details and rates.
Activities to enhance your event!
Add on a program or tour to enhance your event. Schedule an activity during a break in your conference, or include a children's activity hour during your family reunion while the adults take a curator-led tour. Let us help make your visit memorable! Here are some ideas:
Chuckwagon dinner
Docent and curator talks
Scavenger hunts
Children's activity hour
E-mail Events or call 307-578-4000 for more information.