Why I Support…
The Buffalo Bill Center of the West would not exist without the generous contributions—of time, talent, and treasure—of its many supporters. Here, some of them tell us "Why I Support the Center of the West." We appreciate them beyond measure. Find out what they do for us, and what it means to them to be a part of our sharing the authentic story of the American West with these brief biographies and videos.

---
Arnold A. Brown
Arnold Brown's first visit to Cody was in 1953 when he was just 7 years old. On that trip, he and his family stopped to view Gertrude Vanderbilt Whitney's sculpture 
The Scout
before continuing on to Yellowstone. Through the years, he's made several more trips to visit the Center and says, "I never tire of what I encounter on each visit." "The Buffalo Bill Center of the West is without a doubt the largest and best museum of any kind I have ever seen, and I am proud to be a decades-long member."
Read more about why Arnold Brown supports the Center…
---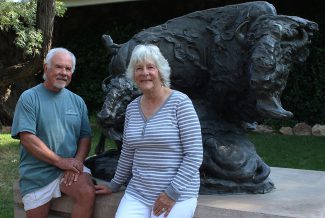 Paul and Karen George
"It's a special place. It's just a special place," Paul George says with enthusiasm when asked about the Buffalo Bill Center of the West. "There are very few places in the country that you can experience what you experience here." Paul and Karen George became members when they moved to Cody in 2006, but their connection goes back to 1984…
Read more about why the Georges support the Center…
---
Forrest Fenn
We're honored that so many of our members choose to remain loyal supporters after joining, in many cases for the rest of their lives—just like our friend, Forrest Fenn of Santa Fe, New Mexico.
Forrest says, "…my parents always stopped in on our way to Yellowstone. It was a summer pilgrimage for our family and the museum has always been a part of me."
Read more about why Forrest Fenn loves the Center…
---
Elizabeth Radakovich
Elizabeth Radakovich, a mother of four children, has been living in the Cody, Wyoming, area for the past three years. She and her husband J.D. moved here from Texas to the historical Hoodoo Ranch where J.D. is ranch manager. Elizabeth is an active member of the community, having volunteered for the Buffalo Bill Center of the West's Patrons Ball as well as Yellowstone Recreation Association. Elizabeth has been a member of the Center's Education Advisory Board since 2015. Besides Center and community engagements, she enjoys being outdoors, helping on the ranch (when she is not carpooling kids!), and spending time with her family.
---
Joan Slebos
Joan Slebos grew up in Ohio and has always had an avid interest in the American West because she lost her heart in the West at age 14. She first visited the Buffalo Bill Historical Center (now the Buffalo Bill Center of the West) with friends in the mid-1970s and has been a member and supporter since 2003. Now a retired teacher, Joan enjoys reading, traveling, and continuing to learn about the great American West and the Civil War.
---
Wally Johnson
Wally Johnson, a current Trustee of the Board at the Buffalo Bill Center of the West, was first drawn to the Center's activities more than twenty years ago at a time before he even lived near Cody, Wyoming. His passion is reflected in his commitment to education and outreach. He believes outreach will help bring the Spirit of the West to the many people who cannot visit the museum in person. So, he has dedicated the proceeds of his life insurance to further this endeavor and make eternal this challenge.
---
Alan K. "Al" Simpson
The Honorable Alan K. "Al" Simpson is a native of Cody, Wyoming, and a University of Wyoming graduate. Following an honorable discharge from serving his country in the U.S. Army as a 1st Lieutenant, Al obtained a law degree and joined his father's law firm where he practiced throughout the state of Wyoming for eighteen years. Al's political career, which began in 1964, included time in the Wyoming State Legislature, Wyoming House of Representatives, and three terms in the United States Senate. Senator Simpson was appointed in 2010 to co-chair the National Commission on Fiscal Responsibility and Reform with co-chair Erskine Bowles. He continues to stay involved in many political affairs and serves on numerous non-profit boards and is involved with many organizations. He has been a member of the Board of the Buffalo Bill Center of the West since 1968, holding the position of Chairman from 1998 – 2011.
---
Hank Coe
Senator Henry H.R. "Hank" Coe was born and raised in Cody, Wyoming, and graduated from the University of Wyoming. Hank is actively involved with the local Cody community as well as other affiliations throughout the state of Wyoming. As Senator for Wyoming since 1989, he stays involved with a number of committees, including his role on the Board of Trustees of the Buffalo Bill Center of the West.
---
Maggie Scarlett
Margaret "Maggie" Webster Scarlett is a fourth generation Wyomingite. Born in Cody, she is a graduate of the University of Wyoming and Colorado State University. She pursued a career in Speech/Language Pathology and was a Director and Vice President of United Bancorporation of Wyoming. Maggie is a Trustee Emerita of the National Museum of Wildlife Art, Jackson, Wyoming, where she served as President of the Board of Trustees. She was appointed by President George W. Bush to the National Museum and Library Services Board, the twenty-member advisory board to the Institute of Museum and Library Services. She and her husband, Dick Scarlett, live in Jackson, Wyoming, where they enjoy family, business, cultural, and educational endeavors. They are the proud parents of three adult children and grandparents of five grandchildren. She has been a member of the Center's Board of Trustees since 2003. Maggie is also a member of the Center's Whitney Western Art Museum Advisory Board.