Stepping Back in Time to the American West
A visit to 5 museums at the Buffalo Bill Center of the West in Cody, Wyoming
By Flash Parker
The Buffalo Bill Center of the West in Cody, Wyoming, is far more than a footnote to the majesty of Yellowstone National Park, or a diversion from the road to picturesque Jackson Hole. The Center is a carefully curated, historical experience of the highest caliber, akin to having Teddy Roosevelt, Jim Bridger, or Buffalo Bill himself guide you through the history of the American West on horseback, in the spring, while wildflowers bloom, streams babble, and elk bugle.
Comprised of five museums and a massive research library, the Buffalo Bill Center of the West is an enthralling, engaging destination that offers treasure hunters, culture vultures, gunslingers, bandits, cowboys, cowgirls, and folks new to the American West an opportunity to saddle up—get nice and cozy now—to America's most fascinating history.
Excitement builds
This, the history of the American West, is one I've always wanted to explore. By day, I'm a mild-mannered journalist, keen to crank out stories both quirky and quixotic, no matter the destination. Given half a chance to set out on an American road trip—better yet, an expedition—I instantly fancy myself a frontiersman, an old-school explorer with a hatchet on my belt and a divining rod in my palms. I'm eager to become a gunslinger for a day in the Cody Firearms Museum and to marvel at the slow heartbeat of a hibernating bear in the Draper Natural History Museum.
My lovely travel companion, Megan—the sensible one, she's often called—much prefers the promise of grace and elegance on display in the Plains Indian Museum. She also welcomes the opportunity the Center offers via an easy-to-arrange appointment—to investigate her own western heritage among the vast holdings of historic books, maps, newspapers, manuscripts, and photographs housed in the McCracken Research Library, many of which are on display
Clearly, one of the most exciting aspects of our visit to the Center of the West is the promise that there's plenty for both of us to experience.
Discovering the Yellowstone ecosystem
The Draper Natural History Museum awed me with its geology, wildlife, and human history exhibits, each of which are tethered—rather spectacularly—to the ecology and biology of the Greater Yellowstone Ecosystem. I spent time learning about the microorganisms that somehow survive inside burping pits of sulfur and steam throughout Yellowstone (without singeing any of my nose hairs). I pictured myself as one of the mighty explorers to first summit 13,809-foot tall Gannett Peak, which proudly straddles the Continental Divide. And I wondered how museum staff is able to pipe in the smell of fresh lodgepole pine and campfire without setting off the fire alarm.
Still, the most valuable bit of knowledge I culled from the Draper? Never, under any circumstances, ask a grizzly bear to pose for a selfie—unless, of course, it's Bear 104, a bear who met her demise just outside Yellowstone. Trying to take a selfie with a live bear isn't safe; it's just not going to work out.
Jaw-dropping firearms
When I heard that the Cody Firearms Museum is home to the most comprehensive collection of American firearms in the world, I wondered if that could really be. But after about five seconds in the museum, my skepticism was blown away—like an empty can shot off a wooden fence post. The Firearms Museum's collection numbers more than 7,000 firearms and 30,000 firearms-related items, like the legendary Winchester Model 1873 rifle, the "gun that won the West." But what I loved most is that this museum is so much more than a mountain man's private armory—the entire Firearms Museum is awash with culture, context, and history. I don't even own a gun myself, but I was thoroughly amazed at exhibits that present the evolution of the gun almost as an art form—something I've never considered before.
Cultural connections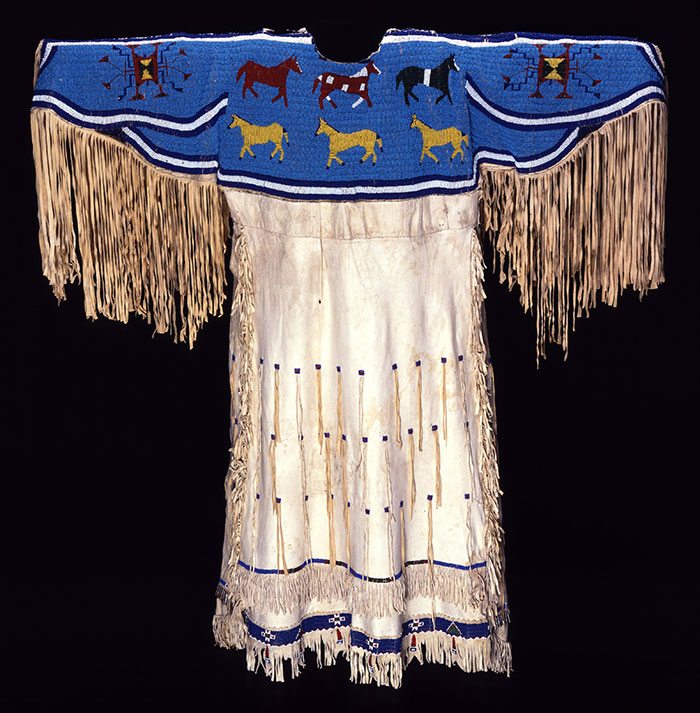 Megan immersed herself fully in the Plains Indian Museum, a remarkable showcase of Native American culture that is as illuminating as it is moving. If you live in the Mountain West and spend your free time exploring the region as we do, you sometimes catch transitory glimpses of Northern Plains history. But in this museum, the many artifacts and interpretations of Arapaho, Lakota, Crow, Cheyenne, Pawnee, and Blackfeet center on this culture and showcase how vital and rich it is today—and has been for thousands of years. The Plains Indian Museum is a living, breathing place, with art that bridges the gap between tradition and everyday life. Megan was left spellbound by headdresses, beaded dresses, and hides, and truly mesmerized by the beautiful and complex ledger art. In the late-19th and early-20th centuries, Plains Indians created drawings in accounting ledger books, which were a significant source of paper for them at the time. For Megan, this connected Native American culture to the history of European settlers.
And so, on and on we went, transitioning from one incredible collection to the next, sharing with each other when we passed in this great hall or that atrium the things we had uncovered or newly discovered. I mused on how I would have nailed my audition for Buffalo Bill's Wild West show; Megan marveled at the fine details in Frederic Remington's sculptures in the Whitney Western Art Museum. I was inspired to purchase a CD of Wild West show music; in case there's a revival, I want to be on board. Megan pored over volume after volume of ranching history in the McCracken Research Library, eventually uncovering the story of her own family's cattle brand, in use on the ranch for generations.
No matter where we wandered, we found something that immersed us in the history of the American West in a hands-on, visceral, experiential way—which left us eager to explore further, and uncover secrets new and old.
Learn about upcoming exhibitions and plan your visit to Buffalo Bill Center of the West.