Conservation Internship Program
To learn more about upcoming internship opportunities, click here.
The Center's Conservation Internship Program trains young conservators from all over the United States and the world. Many are completing their education in graduate programs in conservation. Others are gaining experience prior to entering a conservation program. The residents function as part of the conservation staff during their tenure in Cody. They examine objects, write reports, and carry out treatments and individual projects such as collection condition surveys. The Chief Conservator works closely with the residents ensuring the quality of the training and the treatment of the collections.
For more information on our Conservation Internship program, e-mail Chief Conservator Beverly Perkins or call  307-578-4029.
Past Interns
Kevin Page
Kevin Page  first learned about the conservation lab on a class visit with his junior year art class. Very interested by the art and chemistry involved, he asked if there was any way a high school student could be hired as an intern. He was accepted and has been learning a great deal while still being able to put money away for college. Kevin considers this by far the best "job" he's ever had. "It hasn't ever really felt like a job because whenever I come in, I know I'm going to learn something new and have a good time doing it," he says. "For the future, I probably won't be going into conservation, but it was amazing being able to see how the profession works." He's sure the experience will help him later on in life. Kevin plans to go into a chemistry-related profession, either chemical engineering or anesthesiology. He says, "this has been one of the best opportunities that I have been given in my life—if I could do it again, I would jump at the opportunity."
Cristiana Ginatta
Cristiana Ginatta, an Italian national about to become an American citizen, is from Dallas. She double-majored in accounting and marketing, specializing in non-profit organizations and museums. She holds a Master of Business Administration degree from the most prestigious business school in Italy. After years working in her family's business, she enrolled at the University of Texas at Arlington to acquire the knowledge and skills necessary to work in conservation. Cristiana was recognized with a research paper award in art history, and joined the Honor Student roll with a 4.0 GPA. She is currently working with an AIC Professional Member in painting conservation, and preparing to apply to graduate school. During her internship at the Center of the West, she gained experience treating a variety of ethnographic artifacts, books, textiles, and metals.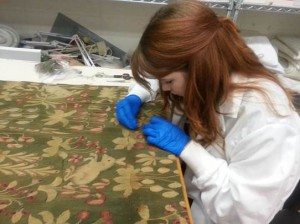 Stephanie Cashman
Stephanie Cashman is from Denver, Colorado. She graduated from the University of Denver with a BFA in pre-art conservation and a minor in chemistry. Prior to coming to the Center of the West, she worked in private conservation labs specializing in objects and textiles. During her time at the Center, Stephanie worked on Plains Indian objects as well as ceramics, outdoor sculpture, books, and more. After her time in Cody, Stephanie heads back to Denver in pursuit of other internships and to prepare to apply to graduate school in art conservation.
Anahit Campbell
Anahit Campbell is from Milwaukee, Wisconsin, and is a graduate student in the Conservation of Books and Library Materials program at West Dean College in the United Kingdom. Her interests are in medieval Armenian manuscripts, and in conservation science.
She is gaining experience at the Buffalo Bill Center of the West by completing treatments on the rare books collection.
Blanca Guerra
Blanca Guerra is from Granada, Spain. She studied conservation and restoration, specializing in works on paper and antique books. She is very likeable and very curious. She greatly enjoys doing new things and discovering new places, cultures, people, and more. She has previously worked as an intern in a private lab in Nîmes, France,working with drawings and books. Now, she is working with antique books here in the Center of the West's Conservation Department. Blanca is sure this experience will be unforgettable, and is hoping to learn so much and do a good job.
Zulema Marin
Zulema Marin was born in Madrid, Spain. She studied at ESCRBC, Escuela Superior de Conservación y Restauración de Bienes Culturales or School of Cultural Property Conservation and Restoration of Madrid, specializing in works on paper and antique books. She completed her studies in Rome at the Università degli Studi di Roma Tor Vergata. She currently lives in Germany while she works toward a Bachelor of Tourism for the UNED, Universidad Nacional de Educación a Distancia. In her leisure time, Zulema loves to travel, learn languages (Italian, English and German), study history, and do photography.
Her practices at the Center of the West focused on books in the McCracken Research Library Collection. She also treated textiles, a variety of Plains Indian artifacts, and outdoor bronze sculptures in the museum's collection.
Katrina Zacharias
Katrina Zacharias graduated from the University of Missouri-Columbia in December 2013, where she studied Art History, Fine Arts, and Chemistry. Her previous conservation experience includes volunteering in the conservation lab in the Nelson Atkins Museum in Kansas City and working for Russell-Marti Conservation Services, Inc. in California, Missouri. After finishing her internship in the conservation lab at the Buffalo Bill Center of the West this fall, she plans on applying to graduate school for art conservation.
---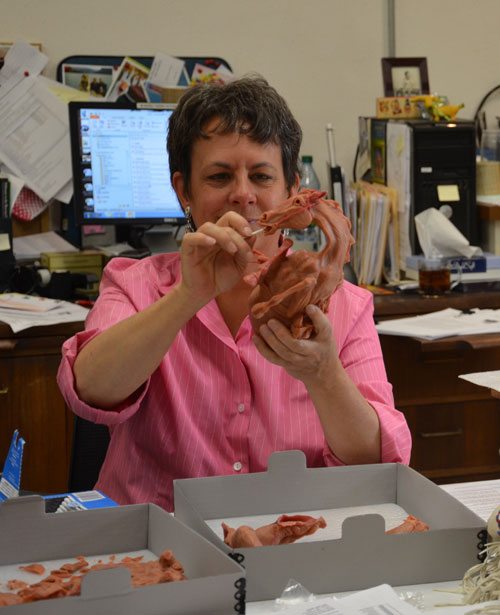 Beverly Nadeen Perkins
Our conservation internship program is led by Beverly Nadeen Perkins. A graduate of the Cooperstown (now Buffalo) program in conservation, Perkins is a Fellow of the American Institute for Conservation and a Fellow of the International Institute for Conservation. She is a certified AIC-CERT emergency responder for cultural institutions. She coordinated the AIC volunteer response to Hurricane Katrina, as well as participated on the ground in Mississippi and Louisiana after Katrina, and most recently in Haiti.
Perkins serves on the board of the Western Association for Art Conservation and the board of the Colorado-Wyoming Association of Museums. She is currently the Chief Conservator at the Center of the West and adjunct faculty in Art History at Northwest College. She served as the NEH Western Field Service Officer and as the coordinator of the IMLS Connecting to Collections Planning Project for Wyoming. Perkins has lectured extensively on disaster recovery for museum collections, collections care topics, and conservation issues. She has worked as a conservator for large institutions such as Winterthur Museum and the Brooklyn Museum, and has carried out more than fifty surveys of collecting institutions of all sizes. Perkins is on the board of Heritage Preservation, the Smithsonian Affiliate Advisory Committee, and the Buffalo Bill Art Show Committee.
---
Visit this page to meet interns from the past few years.