Conservation Residency Program
The Conservation Residency Program at the Buffalo Bill Center of the West trains young conservators from all over the United States and the world. Many are completing their education in graduate programs in conservation. Other young conservators are gaining experience prior to entering a conservation programs. The residents function as part of the conservation staff during their tenure in Cody. They examine objects, write reports, and carry out treatments and individual projects such as collection condition surveys. The Chief Conservator works closely with the residents ensuring the quality of the training and the treatment of the collections.
For more information on our Conservation Residency program, e-mail Chief Conservator Beverly Perkins or call her at 307-578-4029.
Our 2011 conservation interns gather around "The Plainsman" in front of the Center. Buffalo Bill—Plainsman by Bob Scriver, 1976. Cast by Modern Art Foundry, New York. Bronze, 86.5 inches. 12.77
---
2013 Interns
Yacoub Soleman
Yacoub Soleman came to the Center of the West's conservation lab as a student in the manuscript conservation program of Cairo University. He has participated in two ICCROM courses of study—one on organic material in heritage sites, and the second on the conservation of built heritage. He was a courier with the King Tut exhibition in 2012, and worked at the Mary Tree site in Al Mataria, Cairo, Egypt.

Abby Brown
Abby Brown is from Boone, North Carolina. She graduated Manga Cum Laude from Wake Forest University with Honors in Art. She double majored in Studio Art and German and minored in Art History. She was the founder and president of a student-run art club on campus, worked as a teacher assistant for introductory painting classes at her university, and was a member of a German honors society, Delta Phi Alpha. She discovered the field of conservation during her final semester as an undergraduate student when she visited NYU's Conservation Department, and immediately knew conservation was a perfect match for her interests and skills. During her internship at the Center of the West, she gained experience working on a variety of object. She is a candidate for a 2014 – 15 Fulbright Grant to conduct research on conservation ethics while working in the lab of the Auschwitz-Birkenau State Museum in Poland.
---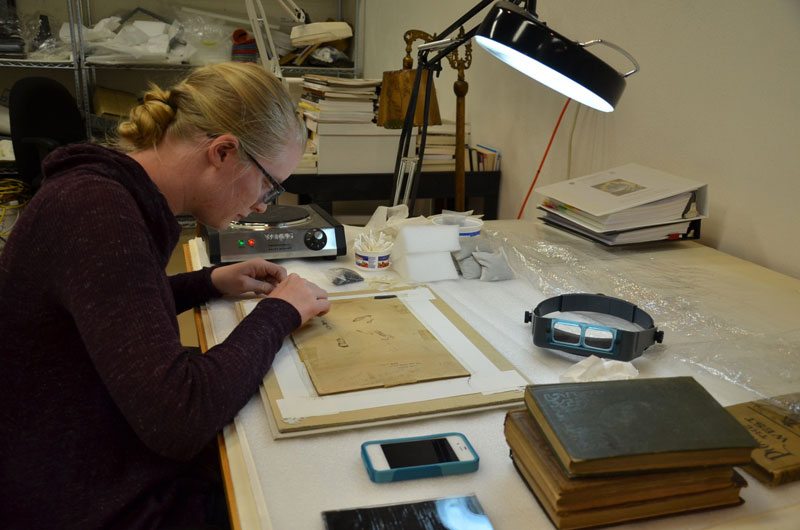 Grace Walters
Grace Walters is from Orlando, Florida. She graduated from Clemson University in 2013 with a Bachelor of Arts in Architecture and a minor in French Language. In the summer of 2012, she interned with the paper conservation lab of the National Library of Ireland. In the fall of the same year she interned with the Biltmore Estate before coming to the Buffalo Bill Center of the West. From here she plans to go to intern with the Museum of Fine Arts in Houston to work in their Decorative Arts department.
---
Allison Rabent
Allison Rabent is from Jamestown, New York. She graduated from Rochester Institute of Technology in 2013 with a bachelor of science in Museum Studies, and minors in chemistry and art history. She has previously interned at the Smithsonian Museum Conservation Institute where she worked with daguerreotypes, and will be interning at the George Eastman House in Rochester, New York, following her time at the Buffalo Bill Center of the West.
---
Josefina Maldonado
Josefina Maldonado is from El Paso, Texas. She received her Bachelor of Science in Chemistry from the University of Texas at El Paso and a Bachelor of Fine Arts in Art from New Mexico State University in Las Cruces, New Mexico. In 2010, she did a conservation science internship at the Library of Congress developing Portable X-ray Fluorescence (PXRF) calibration curves for metals in paper. In the fall, she will be working with a paintings conservator at the Pace Art Conservation in Honolulu, Hawaii. During her time there, she will be applying to graduate programs in art conservation.
---
Ben Regal
Ben Regal is from London, England, and is currently in his final year studying at University College London for a Master of Science in Conservation for Museums and Archaeology. He had previously undertaken five-month internships at the National Maritime Museum, Greenwich, and the Science Museum, London. During his internship with the Center of the West, he analyzed peace medals and treated a range of objects including outdoor sculpture, Plains Indian objects and musical instruments.
---
Stephanie Carrato
Stephanie Carrato is from Monroe Township, New Jersey. She graduated from the School of the Art Institute of Chicago in 2009 with a BFA in Writing. She has interned for the Hebrew Union College Jewish Institute of Religion Museum in New York, New York, and The Museum of Chinese in America, New York, New York. She spent two years as the Curatorial Assistant for the Monmouth County Park System, Monmouth County, New Jersey. Stephanie plans to specialize in works of art on paper.
---
Tiia Yli-Kankahila
Tiia is from Helsinki, Finland and she is an Interior Conservation student at the Helsinki Metropolia University of Applied Sciences. After interning at the Buffalo Bill Center of the West Tiia returns to school for her final year to finish her Bachelor of Culture and Arts degree. During this internship Tiia worked with books, textiles and Native American objects. In Finland Tiia has interned at the National Board of Antiquities and at the Governing Body of the Suomenlinna fortress.
---
Laura Elez Villar
Laura Elez Villar is from Spain. She finished her studies in conservation and restoration of paper and books in Madrid 2012 and did different summer internships such as: the conservation of bones at the University of Barcelona, and conservation of papers and books at the Institute of Cardenal Cisneros (Madrid) and Historical Library Marqués de Valdecillas (Madrid). This summer, her practices at the Center have focused in books and maps.
---
Chief Conservator
Beverly Nadeen Perkins

Our conservation residency program is led by Beverly Nadeen Perkins. A graduate of the Cooperstown (now Buffalo) program in conservation, Perkins is a Fellow of the American Institute for Conservation and a Fellow of the International Institute for Conservation. She is a certified AIC-CERT emergency responder for cultural institutions. She coordinated the AIC volunteer response to Hurricane Katrina, as well as participated on the ground in Mississippi and Louisiana after Katrina and most recently in Haiti. Perkins serves on the board of the Western Association for Art Conservation and the board of the Colorado-Wyoming Association of Museums. She is currently the Chief Conservator at the Buffalo Bill Historical Center and adjunct faculty in Art History at Northwest College. She served as the NEH Western Field Service Officer and as the coordinator of the IMLS Connecting to Collections Planning Project for Wyoming. Perkins has lectured extensively on disaster recovery for museum collections, collections care topics, and conservation issues. She has worked as a conservator for large institutions such as Winterthur Museum and the Brooklyn Museum and has carried out over fifty surveys of collecting institutions of all sizes. Beverly recently joined the board of Heritage Preservation, the Smithsonian Affiliate Advisory Committee, and the Buffalo Bill Art Show Committee.
---
Visit this page to meet interns from the past two years.