Guns of the Week: September 8 – 12, 2014
Unloading the Myth – Is Everything Better with Bacon?
Thomas K. Bacon was associated with many companies throughout his life. He initially worked with Ethan Allen, but in the late 1840s, he formed Bacon & Company. In 1857, he stopped production to work for the Manhattan Firearms Company. He left a year later to form Bacon Manufacturing Company.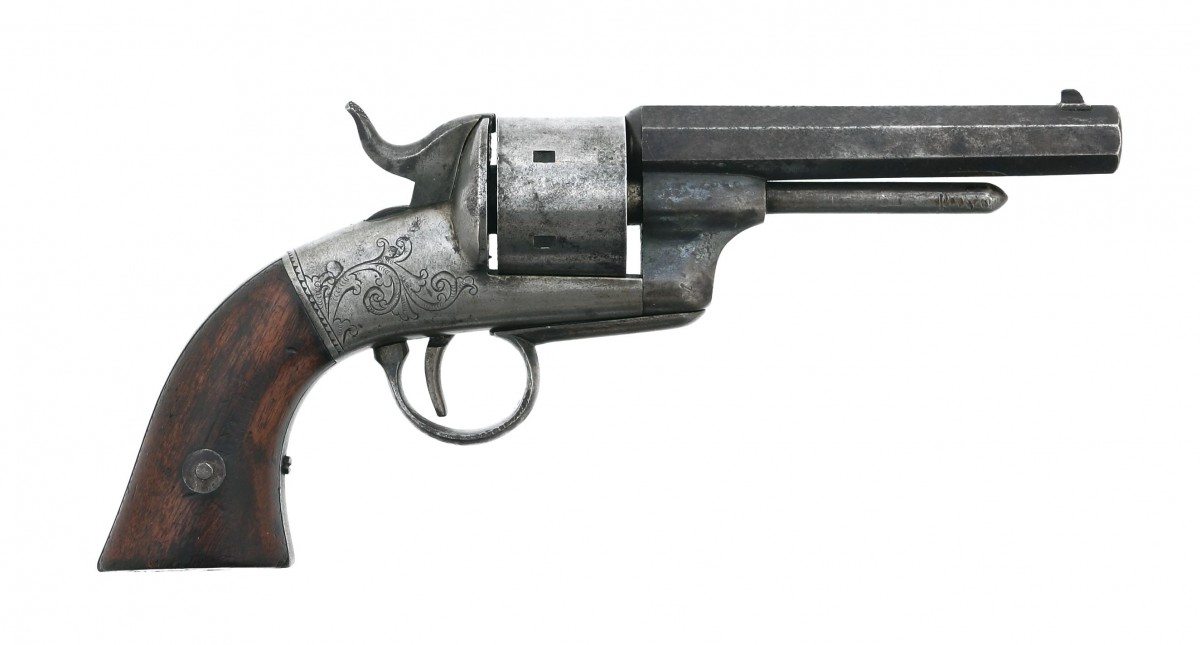 In the 1860s, he produced an array of handguns, including this Removable Trigger Guard Pocket Model Revolver. This .32 short rimfire caliber, six shot revolver was unique because the trigger guard unscrewed and served as a lock for the center pins. Only about 300 were made because of a lawsuit with Smith & Wesson in regards to infringement on the Rollin White Patent.
In 1863, shortly after that lawsuit, Bacon's shareholder Charles Converse forced him out of the company. The company lasted until 1868, when, due to poor sales, the rest of the shareholders formed Hopkins & Allen. During that time, Bacon created the Bacon Arms Company, but that did not last either. While he made many impressive and collectible firearms, suffice it to say many of his colleagues in the mid nineteenth century seemed to think everything was not necessarily better with Bacon.
Unloading the Myth – A Pocket Pistol and Pocket Knife in One
The Marston Three-Barrel Derringer, chambered for .22 rimfire, was made between 1858 and 1865 in New York City by William W. Marston. Approximately 1500 were produced.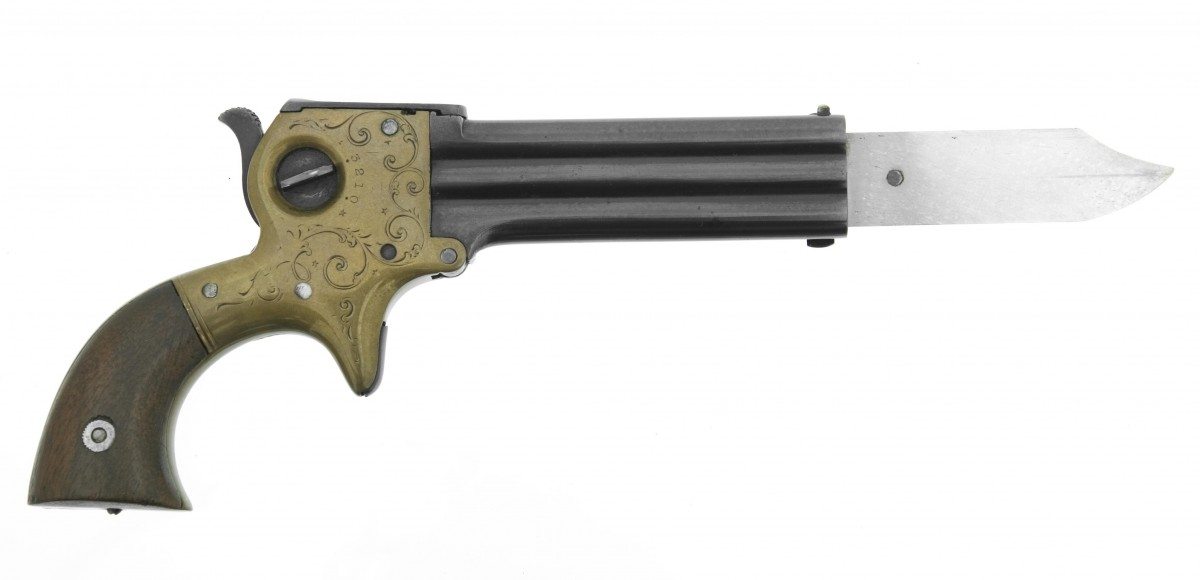 Of that 1500, about 300 were manufactured without retractable knives. While the ones produced without knives are more rare, the Retractable Knife Blade Models are considered by many to be more desirable. This pistol, on display at the Cody Firearms Museum, is a model with a sliding knife that has a flat spring clip to lock the blade into place. It is identified as an early model because of it's "clip point" shape. Later models had a spear point blade.
Unloading the Myth – The Many Incarnations of Allen
Ethan Allen, from Massachusetts, was a well-known manufacturer who produced many types of firearms that were respected for their quality and durability. Allen was originally known for his pepperboxes that were competitive with Colt's early revolvers. He was also one of the first Americans to produce handguns for commercial sale based on interchangeability of parts. The company was known by many names, as Allen partnered with brother-in-laws Charles Thurber and later Thomas P. Wheelock.
About 1500 Allen 22 Sidehammer Rimfire Revolvers were made between 1858 and 1865. They were chambered for .22 rimfire, with a 7 shot cylinder. This particular model is an Eighth Issue, made in 1865. The barrel address is stamped "Ethan Allen & Co". Most of these revolvers were stamped "Allen & Wheelock," until Thomas Wheelock passed away in 1864, when the company reverted back to being Ethan Allen & Co.