In the fifteenth fall, the Plains Indian Museum hosted high school students, tribal elders, and instructors from St. Labre Indian School in Ashland, Montana. The student's fall visit is part of a collaborative program between St. Labre Indian Schools and the Plains Indian Museum. Elyna Bowen (Cheyenne), Grace King (Cheyenne/ Assiniboine/ Sioux), Mariah Small Bear (Crow), and Ariel Spang (Crow/ Cheyenne) examined objects and learned practical museum procedures. Their visit consisted of two days of intensive lessons with Center staff of the curatorial departments, collections management, exhibit production, and registration. The students with assistance from Heather Bender of the Education Department also received special tours with Jordan Davis and Rebekah Childers of Museum Services; Sally Disque of the Draper Museum Raptor Experience; Corey Anco of the Draper Natural History Museum; and Hunter Old Elk of the Plains Indian Museum. The students were excellent representatives of the Northern Cheyenne, Crow, and Assinboine Sioux Tribes.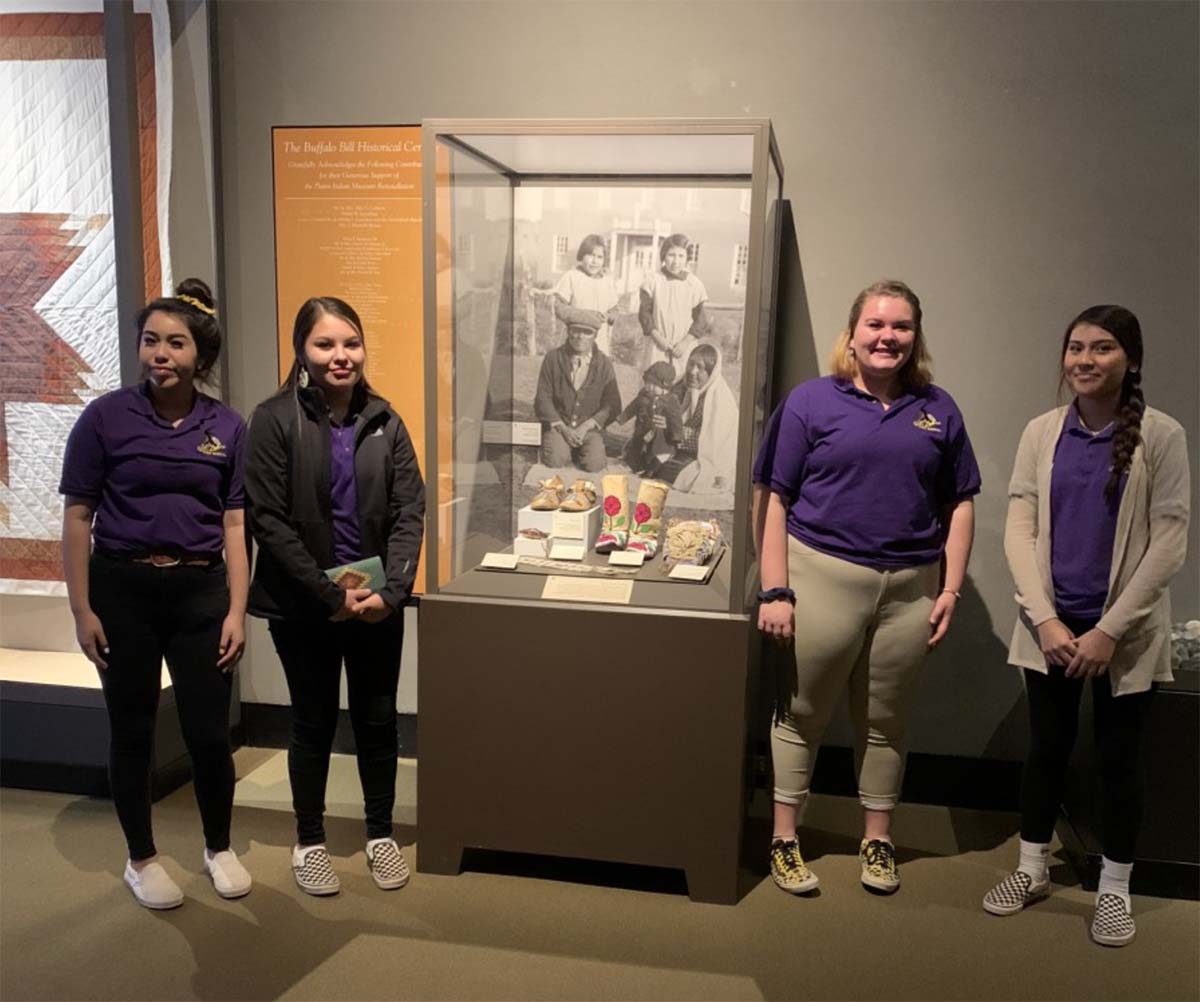 ---
"Going to Cody was a really fun experience. Besides being away from school, I learned a few things that I probably would have never learned if I did not go on the trip. My favorite part was when Rebekah Childers showed us how to preserve objects. "I always thought they just put the objects in like a box of packing peanuts. I did not know they had to go through a whole process with specific materials. It was very interesting to learn about, plus it gave me an idea of how to make a storage box for my dancing fans." -Mariah Small Bear (Crow)
---
"My experience at the Buffalo Bill Center of the West was fun and exciting. It was fun and exciting because of all the activities we got to do and all the objects we got to see.We got to see so many old artifacts and they were all so beautiful. I felt very blessed to work with them. It was also very exciting because there was so much of the museum to see and explore. I will forever remember my trip to the Buffalo Bill Center of the West." -Grace King (Northern Cheyenne/ Assiniboine/ Sioux)
---
"My experience at the museum was amazing, fun, and educational. The staff we worked with were really nice, they were interactive, energetic and patient with us. I really enjoyed getting to go into the vaults and seeing all of the items that aren't on display and how big the Plains Indian collection is. Getting to look around at the museum after we had done our school part was nice because I got to see all of the other exhibits and collections that the museum has. My favorite part about the museum trip was handling our objects and setting up our display case, it was really cool to see it all together and in a professional setting." Elyna Bowen (Northern Cheyenne)
---
"My favorite part of the trip was getting to see all the beadwork! It was so beautiful and fascinating, getting to compare the beadwork from the late 1800s to the early 2000s was such a great opportunity. The object that I picked for the display gave me a personal connection because it was once owned by a little Crow girl and I thought her (toy) cradleboard needed to be seen and honored. Hunter Old Elk was a great teacher, she taught me new amazing things, the trip to the museum was very incredible and it is something I would definitely do again. I also really loved the gift shop got to see and buy new things my family would like." Ariel Spang (Crow/ Northern Cheyenne)
---
The Plains Indian Museum staff were deeply impressed by the students' interpretations of moccasins, dolls, cradleboards, and natal amulets. We'd like to thank the students for sharing their thoughts, and extend our appreciation to the St. Labre School for supporting the students' time and travel for the museum studies and beadwork class field trip. Their exhibition case can be viewed through Spring 2020 in the entrance of the Plains Indian Museum.