Is snail mail really as slow as we think it is?
Today we can communicate with pretty much anyone instantly. Our online orders can arrive as soon as the next day, and if we are patient snail mail might take a week. Maybe we want to find out exactly when mail will arrive–we can track it!
THINK ABOUT IT: Was it always so easy? How else do you think people people used to receive their mail?
Back in 1860, the Pony Express was a fast mail service that covered nearly 2,000 miles from Missouri to California. Its relay system of horses and riders cut the delivery time of mail and news from over 24 days to just 10 days! The Pony Express stopped operating after only 18 months. The invention of the telegraph and extension of telegraph lines to California allowed people to communicate even faster. It also put the Pony Express out of business. Yet, the Pony Express is still an important part of the history of the American West.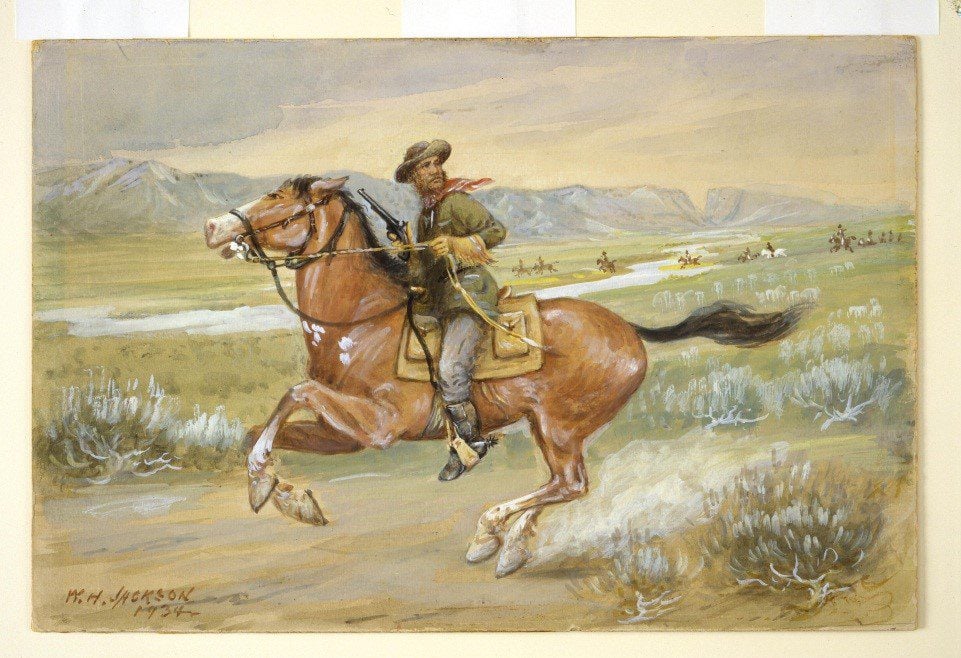 Pony Express – Fast Facts
Operators: Russell, Majors & Waddell (April 1860-July 1861); Wells Fargo & Co. (July-November 1861)
Dates: April 3, 1860 through November 1861 (Telegraph service began on October 24, 1861)
Speed: A horse's average speed was 10 miles per hour
Horses Changed: every 10 to 15 miles
Riders Changed: every 75 to 100 miles
Number of Horses: approximately 400 horses purchased for the Pony Express
Route: 1966 miles–from St Joseph, Missouri to Sacramento, California
Time: route took 10 days
Salary: riders earned $100-$125 per month
SUMMARIZE: What are three interesting facts that you learned about the Pony Express?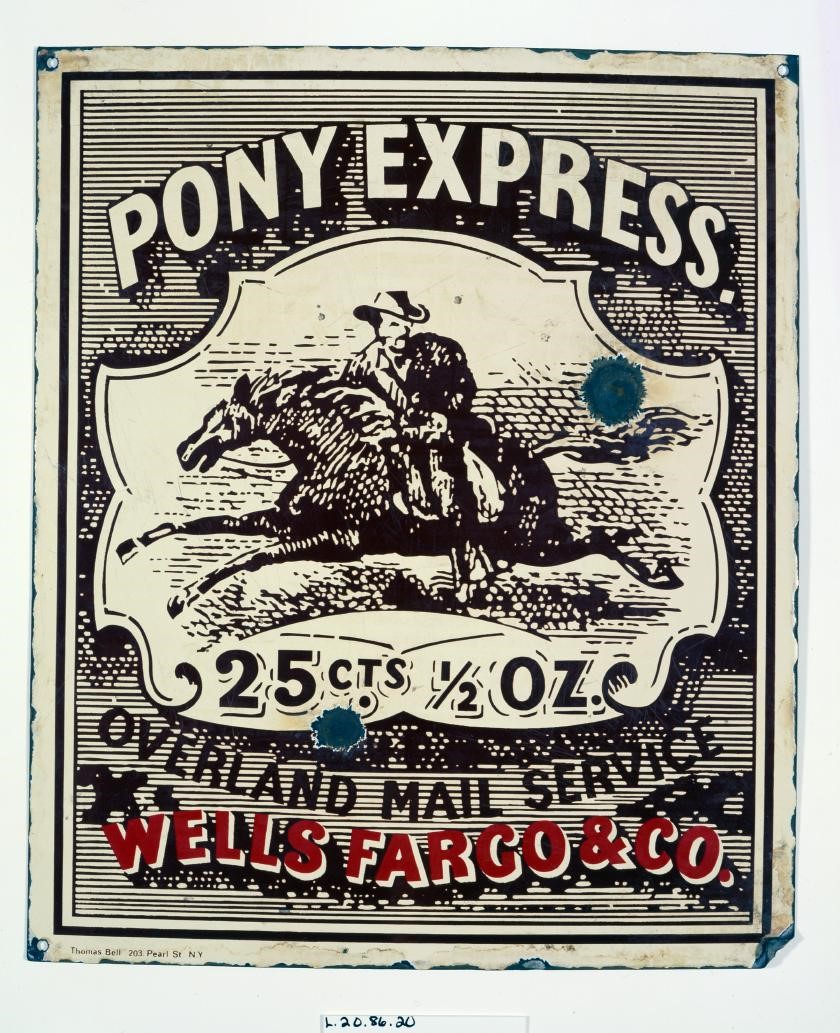 How did the horses carry the mail?
Can you imagine a Pony Express rider racing up to your mailbox and delivering you a postcard? If they did, the rider would jump off his horse and unlock one of the pockets on the saddle's mochila (moh-chee-luh). While it's fun to imagine, that's not how mail is delivered in today's wild west.
The mochila was a leather piece with slits that fit over a pony express saddle. It had four locking pockets called "cantinas" that held the mail. An experienced rider could pull a mochila off one horse and throw it across another one in less than two minutes. Saddles, made especially for the Pony Express, weighed less than 13 pounds. Today's western saddles can weigh anywhere between 10 and 60 pounds!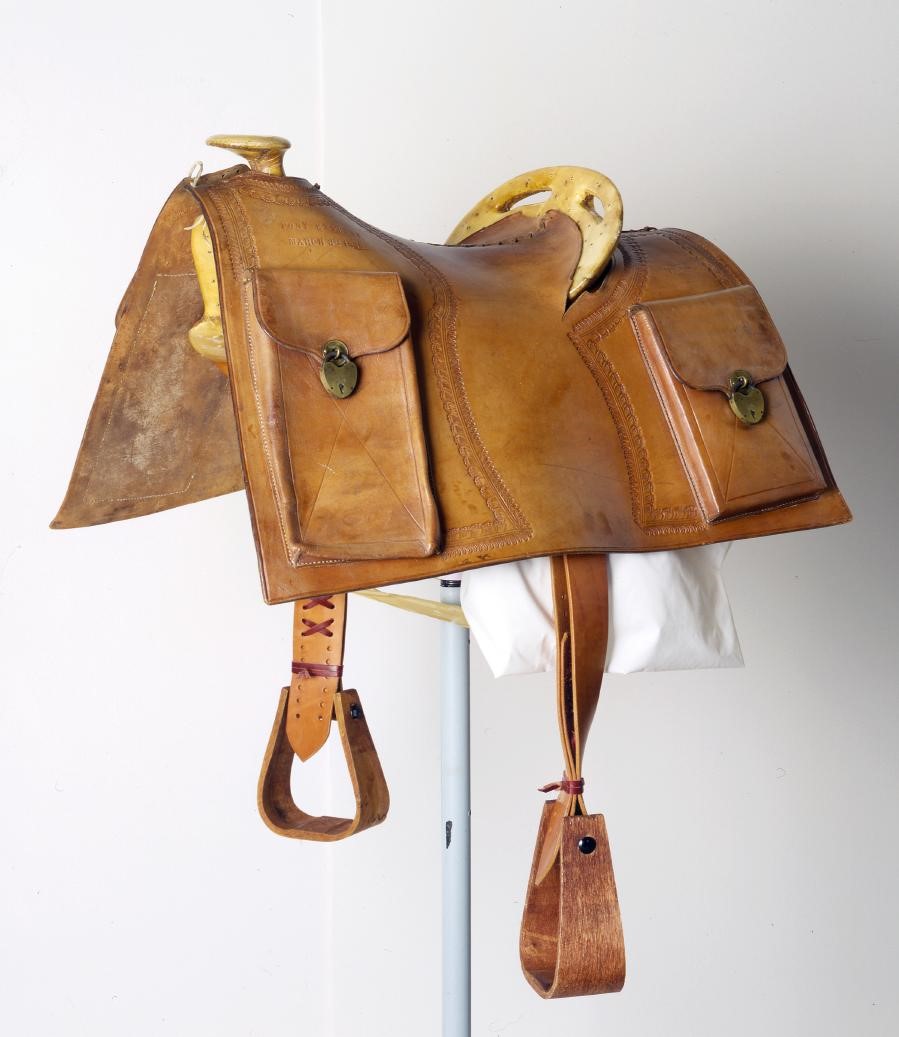 COMPARE AND CONTRAST: How is the mochila similar and different from today's postal carriers?
Did Buffalo Bill ride for the Pony Express?
The answer to question is not a simple yes or no. We like to call it a History Mystery! Buffalo Bill wrote an autobiography documenting his life, and he wrote that he did ride for the Pony Express as a young man. However, it does not end there! There is no other documentation that actually proves he rode for Pony Express. So, it really is a History Mystery!
THINK ABOUT IT: What do you think? Did he or didn't he ride for the Pony Express and WHY?
How did the world learn about the Pony Express?
While we may not know for sure if young Buffalo Bill rode for the Pony Express, we do know that he shared its story around the world!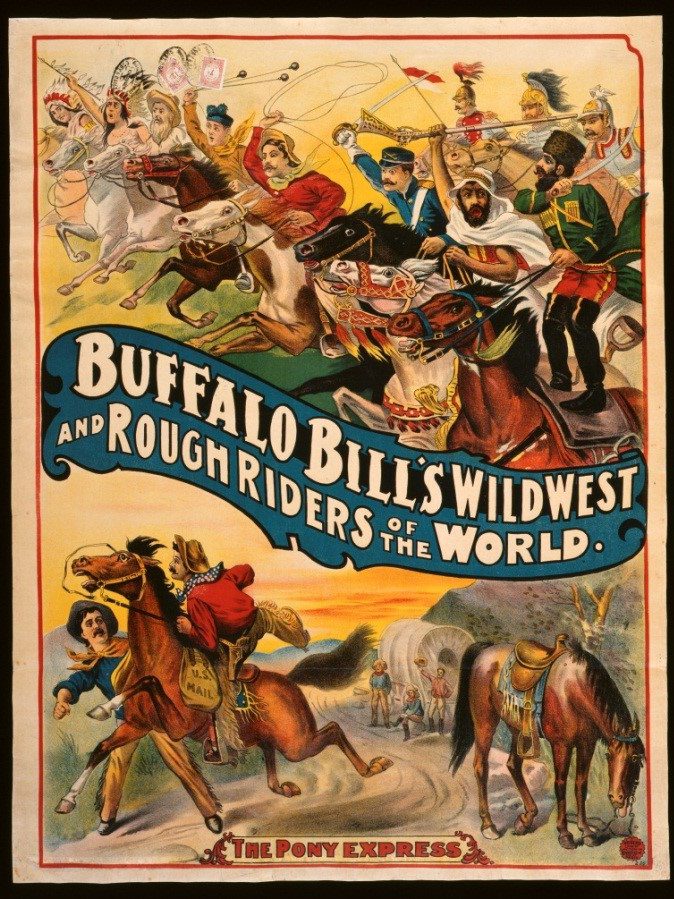 Cowboys in Buffalo Bill's Wild West acted out the Pony Express for 30 years. A rider galloped from one end of the arena to the other, changing horses once. Later performances included a log cabin and a station master. The station master handed off the mail to the rider as it galloped past him.
"Then they showed what they called the Fast Mail. A man got on a horse with a mail bag and he tore along until he came to a man with another horse. It was surprising how quick he brought his horse to a stop and got on the other horse."[1]

Twenty-year-old Mary Alice Branfield attended a Wild West performance in Chicago on July 14, 1893. Everything she saw impressed her, especially the Pony Express act.
---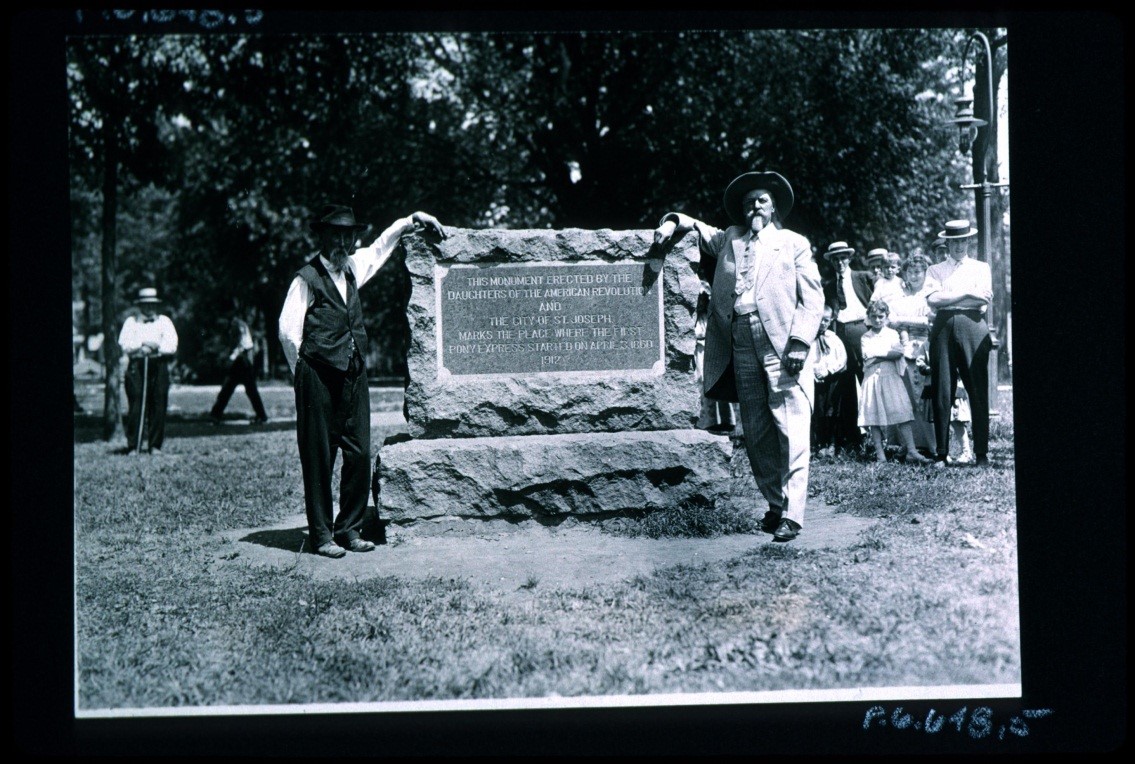 "For three decades a representation of the Pony Express was a spectacle at every performance of Buffalo Bill's Wild West. No other act was more consistently on its program. It was easy to stage, and it had the interest of a race, as well as re-creating a romantic episode. It is highly unlikely that the Pony Express would be so well remembered had not Buffalo Bill so glamorized it; in common opinion Buffalo Bill and Pony Express are indissolubly linked."[3]

The Pony Express was only in existence for about 18 months. However, the fascination with this short part of history is long lived. Historian Don Russell credits Buffalo Bill with the Pony Express's rise to fame.
PUTTING IT TOGETHER: Why do you think the story of the Pony Express is still important today?
[1] Diary of Mary Alice Branfield, 1893, privately held, copy in Buffalo Bill Museum Research Files.
[2] Don Russell. The Lives and Legends of Buffalo Bill. Norman: University of Oklahoma Press, 1960.