Center of the West history continued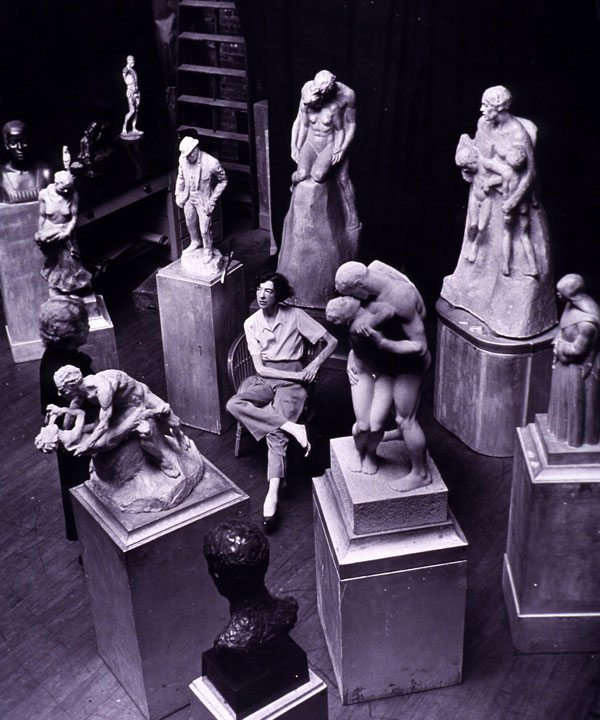 We pick up the story of the history of the Buffalo Bill Center of the West: In the early 1920s, the proposed bronze statue of Buffalo Bill on horseback, its plinth (base), land, shipment from Whitney's Long Island studio, erection at the site, and value of the artist's time and genus, all added up to an estimated $250,000. Although Whitney was aware that the small town of Cody, population 1,500, would not be able to raise this amount, she proceeded with her plans to sculpt the monument. However, she did not approve of the two lots purchased by the Buffalo Bill Memorial Association, so she bought forty additional acres adjoining these lots. This land now includes the site of both the statue and the Buffalo Bill Historical Center. She and her friends organized the Buffalo Bill American Association to see the statue project to completion. "Its promotional slant was old-fashioned American patriotism: mother, home and apple pie, the pioneer qualities of courage, responsibility, audacity, loyalty, and cooperation."
On April 3, 1924, the kickoff national fundraising dinner was held at the Biltmore Hotel in New York City. Two months later, photos of Whitney's first statue were displayed in Cody, Wyoming. As it turned out, Whitney paid for the entire project, over $50,000, out of her own pocket when donations—just to cover expenses—were not forthcoming. This did not dishearten her from creating one of her finest works of art, despite controversy surrounding its design elements. Her vision was to sculpt Cody at about age 30, mounted on a typical western horse, with a plinth of natural pink granite. The monument was "to stand…west of town facing the sun-down slope." The statue would be somewhat larger than life-size and ready for dedication by July 4, 1924. Dedication ceremonies drew an 5,000 – 10,000 people. Ironically, Whitney did not attend, having sailed for Europe a week earlier.7
During the fall of 1925, the International Cody Family Association was formed at the Drake Hotel in Chicago, initiated by Mary Jester Allen. At this organizational meeting she made her proposal for a Buffalo Bill Memorial Museum and appealed for "family relics." The new association also discussed plans to have Buffalo Bill exhumed and reburied in Cody. Allen was described as "chairman and an enthusiastic promoter of a plan to gather, in the old homestead in Cody, Wyoming, all possible relics of the famous frontiersman, which will tell his history and likewise that of the period when he became famous." Allen may have been the only family member who wanted to locate the museum in Cody.
During the following year, she and a small family committee traveled to a number of cities searching for the museum's ideal site. As early as January 1924, seven months prior to the dedication of Whitney's bronze, Buffalo Bill—The Scout, Allen had proposed that a museum be built on land purchased with $5,000 in state funds for a Buffalo Bill Memorial. However, it took an entire year for her to convince her own family that Cody would be the ideal place for a museum. Why Allen wanted this museum in Cody, Wyoming, may have involved more sentiment than financial considerations or practicality. It may also have included Allen's desire to live in Cody's favorably dry, clear climate, in a relaxed small town atmosphere, and to preside over a smaller museum, involving less stress and minimal management.8
On October 4, 1926, the Buffalo Bill Memorial Association executed the warranty deed for the lots to the Cody Family Memorial Board. The north 150 feet of this tract was for the grantee to "erect thereon a memorial in a form of a museum to William F. Cody, known as Buffalo Bill, on or before the first day of January, 1928; that said land will not be used for any other purpose excepting for the erection and maintenance thereupon of such museum and not for any commercial purpose whatsoever."9
The Buffalo Bill Museum's first home, a log structure at 836 Sheridan Avenue, began to take form early in 1927, a prosperous year in America. Planned as "an exact replica in design" of Buffalo Bill's TE Ranch house, except for the fact that its dimensions (50 x 70 feet) were considerably larger, it blended in well with the town's rustic atmosphere and was typical of western architectural design. It had seven large rooms, two halls, two public lavatories, three closets, a scrub room, two big stone fireplaces, two smaller fireplaces, and two porches.
Dedicated on July 4, a duplicate of Buffalo Bill's living room, "faithful in every detail," was ready when the museum's doors opened to the public during summer 927. It was a "homey memorial, welcoming friends and guests." The new structure contained Allen's own collection of Buffalo Bill memorabilia, much of it inherited from her mother, Helen, Buffalo Bill's third sister. Within just a few years, the museum was bulging with "…too many riches for its display space…"10
By 1949, the Buffalo Bill Memorial Association had taken on new life, after World War II, and was investigating every possibility for museum expansion. Its board had created a national planning board to guide future development of BBMA land, both east and west of Sheridan Avenue. Their vision was for a great national shrine and memorial to Buffalo Bill and the early pioneers of the West. This was Allen's goal, all along, to expand the little museum toward a great national center. Cody Attorney Ernest J. Goppert, Sr. had taken on a pivotal role in the BBMA, having served as vice-president during 1939 and 1940, then as president of the board of trustees beginning in 1946. His influence would forge a new and vibrant path for the organization for 28 years; he stepped down in 1974.11
In 1950, chairman of the planning committee Stan Kershaw jotted down "Some Notes on Planning for Expansion." The committee's concept was for "an education shrine dedicated to the memory of Buffalo Bill and presenting for the benefit of the public…the history and development of…the 'Old West.'" The fields of knowledge would include western American arts and crafts, geology, agriculture, stock raising, literature, drama and music, Indian lore, transportation, flora and fauna, and all that the study of history implied. And for the first time, he mentioned the name of the institution: Buffalo Bill Historical Center.12
What finally propelled this idealistic concept toward concrete and mortar was a $250,000 gift from Gertrude Vanderbilt Whitney's son, Sonny Whitney, in 1955, for "construction of an art center in Cody." The New York Times reported, "the board is considering plans for a new fireproof display building, a gallery of Western art, a geological and an American history building." Bolstered by the Whitney endowment, the BBMA Board of Trustees began the planning process for the anchoring structure of the present Buffalo Bill Historical Center—the Whitney Gallery of Western Art—completed in 1958, southwest of the old log museum. Today, the Cody Country Chamber of Commerce and the Cody Country Art League occupy the original Buffalo Bill Museum building.13
Mary Jester Allen faithfully served the Buffalo Bill Museum for over 34 years (1927 – 1960), as its first director, and, at the beginning, as guide, guard, curator, registrar, secretary, accountant, and custodian. During this period, Allen witnessed the fulfillment of many of her dreams for the museum as a great pioneer historical center in Cody, and she provided an unbroken thread of continuity and dedication until her death in August 1960 at the age of 85. As her dream unfolded, however, she may, at times, have felt "pushed aside" by growth and expansion. After all, it was her museum. But, it could safely be said that without her, the Buffalo Bill Museum, and now, the Buffalo Bill Historical Center would never have existed at all. Her cosmopolitan outlook and connections with the Eastern establishment gave impetus to many phases of museum development. These critical networks drove a small log building that once housed early museum collections, into the future, now within a 300,000-square-foot multiple-museum and library complex.14
The present-day Buffalo Bill Museum contains a wealth of material relating to the life of William F. "Buffalo Bill" Cody and the pioneer culture of the Western frontier. The exhibition in the museum serves two purposes: to examine the personal and public lives of Buffalo Bill, and to interpret his story in the context of the history and myth of the American West.15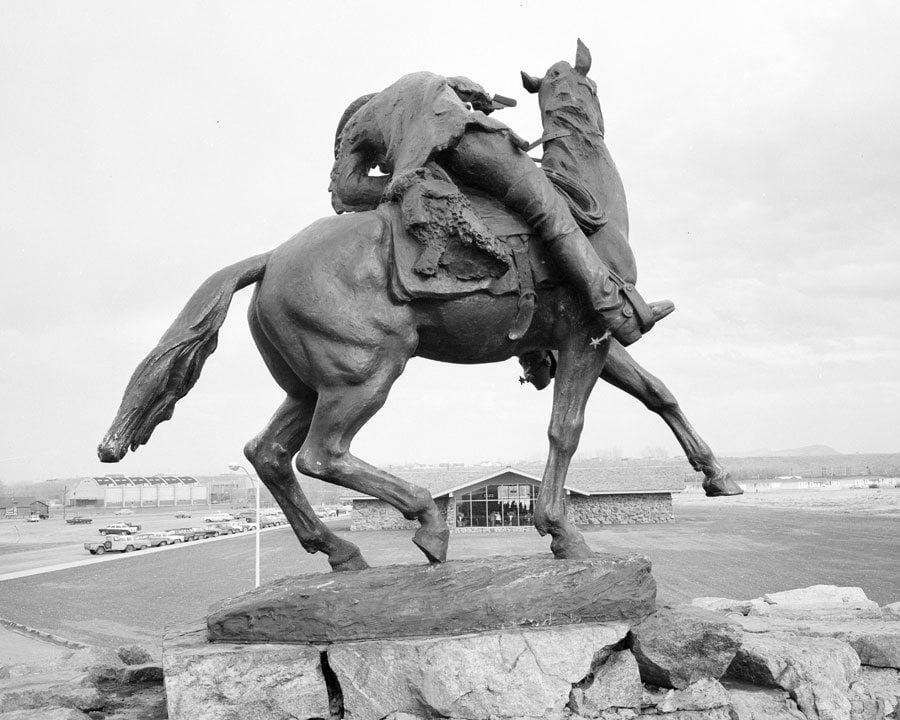 The Whitney Gallery of Western Art, established in 1958, now contains expanded collections of masterworks of the American West. Original paintings, sculpture, and prints trace artistic interpretations of the West from the early 19th century through the present. Highlights include documentary art by George Catlin and A.J. Miller, landscapes by Albert Bierstadt and Thomas Moran, and the classic West of Frederic Remington, Charles M. Russell, N.C. Wyeth, and W.H.D. Koerner. The collection continues with an array of contemporary art16
The Plains Indian Museum, originally established in 1969, was rededicated in its own wing in 1979. In June 2000, the museum completed a reinterpretation to create, in the words of Crow elder and historian Joe Medicine Crow, "a living breathing place where more than just Indian objects are on display." The Plains Indian Museum has one of the country's largest and finest collections of Plains Indian art and artifacts. Through exhibitions and interpretive audiovisual programs, the gallery presentation tells the stories of Plains Indian people—their cultural backgrounds, traditions, values, and histories, as well as the context of their lives today.17
The firearms museum, dedicated as the Winchester Arms Museum in 1976, was rededicated in 1991 in a new wing as the Cody Firearms Museum. It houses the world's largest and most important assemblage of American arms, as well as European arms dating back to the 16th century. More than 5,000 firearms in the collection chronicle the development of firearms from the 16th century to the present, documenting their on the settlement of the United States and the fundamental contributions of the firearms industry to the industrial revolution.18
The McCracken Research Library, established in 1980, is a specialized library and archives with a catalog of materials accessible within this Center's Web site. Holdings include manuscripts, archives, and photographs, as well as printed and electronic resources. The library is a participating OCLC library, and a member of the WYLD Library Network. Major collections are Buffalo Bill's Wild West, Western art and artists, Plains Indian history and culture, firearms history and technology, the natural history of the Greater Yellowstone Ecosystem, the history of Yellowstone National Park, western folk music, and local history.19
An integral unit of the Buffalo Bill Historical Center, the Draper Museum of Natural History, opened to great acclaim in June 2002 and creates, accumulates, and disseminates knowledge about the natural environment and human cultures of the American West, focusing on the Greater Yellowstone region.
How has an internationally recognized historical center blossomed in a small western town like Cody, Wyoming? William H. Hornby, Senior Editor of The Denver Post (1990 – 1992), answered "Love of the West, freely given by the white and Indian, country lawyer and New York tycoon, artist and scientist, salesmen and scholar, toddler and senior, American and foreigner…" This appreciation for western culture, the draw of the Greater Yellowstone region, and the mystique and love of Buffalo Bill himself, have all combined with sound local leadership, money and sweat, persistence and compromise, vision and creativity, to grow a world-class museum complex in the wild and colorful landscapes of the Northern Rocky Mountains. From $5,000 in 1917 to $50 million plus in assets today—Mary Jester Allen would be proud.21
Endnotes
1. Bartlett, Richard A. From Cody to the World: The First Seventy-Five Years of the Buffalo Bill Memorial Association. Cody, Wyoming: The Buffalo Bill Historical Center, 1992, pp. 23, 24.
2. Ibid., p. 25.
3. Ibid., pp. 22, 23.
4. Ibid., p. 22; Yost, Nellie Snyder. Buffalo Bill: His Family, Friends, Fame, Failures, and Fortunes. Chicago: The Swallow Press Inc., 1980, p. 403; Russell, Don. The Lives and Legends of Buffalo Bill. Norman, Oklahoma: University of Oklahoma Press, 1960, p. 469.
5. Ibid., p. 22.
6. Gertrude Vanderbilt Whitney was born into immense wealth, but at age 18 she lamented, "I longed to be someone else, to be liked only for oneself, to live quietly and happily, without the burden that goes with riches." She began sculpting at age twenty-five, after marrying Harry Payne Whitney, and studied at the Art Students League with James Earle Fraser and Hendrik Anderson. She also worked in Paris with Andrew O'Connor and Auguste Rodin. In 1931, she founded the Whitney Museum of American Art in New York City. When she died in 1942, Gertrude Vanderbilt Whitney was one of the richest women in America, leaving $78 million, the largest estate of all fourth-generation Vanderbilts. (Ibid., p. 25; AskArt: The Artists Bluebook, October 8, 2001)
7. Bartlett, Richard A. From Cody to the World: The First Seventy-Five Years of the Buffalo Bill Memorial Association, pp. 44, 45, 55.
8. Ibid., pp. 59 – 61.
9. Ibid., p. 63.
10. Ibid., p. 68, 69.
11. Ibid, pp. 111, 112, 118, 119.
12. Ibid., p. 120.
13. Ibid., p. 121, 122.
14. Ibid., p. 75, 105, 106.
15. Visitor's Guide, Buffalo Bill Historical Center, Cody, Wyoming, 2001.
16. Ibid.
17. Ibid.
18. Ibid.
19. Ibid.
20. Ibid.
21. Bartlett, Richard A. From Cody to the World: The First Seventy-Five Years of the Buffalo Bill Memorial Association, pp. 216 – 218.