2022 Kurt Swanson Bucholz "Arsenals of History"
A Cody Firearms Museum Symposium
Thursday–Saturday
October 6–8
Arsenals of History features speakers from around the world and focuses on firearms history, museum practice, and ongoing research within the field. Plan to attend October 6–8 at the Cody Firearms Museum in Cody, Wyoming. Find the speaker list and schedule below.
Advanced registration is required and includes lunch all three days.

Group rates available at the following Cody hotels. Mention the Cody Firearms Museum Symposium when calling the hotels directly for reservations:
Best Western Sunset Motor Inn
1601 8th St. in Cody
307-587-4265
Hampton Inn & Suites
8 Southfork Road in Cody
307-587-4505
Click here for a downloadable flyer
Pricing: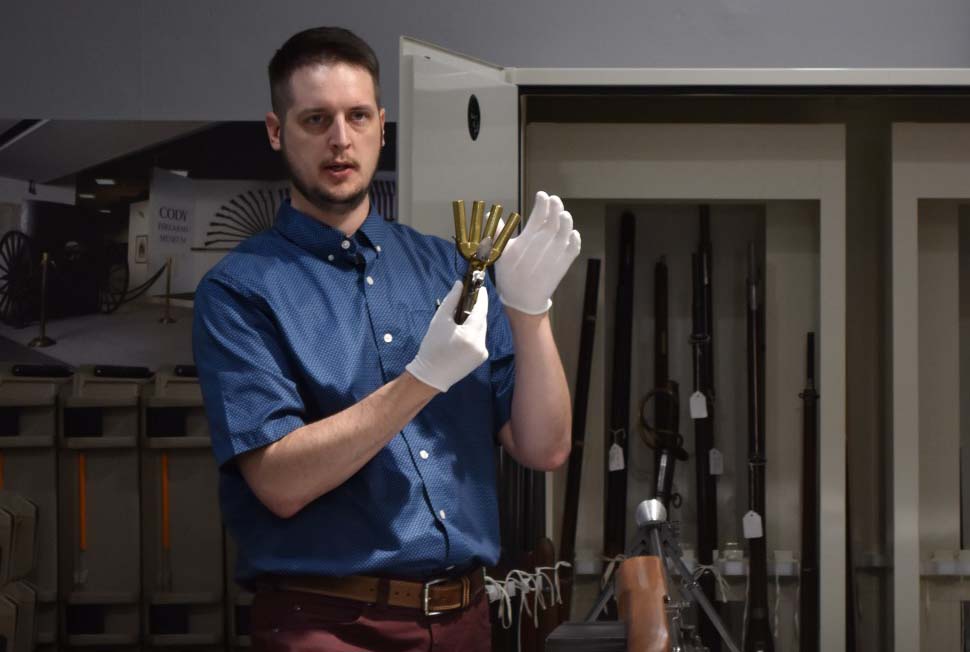 • General Registration: $175
• Museum or other institution staff: $115 (Institution must be provided during registration)*
*Limited need-based scholarships available for representatives of other non-profit institutions. Please contact Danny Michael at [email protected].
Schedule:
Thursday, October 6
8:30 a.m.: Extracting the Detail & Showcasing the Hidden. By Dr. Rachel Bolton-King, Associate Professor, Staffordshire University.
9:45 a.m.: The Cartier-Roberval Site: Renaissance Strategy in North America, with guns. By Khan Rooney, Historical Arms curator; Intendant of the Chateau Ramezay.
1:15 p.m.: Verifying the Story: Untangling a Confusing Family History. By Dave Kennedy, Curator of Collections, U.S. Marshals Museum.
2:30 p.m.: "Vinvit Qui Patitur": The Life of an American Armsmaker–Colonel Samuel Colt. By Bert Barnett, Retired National Park Ranger.
3:45 p.m.: Winchester Contributions to Experimental Military SALW During the Cold War. By Nic Jenzen-Jones, Director, Armament Research Services.
Friday, October 7
8:30 a.m.: Arming Virginia: Military Firearms in the Colonial Capital. By Erik Goldstein, Senior Curator of Mechanical Arts & Numismatics, The Colonial Williamsburg Foundation.
9:45 a.m.: Finding R.H. Weakley. By Susan Ashman, Historic Weapons Supervisor, Springfield Armory National Historic Site.
11 a.m.: Exhibiting the Marine Raiders at the National Museum of the Marine Corps. By Kater Miller, Outreach Curator and Jennifer Jackson, Exhibit Specialist, National Museum of the Marine Corps.
1:30 p.m.: The Armament of Blackbeard's Queen Anne's Revenge. By Erik Farrell, Archaeological Conservator.
2:45 p.m.: Methods of Research: Making a Book and Video Game about the Collier Revolver. By Ben Nicholson, Professor Emeritus, School of the Art Institute of Chicago.
Saturday, October 8
9 a.m.: Family tradition or provenance? Employing Genealogy Tools to Research Early American Firearms. By Zac Distel, Curator & Program Exhibit Director, Sons of the American Revolution.
10:15 a.m.: Ready, Aim, Tour: Using Dialogic Interpretation for Firearms Programming. By Kirsten Michael, Exclusive Tours Coordinator, Buffalo Bill Center of the West.
12:45 p.m.: Dutch Arms Development in the Age of Industrialization (1815–1895). By Mathieu Willemsen,
2 p.m.: I Liked My Armalite: The British Experience of the AR-15 Rifle. By Jonathan Ferguson, Keeper of Firearms and Artillery, Royal Armouries and Matthew Moss, Historian Specialising in Small Arms History, Editor of OvertDefense.com.