Holiday Open House
Celebrates the season with the Buffalo Bill Center of the West at our annual Holiday Open House, a day filled with festive decorations, Santa Claus, and entertainment.
The Holiday Open House is free, but families attending are encouraged to share the holiday spirit: Bring a can of food or a new, unwrapped toy that the Center will donate to Cody Cupboard and Holiday Helpers for distribution throughout the community.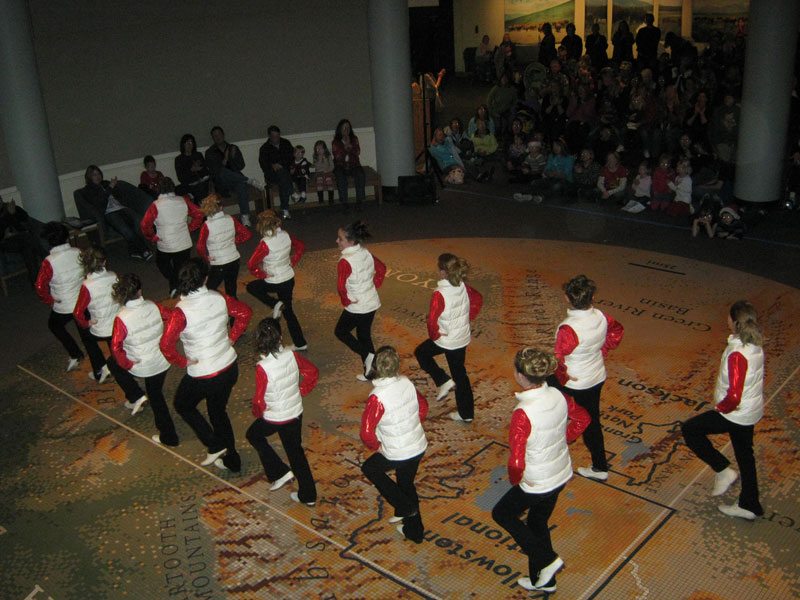 Entertainment
Local and regional groups perform for the crowds at our Holiday Open House, with entertainment running simultaneously in two venues. The diverse programs offer something for everyone: music by choruses, carolers, honor choirs, jazz bands, and barbershop quartets; dance in styles from ballet to modern, clogging to tap. All our performers generously volunteer their time and talent.
Our 2016 performance roster included:
Forty Fabulous Fingers piano quartet and recorder quartet, Washakie Museum Singers, Sheets family, Wapiti/Valley Elementary, Yellowstone Harmony Chorus, East Side Elementary, Livingston Honor Choir, Cody Center for the Performing Arts, Sunset Honor Choir, CMS Jazz Band, Rocky Mountain School of the Arts, i discenti veloci Chamber Ensemble, Absaroka Mountain Thunder, Cody High School Synergy, Swingin' on 10th Street Jazz Combo, Cody High School Jazz Band, CMS Jazzical, and Sunlight Martial Arts.
Visit with Santa
Santa Claus considers the Buffalo Bill Center of the West a very important stop in his preparations for Christmas each year. Children (of all ages!) can visit with Santa at the Holiday Open House and tell him their wishes for the holiday season.
Draper Museum Raptor Experience
The birds of our Draper Museum Raptor Experience appear at the Holiday Open House as well! Find them and their "mobile perches"—their human handlers—in the John Bunker Sands Photography Gallery of the Draper Natural History Museum.
Holiday Stories
The Cody Reading Council is always on hand near Santa to read favorite Christmas and holiday stories, so don't worry! If that line to Santa is long, there will be plenty to entertain the children while they wait.
Print a Bookmark
Our resident printer, Volunteer Mike Parker, helps visitors print their own souvenir bookmark. Find Mike next to William F. "Buffalo Bill" Cody's printing press in the Buffalo Bill Museum.

Our Museum Store
The Center's Museum Store carries unique gifts, fine jewelry, books, music, toys, clothing, and more. For the Holiday Open House, the Store offers discounts on select items in celebration of the season, and hosts book signings by Center and local authors.
Holiday Decorations
Festive decorations not only greet visitors to the Holiday Open House, but through New Years to spread holiday cheer!
A sixteen-foot decorated Christmas tree graces the entrance to the Buffalo Bill Center of the West each year for the Holiday Open House.