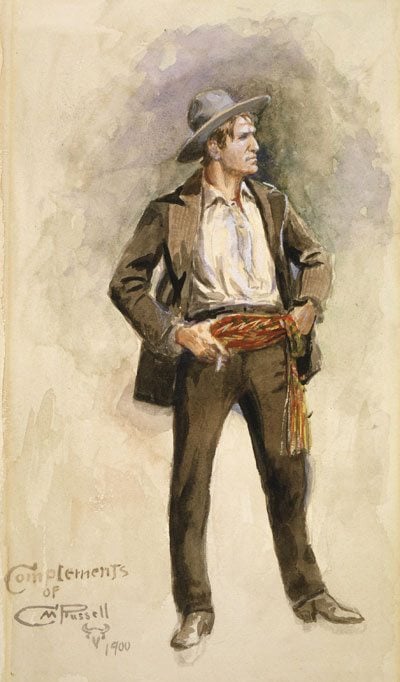 Charles M. Russell
1864 – 1926
"Betwine the pen and the brush there is little diffornce but I belive the man that makes word pictures is the greater." —Charles M. Russell letter to Ralph S. Kendall, November 26, 1919
Charles Marion Russell was an accomplished painter, sculptor, illustrator, and a gifted storyteller. Russell was born March 19, 1864, in St. Louis, Missouri, on the edge of the burgeoning western frontier. As a boy, he crafted his own expectations of the American West by filling his schoolbooks with drawings of cowboys and Indians. Shortly before turning 16, he arrived in Montana, where he spent eleven years working various ranching jobs. He sketched in his free time and soon gained a local reputation as an artist. His firsthand experience as a ranch hand and his intimate knowledge of outdoor life contributed to the distinctive realism characteristic of his style.
In his Self-Portrait, painted in 1900, Russell stands with his feet planted solidly and his hat tipped back; he portrays himself as a stalwart yet open person. He wears the red Metis sash and custom made high-heeled riding boots that were a mark of his individuality, just as much as his quick wit, laconic speech, and gift as a raconteur—exhibited in his humorous short stories and illustrated letters. Russell wrote, "I am old-fashioned and peculiar in my dress. I am eccentric (that is a polite way of saying you're crazy). I believe in luck and have lots of it…Any man that can make a living doing what he likes is lucky, and I'm that." Considered a sensitive, modest, and unassuming man, Russell simply saw his great talent as merely "luck."
In September 1896, he married Nancy Cooper, who became his business manager. Under her support and guidance, Russell gained national recognition and successfully marketed his art. Russell learned from observation, and his art improved dramatically after 1903 when he and Nancy began making regular visits to New York. It was here that Russell began working with a group of experienced illustrators, where he enjoyed being part of an artistic community—something he lacked back home in Montana.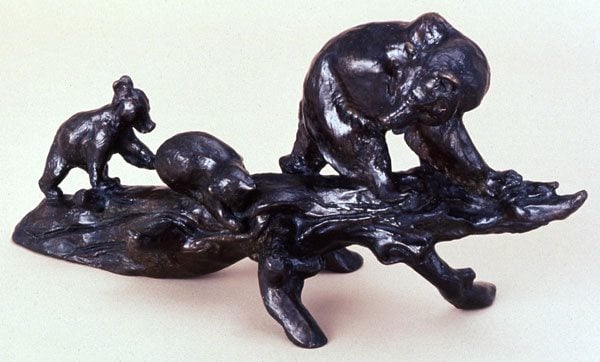 Russell painted and sculpted in his log studio adjacent to their Great Falls home, filling it with his vast collection of Native American and cowboy objects. Russell completed all of his major paintings in the studio after it was constructed in 1903. Having the talent to successfully work in many mediums, Russell created whimsical wax animals and clay and plaster figures, but he also made more formal sculptures, many of which were cast in bronze. Russell enjoyed modeling animal figures on oddly-shaped roots or branch fragments. Mountain Mother captures the playful nature of the cubs and the watchful, protective instinct of the sow.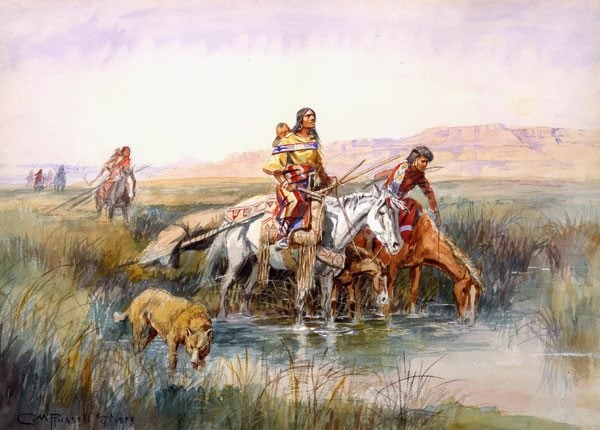 Painting in a time when there was considerable interest in the West, Russell's works were popular because of their narrative subject matter, unique style, and dynamic action. In addition, he had the ability to paint fictional history.
American Indian women played important roles in a number of Russell paintings, such as Indian Women Moving Camp, and he produced several versions of the subject. The seasonal rounds of Plains tribes provided the artist with the opportunity of depicting the Indian women proudly riding on horseback. He used a compositional group placed at a slight diagonal to the picture plane that is similar to his subject of Indian warriors. Thus he accords the same dignity to the women's work and reveals his admiration for the resourcefulness, independence, and courage of Plains Indian women.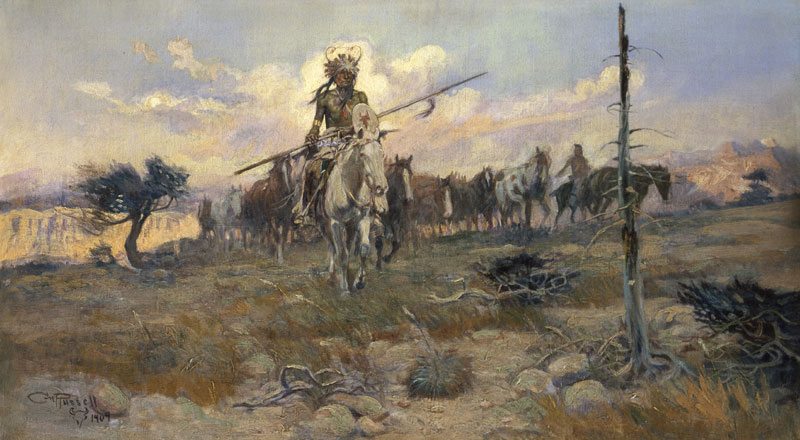 Charlie Russell became not only the favorite son of his home state of Montana, but also the personification of the West itself. He wanted little to do with the present and nothing to do with the future, and chose to celebrate and romanticize only the traditions and virtues of the West as he envisioned it. He wanted it known that he had taken part in the Old West, and was a better man for it. Even as an internationally-known western artist, Russell cherished—far more than his skills—his friendships and his place as a peer among common people.
Russell completed approximately 4,000 artworks during his lifetime. Living 46 years in the West, he knew his subject matter intimately, setting the standard for many western artists to follow. Charles M. Russell died in Great Falls, Montana, on October 24, 1926.
Charles Russell was William E. Weiss's (1913 – 1985) favorite artist, and he appreciated Russell's dedication to preserving the Old West. Weiss's many special gifts of Russell artwork can be enjoyed in the Whitney Western Art Museum.
---
The "art" of letter writing:
A selection of Charlie Russell's illustrated letters in our collection.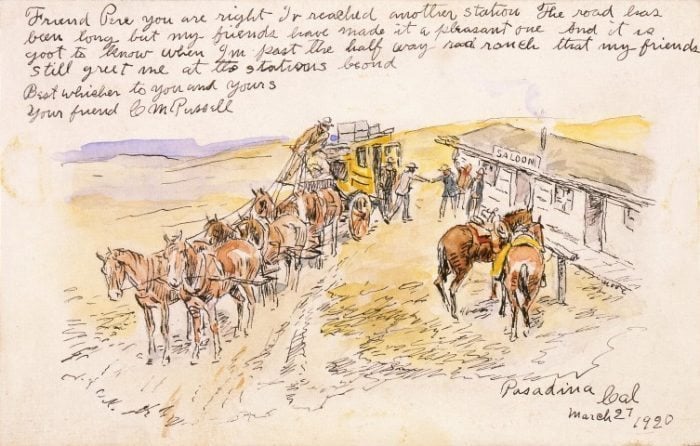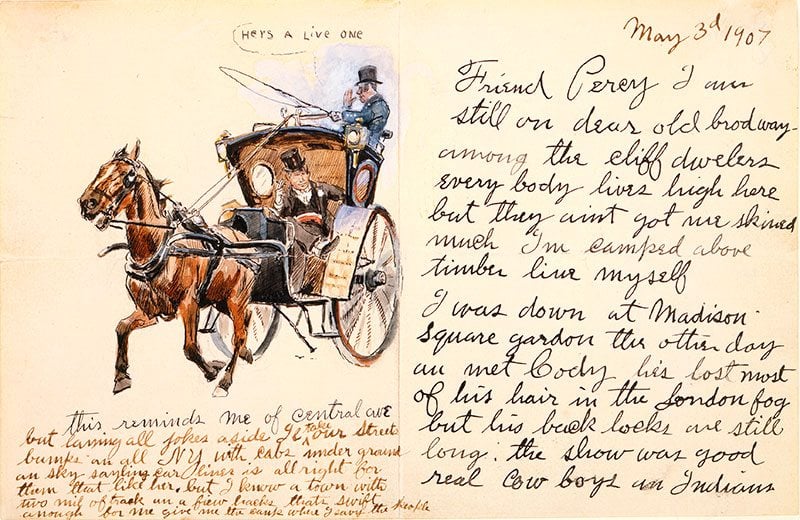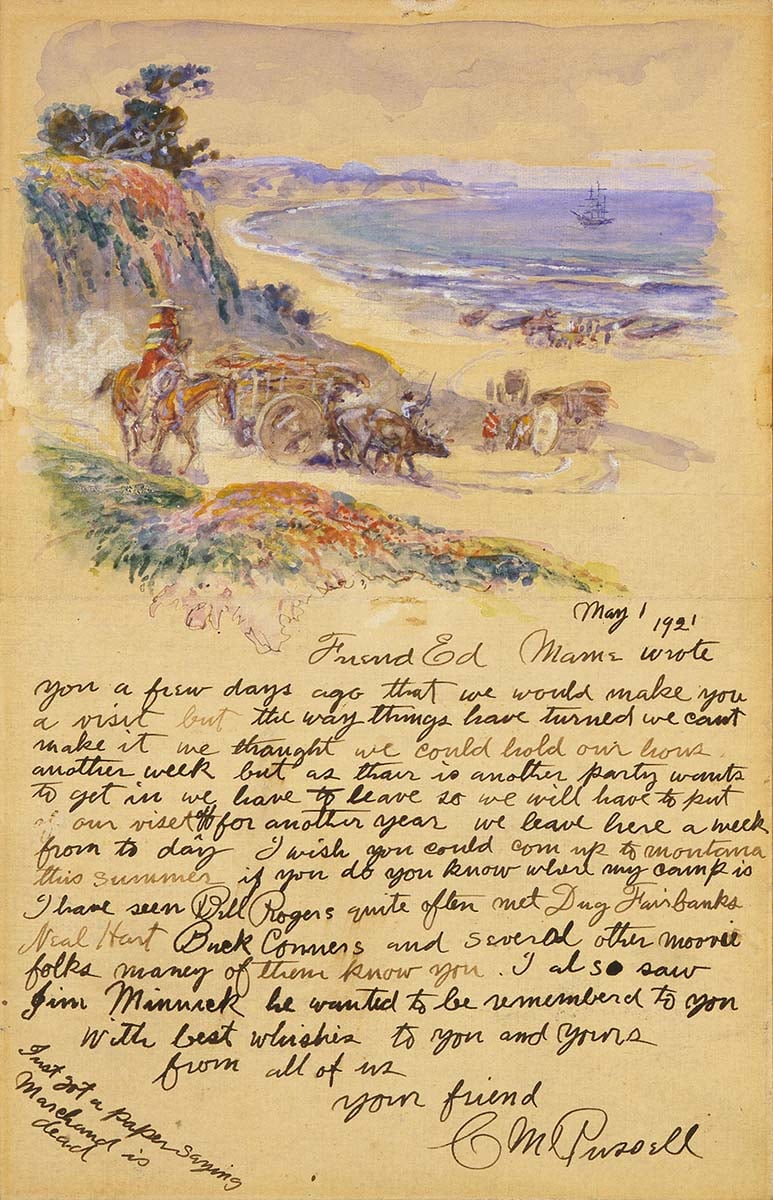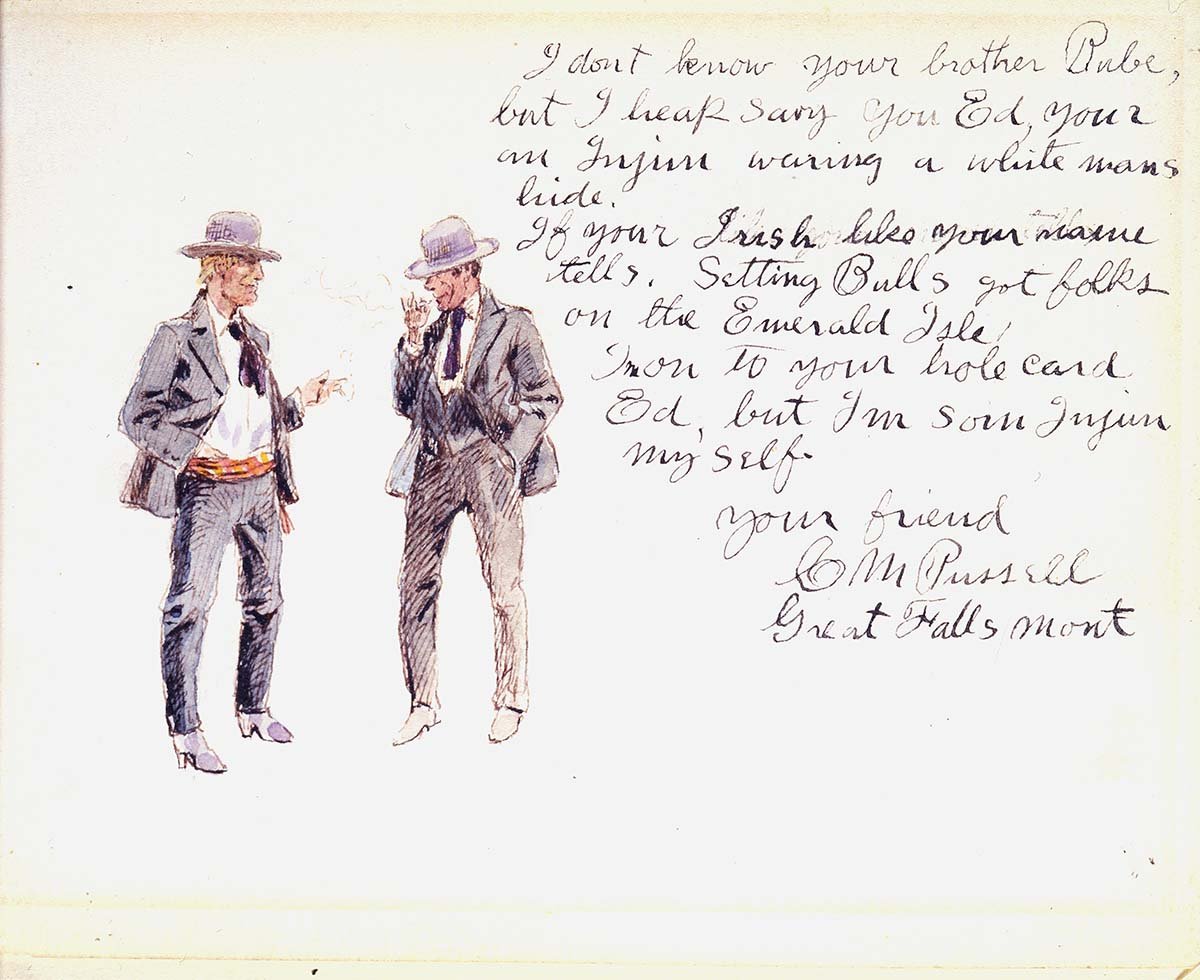 ---
Selected, Annotated Bibliography on Charles Marion Russell
Dear, Elizabeth. The Grand Expedition of Lewis and Clark as seen by C.M. Russell. Great Falls: C.M. Russell Museum, 2000.
Dippie, Brian W. Looking at Russell. Fort Worth: Amon Carter Museum, 1987. The Anne Burnett Tandy Lectures in American Civilization. Number Seven. Based on a series of lectures Dippie presented. Remains a valuable contribution to the Russell literature, because it analyzes Russell as an artist and identifies artistic influences on his development.
Dippie, Brian W., ed. Charles M. Russell, Word Painter: Letters 1887 – 1926. Fort Worth: Amon Carter Museum, 1993. The most complete compilation of Russell's illustrated letters with commentary on the recipients and context.
Dippie, Brian W., ed. Charlie Russell Roundup: Essays on America's Favorite Cowboy Artist. Helena: Montana Historical Society, 1999. Collection of 38 essays on Russell, from early press accounts to contemporary evaluations; brings together significant documents.
Hassrick, Peter H. Charles M. Russell. Norman: University of Oklahoma Press, 1989. Important analysis of Russell as an artist including stylistic development and major accomplishments.
Hassrick, Peter H. Remington, Russell and the Language of Western Art. Washington, D.C.: Trust for Museum Exhibitions, 2000. Catalogue of loan exhibition that brings together paintings and sculpture by Frederic Remington and Charles M. Russell. Excellent comparison of the two most important artists of the West.
McCracken, Harold. The Charles M. Russell Book. Garden City: Doubleday & Company, Inc., 1957. Early narrative on Russell's art and life.
Peterson, Larry Len. Charles M. Russell, Legacy: Printed and Published Works of Montana's Cowboy Artist. Helena, Montana: Twodot Books, an imprint of Falcon Publishing; Great Falls, Montana: C.M. Russell Museum, 1999.
Russell, Charles M. More Rawhides. Great Falls: Montana Newspaper Association, 1925. More Rawhides is a sequel to Russell's Rawhide Rawlins Stories.
Russell, Charles M. Rawhide Rawlins Stories. Great Falls: Montana Newspaper Association, 1921. Collection of short stories written and illustrated by Russell. Russell's short stories give a colorful picture of the West and remind readers of Russell's great talent for storytelling.
Russell, Charles M. Trails Plowed Under. Bison Books Edition. Lincoln: University of Nebraska Press, 1996 (reprint of 1927 edition). "A Pair of Outlaws," the short story that inspired Russell's painting Escape, is found in this book. This edition includes all the same introductions and stories as the first edition, as well as an essay by Brian W. Dippie on the origination of Russell's stories, including information on Russell's original purpose for writing "A Pair of Outlaws" in 1908.
Stewart, Rick. Charles M. Russell, Sculptor. Fort Worth: Amon Carter Museum, 1994. A catalogue of the Amon Carter Museum's collection of Russell sculptures that serves as the best resource for Russell's three-dimensional work. Extensive photographs of original models and casts.
Taliaferro, John. Charles M. Russell: The Life and Legend of America's Cowboy Artist. Boston: Little, Brown and Company, 1996. The most recent biography on Russell, based on extensive research.
Yost, Karl and Frederic G. Renner. A Bibliography of the Published Works of Charles M. Russell. Lincoln: University of Nebraska Press, 1971. This book contains the most complete bibliography of all the known published works of C.M. Russell. Best source for locating Russell's work, if the title is known. (The Charles M. Russell Center for the Study of Art of the American West at the University of Oklahoma in Norman, assisted by the C.M. Russell Museum in Great Falls, Montana, is managing the process of compiling a catalogue raisonné on Russell).
Books for Children
Shirley, Gayle C. Charlie's Trail: The Life and Art of C.M. Russell. Helena, Montana: Falcon Press Publishing Company, 1996. Biography of Russell relating his life as painter, sculptor, and storyteller. Photographs of the artist, reproductions of works of art, map, glossary, and bibliography. Ages 10 and up.
Winter, Jeanette. Cowboy Charlie: The Story of Charles M. Russell. San Diego: Harcourt Brace & Company, 1995. Picture book relating the life of young Russell from childhood and early days as a cowboy in Montana up to his decision to become a full-time artist. Winter provides charming stylized paintings and simple text to tell the story of Russell's experiences. Ages 4 – 8.
Some of the publications in this bibliography are available for purchase from the Points West Market online, or you may order by telephone at 800-533-3838.
You can also consult your local library. Books not in the holdings of your local library can often be borrowed through inter-library loan.