Official Vehicle Raffle Rules
Buffalo Bill Center of the West
720 Sheridan Avenue
Cody, Wyoming 82414
As of November 27, 2023
By participating, you agree that:
These Official Vehicle Raffle Rules may not be waived, modified, or supplemented except by Buffalo Bill Memorial Association, dba Buffalo Bill Center of the West. No modification of these official contest rules shall be enforceable unless made by Buffalo Bill Memorial Association (BBMA), dba Buffalo Bill Center of the West (BBCW).
October 16, 2024, at 5:00 pm MDT is the last day for ticket sales.
The drawing takes place on October 16, 2024, at 6:00 p.m. MDT or after all ticket sales have been entered. The chances of winning are based on the number of tickets sold. The RallyUp software system randomly selects the winner.
All tickets must be completed and received by October 16, 2024, 5:00 p.m. MDT to be eligible for the drawing. No refunds will be given for completed tickets received after October 16, 2024, 5:00 pm MDT.
The winner is contacted by a Buffalo Bill Center of the West employee based on the information they provide on the raffle ticket entry form. First, by phone, and then by email. The phone number from BBCW is a Wyoming area code of (307) and BBCW email address ends with @centerofthewest.org.
BBCW makes every effort to contact the winner via phone and email. If winner does not collect the prize within 30 days of the drawing date, they forfeit all claims to the vehicle.
Participants are responsible for contacting BBCW with phone or email changes.
Participants do not need to be present to win.
The vehicle is offered as is. BBCW assumes no liability. No modifications to the vehicle will be made by BBCW during the raffle period or following the drawing.
Participant must be at least 18 years old. Winner may be required to sign an affidavit of eligibility at the discretion of BBCW. Void where prohibited.
The RallyUp software system is the primary means for completing the raffle ticket purchase and assigning ticket number(s). Tickets can be purchased onsite at BBCW or online through RallyUp software system – https://go.rallyup.com/66corvetteraffle.
Participants who purchase ticket(s) at BBCW complete a paper raffle ticket entry form with their contact information, including an email address and phone number. A staff member at BBCW will hand key their information into the RallyUp software system. RallyUp software system will email participant their ticket number(s). There are no paper tickets.
Participants who purchase ticket(s) online through BBCW website complete the purchase using the RallyUp software system. Participants must enter their contact information with an email address and a phone number to complete the transaction. RallyUp software system will email participant their ticket number(s). There are no paper tickets.
Each ticket will be entered separately in the drawing. Each ticket is a separate and equal chance to win the vehicle.
Within the RallyUp software system, an email address is connected to one person. Once, a transaction is completed, the email address used will remain associated with that name, forever. Therefore, only one name can be associated with an email address. For example, if your household shares an email address, only the original name entered using that email address will appear on all tickets purchased. If a customer would like to purchase ticket(s) in a different name, a different email address is required.
Per IRS rules and regulations, the amounts paid for chances in raffles, lotteries, or similar drawings for valuable prizes are not gifts. Therefore, ticket purchases do not qualify as deductible charitable contributions.
Winning ticket number and winner's location will be posted to the BBCW's website and social media sites. The winner's full name and other information will not be posted anywhere without prior consent.
Before winner may take delivery of the vehicle, two forms of identification, one of which must be a photo ID, are required to prove identity. BBCW makes copies of identification. Winner must complete IRS Form 5754 State by Person(s) Receiving Gambling Winnings prior to taking possession of the vehicle.
Winner agrees to pay the current income tax withholding to BBCW prior to release of the vehicle in guaranteed funds. If paying taxes by credit card, BBCW will charge a transaction fee. BBCW will submit the taxes collected to the Internal Revenue Service (IRS). At year end, BBCW will file Form W-2G per IRS regulations.
BBCW completes transfer of title once all paperwork is completed and withholding tax is paid.
Winner is solely responsible for all taxes, registration, title, transfer fees, license duties, insurance, and all expenses in claiming, registering, transporting, and using the vehicle. This may include sales taxes and other taxes. BBCW has no liability with regard to taxes and fees for the vehicle.
Raffle vehicle cannot be redeemed for cash.
All non-US residents will be required by IRS regulations to pay the current US income tax on the value of the vehicle unless the winner is a resident of specific countries exempted by treaty. BBCW will file Forms 1042 and 1042-S per IRS regulations.
Winner may be photographed with their vehicle. Winner agrees to the use of his or her name, city/state, photograph or digital likeness, and statements for publicity purposes by BBCW and agrees to sign a publicity release without any further compensation, if requested by BBCW.
All proceeds benefit Buffalo Bill Memorial Association, dba Buffalo Bill Center of the West, a tax-exempt organization under Section 501(c)(3) of the Internal Revenue Code (IRS).
BBCW and RallyUp do not sell or provide entry information to third parties.
Participants are given the option to opt-in to receive emails from BBCW when completing a raffle ticket entry form.
Raffle ticket(s) may be purchased by BBCW employees except those employees in the Development Department or members of the Senior Management team.
Any person who engages in conduct designed to corrupt the outcome of a charitable raffle activity with the purpose to defraud, or knowing that he or she is facilitating a fraud, is guilty of a Class D felony.
BBCW reserves the right to cancel this raffle at any time, in which event its liability is limited to refund of ticket price to participants.
THIS CONTEST IS SUBJECT TO ALL APPLICABLE INTERNATIONAL, FEDERAL, STATE, AND LOCAL LAWS, AND IS VOID WHERE PROHIBITED, TAXED, OR OTHERWISE RESTRICTED.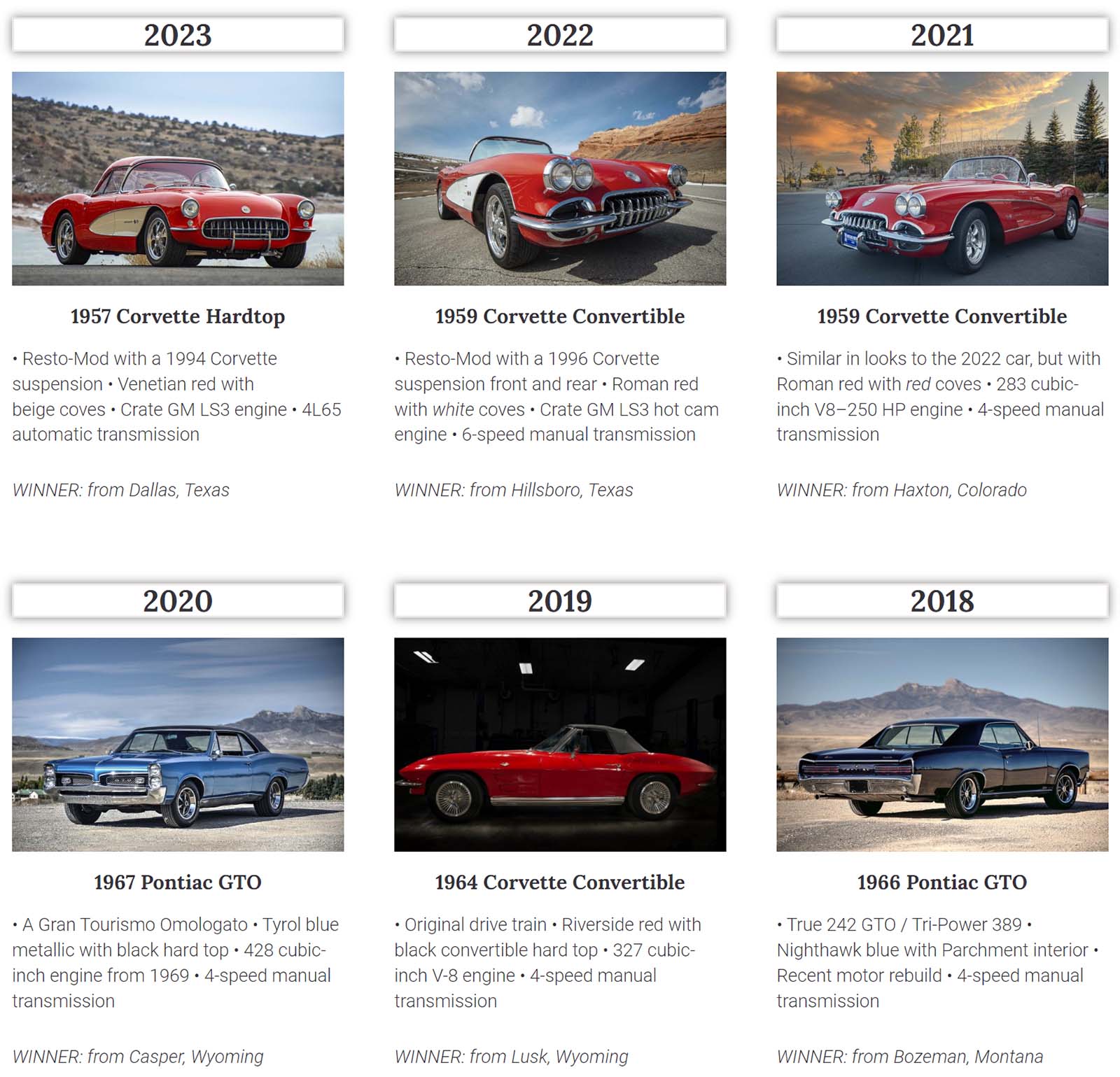 ---