Buffalo Bill's Wild West and Combination Shows Bibliography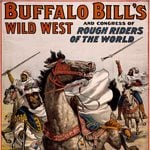 The McCracken Research Library at the Buffalo Bill Center of the West suggests the following bibliography for further reading on Wild West shows.
Blackstone, Sarah J. Buckskins, Bullets, and Business: A History of Buffalo Bill's Wild West. Contributions to the Study of Popular Culture, Number 14. Westport, CT: Greenwood Press, 1986.
Bold, Christine. Selling the Wild West Popular Western Fiction, 1860–1960. Bloomington: Indiana University Press, 1987.
Buffalo Bill, and Frank Christianson. The Wild West in England. Lincoln: University of Nebraska Press, 2012.
Collings, Ellsworth, and Alma Miller England. The 101 Ranch. Norman: University of Oklahoma Press, 1938.
Clark, Sarah Wood. Beautiful, Daring Western Girls: Women of the Wild West Shows. Cody, WY: Buffalo Bill Historical Center, 1985, 1991 [Exhibit guide].
Cunningham, Tom F. 'Your Fathers the Ghosts': Buffalo Bill's Wild West in Scotland. Edinburgh: Black & White, 2007.
Delaney, Michelle Anne and Gertrude Kasebier. Buffalo Bill's Wild West Warriors: A Photographic History. Washington, D.C.: Smithsonian National Museum of American History; New York: Collins, 2007.
Erskine, Gladys Shaw. Broncho Charlie: A Saga of the Saddle. New York: Thomas Crowell, 1934.
Farnum, Allen L. Pawnee Bill's Historic Wild West: A Photodocumentary of the 1900-05 Show Tours. West Chester, PA: Schiffer Publishing, 1992.
Gallup, Alan. Buffalo Bill's British Wild West. Gloucestershire, UK: Sutton, 2001.
Griffin, Charles Eldridge. Four Years in Europe with Buffalo Bill. Lincoln, NE: University of Nebraska Press, 2010. Edited and with an introduction by Chris Dixon.
Hall, Roger A. Performing the American Frontier, 1870-1906. Cambridge: Cambridge University Press, 2001.
Jonnes, Jill. Eiffel's Tower: And the World's Fair where Buffalo Bill Beguiled Paris, the Artists Quarreled, and Thomas Edison became a Count. New York: Viking, 2009.
Kasson, Joy. S. Buffalo Bill's Wild West: Celebrity, Memory and Popular History. NY: Hill and Wang, 2000.
Logan, Herschel C. Buckskin and Satin: The Life of Texas Jack…and his Wife Mlle. Morlacchi. Harrisburg, PA: Stackpole, 1954.
Makharadze, Irakli. Wild West Georgians. Tbilisi: New Media Tbilisi, 2002.
McMurtry, Larry. The Colonel and Little Missie: Buffalo Bill, Annie Oakley, and the Beginnings of Superstardom in America. New York: Simon & Schuster, 2005.
Monaghan, Jay. The Great Rascal: The Life and Adventures of Ned Buntline. Boston: Little, Brown, 1952.
Noble, James. Around the Coast with Buffalo Bill: The Wild West in Yorkshire & Lincolnshire. East Yorkshire: Hutton Press, 1999.
Reddin, Paul. Wild West Shows. Chicago: University of Illinois Press, 1999.
Rennert, Jack. 100 Posters of Buffalo Bill's Wild West. New York: Darien House, 1976.
Russell, Don. The Wild West, or A History of the Wild West Shows. Fort Worth, TX: Amon Carter Museum of Western Art, 1970.
Rydell, Robert W., and Rob Kroes. Buffalo Bill in Bologna: The Americanization of the World, 1869–1922. Chicago: University of Chicago Press, 2005.
Sell, Henry Blackman. Buffalo Bill and the Wild West. NY: Oxford University Press, 1955; and London: Hamish Hamilton, 1956.
Shirley, Glenn. Pawnee Bill: A Biography of Major Gordon W. Lillie. Albuquerque: University of New Mexico Press, 1958. Reprinted by Bison Books, University of Nebraska Press, 1958.
Thorp, Raymond W. Spirit Gun of the West: The Story of Doc W. F. Carver. Western Frontiersmen Series VII, Glendale, CA: The Arthur H. Clark Co., 1957; also published as "Wild West" Doc Carver: Spirit Gun of the West. London: W. Foulsham & Co., 1957. Title varies considerably with publisher and edition.
Turnbaugh, Kay. The Last of the Wild West Cowgirls. Nederland, CO: Perigo Press, 2009.
Wallis, Michael. The Real Wild West: The 101 Ranch and the Creation of the American West. New York: St. Martin's Press, 1999.
Wallis, Michael. The Wild West 365. New York: Abrams, 2011.
Warren, Louis S. Buffalo Bill's America: William Cody and the Wild West Show. New York: Alfred A. Knopf, 2005.
White, Richard, and Patricia Nelson Limerick; essays by. Edited by James R. Grossman. The Frontier in American Culture: an Exhibition at the Newberry Library, August 26, 1994 – January 7, 1995. Berkeley: University of California Press, 1994.
Wilson, R.L., et al. Buffalo Bill's Wild West: An American Legend. NY: Random House, 1998.
Compiled by the McCracken Research Library. Updated August 2016.
Browse the Buffalo Bill Center of the West's online Museum Store for in-print books on Buffalo Bill and Wild West shows.