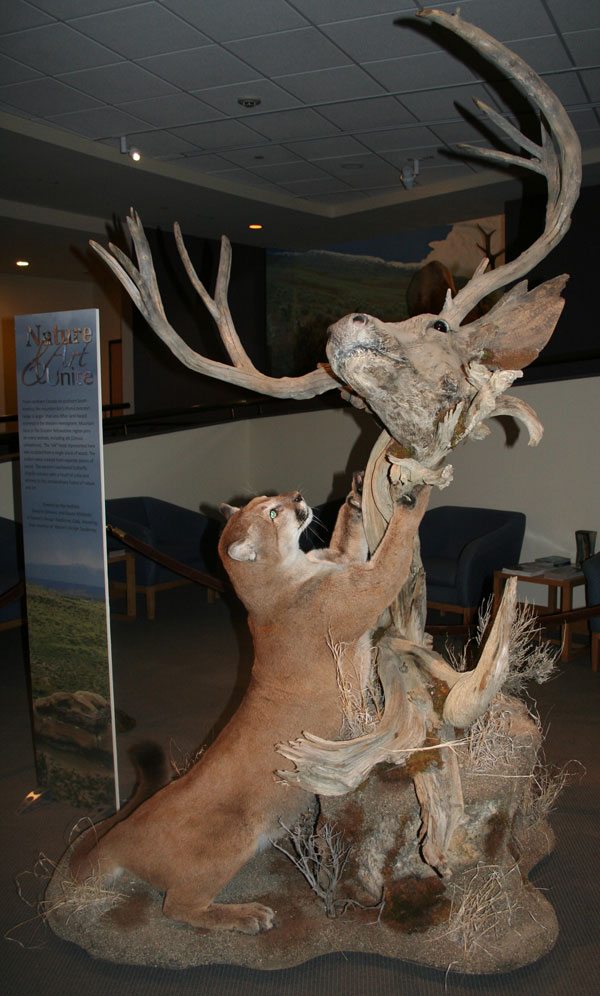 It's the archetypal predator-prey relationship of nature films—a mountain lion attacking an elk. In this case, though, it's a dramatic creation that blends traditional sculpting techniques with taxidermy. Nature's Design Taxidermy in Cody, Wyoming, has captured the attention of visitors to the Draper Museum of Natural History at the Buffalo Bill Historical Center with its Nature and Art Combined sculpture, on loan to the Center and featured in the lower level of the Draper Museum.
The sculpture depicts a taxidermy mountain lion whose yellow-green eyes are fixed expectantly upon the head of a bull elk, carved from a single block of wood with independent wooden antlers. The elk head is balanced at the apex of a weathered chunk of wood around which the mountain lion has wrapped its paws. Bringing a splash of yellow to the otherwise earth-colored forms, a western swallowtail butterfly perches near the elk's right eye.
This engaging sculpture was created by Ray Hatfield, Dwayne Johnson, and Duane Mittlieder of Nature's Design. Much of the taxidermy work on view in the Draper Museum was also produced by the Nature Design group.
For more information about the mountain lion sculpture, e-mail Dr. Charles Preston, Senior Curator of the Draper Museum of Natural History, or call him at 307-578-4078.
Ray Hatfield, Dwayne Johnson, and Duane Mittlieder of Nature's Design Taxidermy. Nature and Art Combined, 2012. Mountain lion mount and wood elk sculpture. Buffalo Bill Historical Center, Cody, Wyoming, USA. On loan from Nature's Design Taxidermy, Cody, Wyoming. L.370.2012.1