A Grand Entry during the Plains Indian Museum Powwow. Photo by Ken Blackbird.
Plains Indian Museum Powwow
June 21 – 22, 2014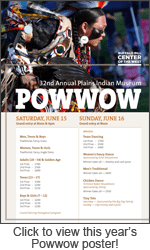 At our annual Plains Indian Museum Powwow, dancers, drum groups, and artists from Northern Plains tribes gather to celebrate their vibrant cultural traditions and histories.
Competitive dance categories include traditional, jingle dress, fancy, grass, team dancing, tiny tots, and chicken dance. Men, women, teens, and children compete in various age groups for more than $25,000 in prizes. The popular Learning Tipi of Lakota educator Gloria Goggles, from Fort Washakie, Wyoming, is a popular educational program that invites visitors to discover the traditions of powwow.
Visitors shop for authentic Indian jewelry, bead and quillwork, clothing, basketry, pottery, paintings, sculpture, and more at more than forty vendor booths, and enjoy fry bread and Indian taco vendors, as well as food and beverage concessions.
Our new Paul Dyck Plains Indian Buffalo Culture Gallery opened Powwow weekend, June 15. Read more.
Curious about the history of powwows and powwow dance styles? Our Web site is just the beginning to your powwow experience…
Admission Prices and Information
Powwow begins at noon both days with a Grand Entry. On Saturday a second Grand Entry takes place at 6 p.m. Powwow runs till about 9 p.m. Saturday and 6 p.m. Sunday. Gate opens to the public at 9:30 a.m. each day. Tickets are available at the gate or at the Center's admissions desk beginning the Monday before Powwow. Admission is good for one day of the event.
$10 for adults (18 and older)
$5 for youths (7 – 17)
Children 6 and under are free
Group sales, e-mail Debra Elwood or call 307.578.4114.
Press passes are available with prior arrangements
Center members receive $1 discount on admission price each day with a valid membership card
Visitors are welcome to bring chairs or blankets for our outdoor grass amphitheater. Please—no pets. For travel and lodging information contact the Cody Chamber of Commerce. For questions about visiting the Buffalo Bill Center of the West e-mail Nancy McClure or call 307.578.4102.
For Our Dancers
Click here for a list of 2013 Dance categories and prizes!
Click here for a list of 2013 Specials!
2013 Officials, Drums, and Color Guard:
Master of Ceremonies: Robert "Corky" Old Horn
Arena Director: Charlie White Buffalo
Head Judge: Garrett Goggles
Host Drum: Arapaho Nation, Arapahoe, Wyoming
Color Guard: Apsaalooke Nation Guard, Crow Agency, Montana
Invited Drums: Birney Singers (Lame Deer, Montana), Black Whistle (Crow Agency, Montana), Fights Alone (Pryor, Montana), Highway 212 (Lame Deer, Montana), and ed Cedar (Arapahoe, Wyoming).
Dancers and their families receive a free pass to the Buffalo Bill Center of the West exhibits at dancer registration. Registration 8 a.m. – noon Saturday; late registration or for specials on stage both days. Contact: e-mail Rebecca West or call 307.578.4049.
Vendor Information
Information for potential vendors who are selling arts and crafts made by enrolled members of North American Indian tribes and Nations will be posted in 2013. No food booths please. For more information on vendor spaces, e-mail Rebecca or call 307.578.4049.
Thank You to Our Sponsors
Sponsors of the 2013 Plains Indian Museum Powwow:
The Plains Indian Museum Powwow is sponsored through the generous support of Dan and Mary Armour; Choice Aviation in Cody, WY, Ennis, MT, Glasgow, MT, Hamilton, MT and Stevensville, MT; and Hal and Amalia Ramser.
---
View a video glimpse of a powwow:
For information on all events, please visit our Events page.