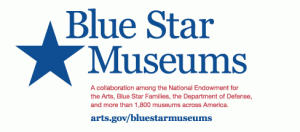 Today the Buffalo Bill Center of the West announces the launch of Blue Star Museums, a collaboration among the National Endowment for the Arts, Blue Star Families, the Department of Defense, and more than 1,800 museums across America to offer free admission to all active duty military personnel and their families from Memorial Day through Labor Day 2013. Leadership support has been provided by MetLife Foundation through Blue Star Families. The complete list of participating museums is available at www.arts.gov/bluestarmuseums.
"The Buffalo Bill Center of the West is honored to participate in the Blue Star Museums program in support of our troops," says Bruce Sauers, the Center's director of revenue and enterprise who also oversees admissions. "In fact," he continues, "we extend free admission to active duty military personnel all year round."
"Blue Star Museums is a collaboration between the arts and military communities," says NEA Acting Chairman Joan Shigekawa. "Our work with Blue Star Families and with more than 1,800 museums ensures that we can reach out to military families and thank them for their service and sacrifice." Blue Star Families CEO Kathy Roth-Douquet notes, "Through this distinctive collaboration, service members and their families can connect with our national treasures through this unparalleled opportunity to visit some of the country's finest museums for free."
This year's participants include museums in all 50 states, the District of Columbia, Puerto Rico, and American Samoa—450 of which are new to the program this year. Museums are welcome to join Blue Star Museums throughout the summer. The effort to recruit museums has involved partnerships with the American Alliance of Museums, the Association of Art Museum Directors, the Association of Children's Museums, the American Association of State and Local History, and the Association of Science-Technology Centers. This year's Blue Star Museums represent not just fine arts museums, but also science museums, history museums, nature centers, and 75 children's museums.
The Blue Star Museums free admission program is available to any bearer of a Geneva Convention common access card (CAC), a DD Form 1173 ID card, or a DD Form 1173-1 ID card, which includes active duty U.S. military—Army, Navy, Air Force, Marines, and Coast Guard, as well as members of the National Guard and Reserve, U.S. Public Health Service Commissioned Corps, NOAA Commissioned Corps—and up to five family members.
Detailed information on the program, along with a map showing participating museums, is at www.arts.gov/bluestarmuseums. Museums wishing to participate may contact [email protected], or call Wendy Clark at 202.682.5451. Find out more Blue Star Families and about the National Endowment for the Arts at arts.gov.
---
Since 1917, the Buffalo Bill Center of the West has been committed to the greatness and growth of the American West, keeping western experiences alive. The Center, an affiliate of the Smithsonian Institution, weaves the varied threads of the western experience—history and myth, art and Native culture, firearms, and the nature and science of Yellowstone—into the rich panorama that is the American West.
For additional information, visit centerofthewest.org or the Center's page on Facebook.