You wouldn't think that the conservation lab at the Buffalo Bill Center of the West would be involved in the preservation and restoration of a European tapestry that might possibly be as old as the sixteenth century. But we never know what we will take in to the lab as an interesting project for interns.
Although the Chief Conservator is not a Textile Conservator, she often networks with other conservators on treatment options. Christine Guintini, Conservator in the Department of the Arts of Africa, Oceania, and the Americas at the Metropolitan Museum of Art kindly answered our many questions about tapestries and their conservation. Click here to find out more about the department at the MET.
We divided the tapestry, which is approximately 7 ½ x 5 feet, into six work sections. Interns Grace Walters, Shelly Buffalo Calf, Robin Allison, and Laura Siegfried, and Volunteer Zann Liljegren have all worked on sections of the tapestry.
The work involved carrying out an examination of the tapestry in order to determine what condition problems were present. There are numerous areas of restoration done by hands from past centuries.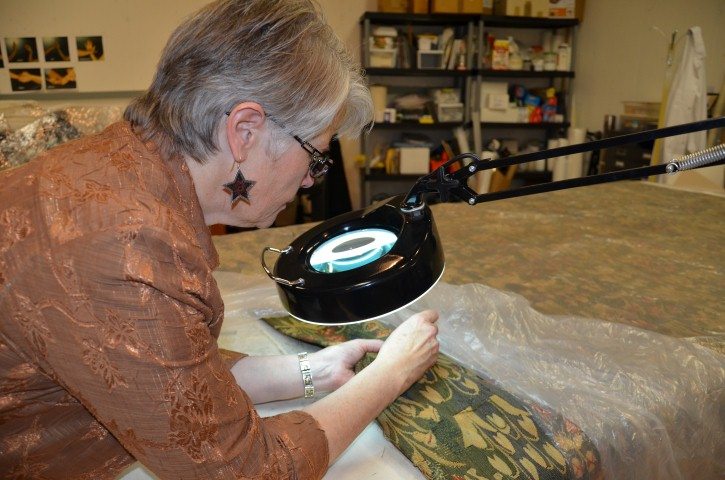 Treatment includes sewing with one strand of tapestry thread to strengthen areas that have breaks in the wool yarn. The real trick there is to find the right color of tapestry thread to use because each area has many, many color variations. If we can't buy the right color of thread, we often use watercolor to get that perfect, subtle color found only in that one tiny section of tapestry.
Then, when there are very small losses to the wool, we may use a tiny brushstroke of watercolor to blend the loss visually. We are striving to use stable materials in the conservation work, and reversible materials in the restoration work.