Originally featured in Points West in Spring 2008
Lower Falls of the Yellowstone by Kathy Wipfler
More than one hundred years after Thomas "Yellowstone" Moran memorialized the Lower Falls of the Yellowstone River in the first monumental painting of the subject, Kathy Wipfler poised her canvas and paintbrush near the very spot where Moran stood.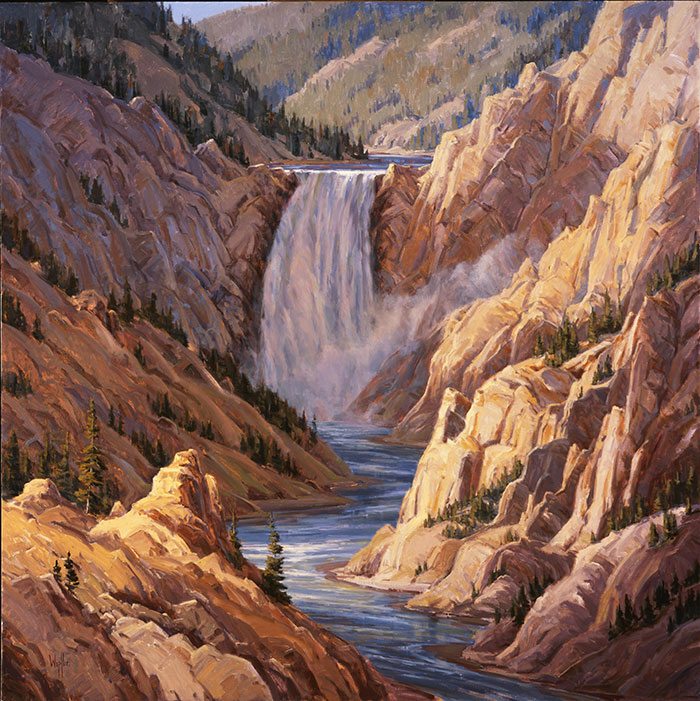 Yellowstone National Park has been an outdoor studio for generations of painters. Still today, artists and photographers travel to America's first national park to capture the unaltered beauty and wilderness of the landscape, whether with paint on canvas or through photography. What was once a long and arduous journey to see the wonders of the landscape in Yellowstone is now an easily accessible day trip on paved roadways and groomed walking paths.
Wipfler painted the field sketch for this painting in late June 2006 while tucked among trees off the beaten path of Artist Point, one of the most popular viewpoints for the Lower Falls since the days of Moran up to the present. The large painting was completed later during the winter months in her studio in Jackson, Wyoming.
Lower Falls of the Yellowstone is a colorful and fresh picture which captures the spirit of the landscape and awe-inspiring impression conveyed through the artist.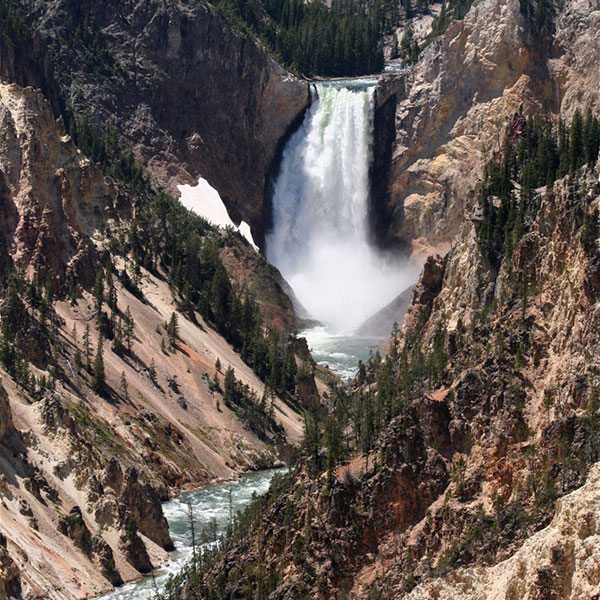 Thumbnails: Photo of Lower Falls of the Yellowstone by Nancy McClure.
Kathy Wipfler (b. 1955), Sketch for Lower Falls of the Yellowstone, 2006, oil on canvas, 9.875 x 10.125 inches. Gift of the artist in honor of Charles and Mary Rumsey. 9.07
Kathy Wipfler (b. 1955), Lower Falls of the Yellowstone, 2006, oil on canvas, 50 x 50 inches. Gift of the Mary A.H. Rumsey Foundation. 10.07
Post 003