My name is Shelly Buffalo Calf and I am interning in the conservation lab at the Buffalo Bill Center of the West. Coming Through the Rye by Frederic Remington will soon be on its way to the Denver Art Museum. It was modeled in 1902 and cast in 1907. One of the interesting attributes of this bronze is of the four horses, there are only six out of sixteen horse's hooves on the ground supporting the weight of the object. Before this grand bronze travels to its next exhibition, it needed a little attention in the conservation lab.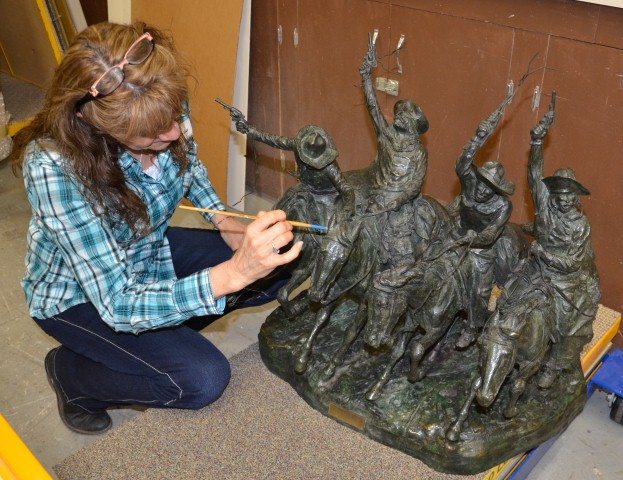 First it needed to be surface cleaned. Using a medium-sized, soft bristled brush, I was able to remove the dust. A small brush was used for tiny areas. Next, there were many small areas of "bronze disease." This is a chloride corrosion that appears as pale green patches on the bronze. Using a bamboo skewer I reduced the corrosion and then used ethanol on a cotton swab to reduce the remaining green material.
Since the areas of corrosion removal were now discolored and did not blend in with the remaining patina, I needed to tone these areas with acrylic paint. Other areas such as the reins on the horses' bridals and the quirts on the cowboys are made of a different medal; consequently some of the patina had flaked off and also needed inpainting.
Lastly, there were some areas of the bronze that were dull looking, for example the raised hands with the pistols and around the saddle horns and the cowboy's laps. I applied Butcher's wax with a cotton cloth, let it dry, and buffed these areas with a brush. This made the patina look more even and brought those areas to life.
As a whole, this Remington bronze looks much more even and bright. More details are evident and it looks like they are ready to ride into a good time!