Treasures from Our West
Bear claw necklace
Paul Dyck Plains Indian Buffalo Culture Collection
This stunning necklace from the Central Plains dates to circa 1860 and is made of otter hide, grizzly bear claws, glass beads, abalone shell, red ochre, and porcupine quills. It is one of more than eighty objects from the Paul Dyck Plains Indian Buffalo Culture Collection now on exhibit in the lower level of the Buffalo Bill Center of the West's Plains Indian Museum—in gallery space dedicated solely to this significant collection's display.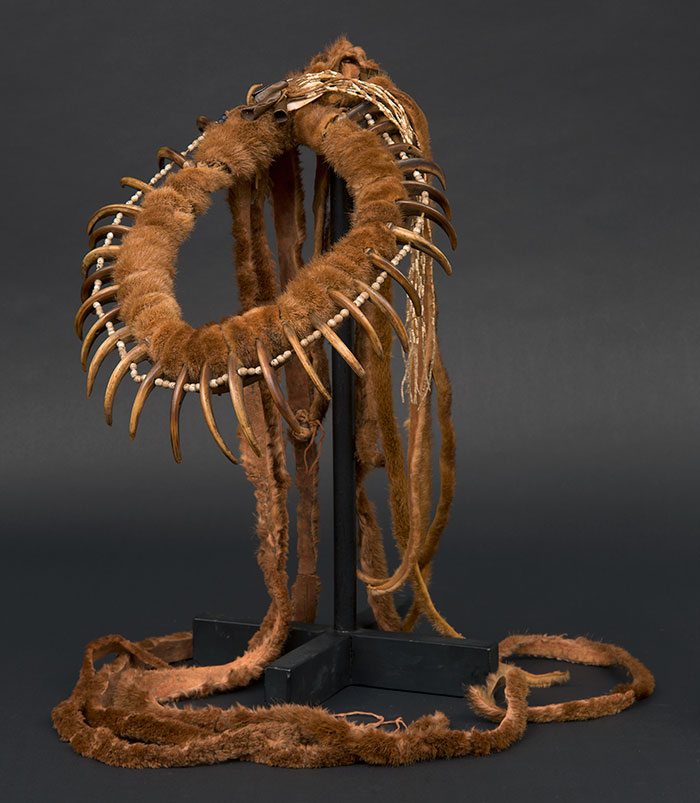 Distinguished Pawnee, Otoe, and Omaha men wore bear claw necklaces like this one, made from otters and the long, broad claws of grizzly bears that once roamed the Central and Eastern Plains. The necklaces were emblems of their accomplishments, honors, and leadership roles. This example has a prominent place in the Dyck Collection Gallery.
The collection, acquired by the Center's Plains Indian Museum in 2007, contains objects of the Native peoples of the Great Plains dating from the late 1700s to pre-1890s, a period that artist Paul Dyck identified as the "Buffalo Culture" era. Among the objects are many masterworks from the early 1880s.
Emma Hansen, Curator of the Plains Indian Museum at the time of collection's acquisition and now Curator Emerita and Senior Scholar, notes, "In addition to their intrinsic artistry and creativity, the works in this collection are powerful expressions by Plains Native artists of their cultural knowledge and understandings, values and traditions, biographical and historical experiences, and a spirituality that guides all aspects of life."
All objects in the Paul Dyck Plains Indian Buffalo Culture Collection were acquired through the generosity of the Dyck family and additional gifts of the Nielson Family and the Estate of Margaret S. Coe. The Wyoming Humanities Council, the Margaret A. Cargill Foundation, and Deborah and Rusty Rokita supported the creation of the Paul Dyck Plains Indian Buffalo Culture Gallery.
Bear claw necklace, Central Plains, ca. 1860. Otter hide, grizzly bear claws, glass beads, abalone shells, red ochre, porcupine quills. NA.203.1585
Post 015