Splendid Heritage: Perspectives on American Indian Art
May 1 – October 31, 2010
Splendid Heritage: Perspectives on American Indian Art opened to the public on May 1, 2010, in the Special Exhibitions Gallery of the Buffalo Bill Center of the West. This remarkable exhibition of 144 objects was an artistic and cultural encounter, providing an intimate immersion in an early and critical era of North American history. Although Splendid Heritage closed at the Center of the West at the end of October 2010, an electronic catalog can be accessed by clicking here.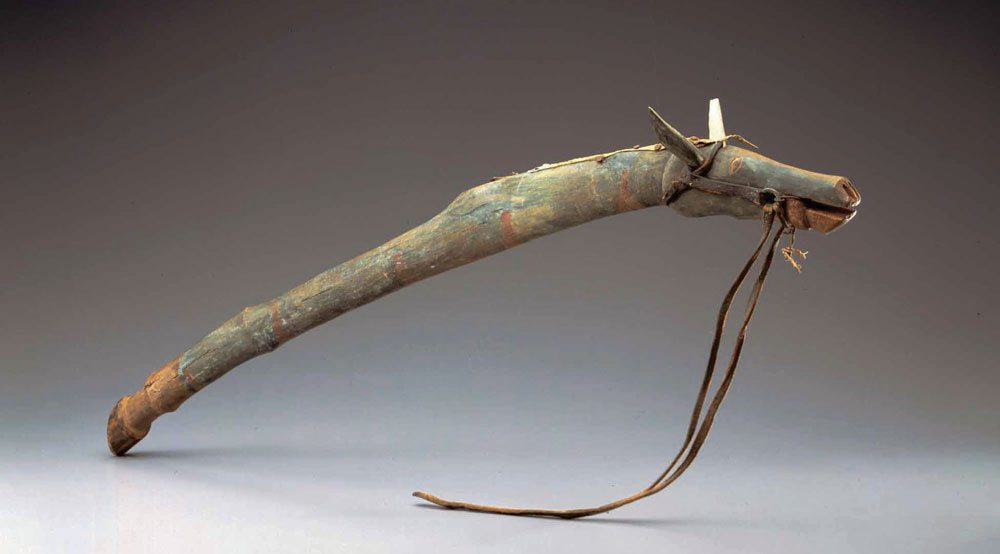 This extraordinary collection spans the mid-eighteenth to mid-nineteenth century, and Native cultures from the Atlantic seaboard through the Great Lakes, across the Prairie and Great Plains, to the Upper Missouri River.
Drawn from one of the finest private collections of American Indian art in the United States—the Warnock Collection—the artworks on view in this exhibition are powerful expressions of individual and tribal experiences and cultural knowledge.
Traditionally, American Indian art has been presented in museums in one of two ways, either in a cultural or an artistic context. From the cultural perspective, the viewer gains insight into the life of the object's maker, perhaps learning about the ways in which an object was used, and its cultural significance within the community.
The artistic perspective offers the viewer the opportunity to consider the aesthetic value of an object. This approach may emphasize how color comparison and materials contribute to the unique vision of each artist. Splendid Heritage aims to connect visitors to both perspectives—the cultural and the artistic—in the hope of creating a richer understanding of the remarkable objects presented in the exhibition.
Splendid Heritage: Perspectives on American Indian Art was organized by the Utah Museum of Fine Arts and funded in part by grants from the MetLife Foundation Museum and Community Connections Program, the Wyoming Humanities Council, and the Margaret A. Cargill Foundation, and by a generous gift from Buffalo Bill Center of the West Trustee Naoma Tate.