I can see by your outfit that you are a cow[girl]." "I see by your outfit you are a cow[girl] too." "You see by our outfits that we are both cow[girls]." "Get yourself an outfit, and be a cow[girl] too." [1]
—Adapted from Laredo? by the Kingston Trio
Last week I did a post, I Can See By Your Outfit That You Are a Cowboy, on cowboy fashions and how western wear was originally designed to help cowboys with their work. The creation of cowgirl clothing, however, was completely different. Instead of being designed specifically for cowgirls, most clothing was traditional dress altered to better help cowgirls with their tasks. Their motto could have been "get yourself an outfit, and be a cowgirl too." Cowgirls  and cowboys wore similar items, such as: hats, vests, bandanas, boots, etc., with only a few differences. Most of those differences came from the fact that women were restricted in what they were allowed to wear, bare, or show.
Get Yourself An Outfit, and Be a Cowgirl Too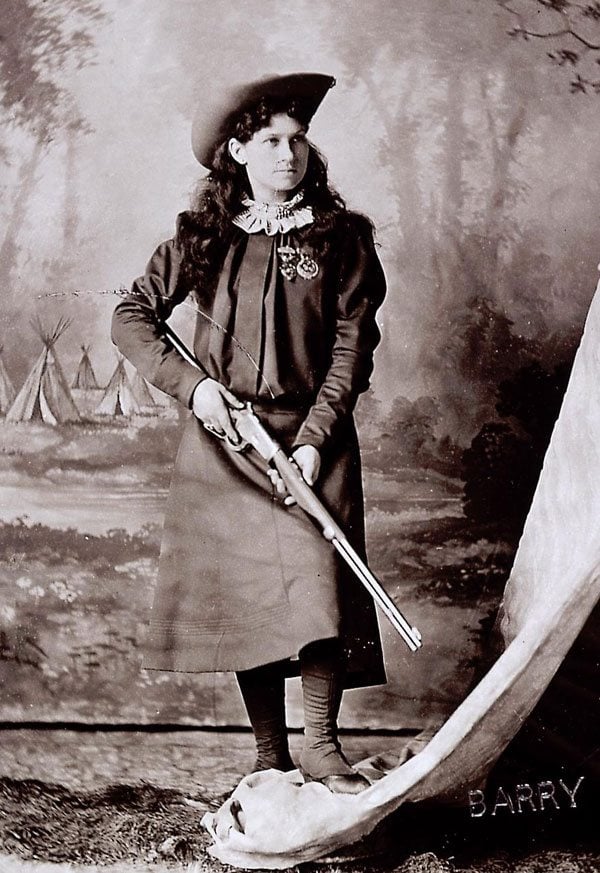 1) Skirts and Dresses
Often in films, cowgirls are shown wearing men's pants, but this was not typical of the West. As a majority of the settling of the West took place during the Victorian period (1837 – 1901), society did not approve of women showing their limbs or depicting the curves of their body (the way pants do). Most women wore ankle to floor-length skirts and dresses made in gingham and calico even when they were riding, roping, or branding cattle. Riding skirts, skirts designed to help women ride astride, were split up the middle and similar to pants or skorts.
In the early 1900s, some women, such as Annie Oakley, began shortening their skirts and leaving them undivided. These women also wore higher boots to cover their legs and remain true to the "Victorian norms" of the day [2]. Many of these women also switched from using gingham and calico, to clothes made of leather or buckskin, as this material not only embodied the West but was longer lasting.
If a woman was working on her family farm, she might have worn trousers or dungarees. However, this was very rare in the 1800s, and most women would never wear them in public. The most famous woman to rebel against society norms was the notorious sharpshooter, Calamity Jane. Calamity Jane not only drank, swore, gambled, and smoked cigars, but she also refused to wear women's clothing. She preferred men's clothing as she found it to be more comfortable and better suited for her activities [3].
In 1851, Amelia Bloomer tried to bring about dress reform. Because of her many articles promoting a certain type of pants she wanted women to wear, they became widely known as  "bloomers," nicknamed after her [4]. While in the United States bloomers originally were far more popular in the East than in the West, by the 1920s women all over were shortening their skirts and wearing them. Bloomers really helped the cowgirl as they provided greater mobility and enabled them to more comfortably perform their tasks.
In the 1920s, if  a woman wasn't wearing a skirt or dress,  she usually wore jodhpurs (pronounced jod-pers). These were similar to men's pants, but loose in the waist and buttoned down to the calf. Historians mark this as the time women's clothing changed from simple alterations, to actually copying the form and mobility of men's clothing [5].
4) Decorations
Cowgirls who participated in shows or competed in rodeos tended to dress more lavishly than those who worked on ranches. These women heavily decorated their clothing and costumes with sequins, beads, and rhinestones. Hats were extremely wide-brimmed and heavily embellished.
 The 1940s brought many changes in women's western wear. By this time society no longer viewed showing the curves of the body as immoral and loosened restrictions on what women could wear. Instead of blousy, large, flowing shirts women began wearing more fitted, button-up shirts.
But the most monumental change was the production of denim jeans for women. In the 1930s – 40s Levi Strauss began mass-marketing women's denim jeans [6], and other companies soon followed. Once jeans were available to women, they quickly became the cowgirls' clothing of choice.
For additional information and fun, click here to try out our interactive game that allows you to mix and match clothing worn in the historic West.
Endnotes
1. Laredo? performed by The Kingston Trio, on College Concert, by Frank  H. Maynard, adapted by Bob Shane, Nick Reynolds, and John Stewart, 1962.
2. Joyce Gibson Royce, The Cowgirls (Denton, TX: University of North Texas Press, 1990), 122.
3. Jeremy Agnew, Old West in Fact and Fiction (Jefferson, NC: MacFarland and Company, 2012), 117.
5. Royce, The Cowgirls, 123.
6.  Agnew, Old West in Fact, 126.
Bibliography
Agnew, Jeremy. The Old West in Fact and Film: History versus Hollywood, Jefferson, NC: McFarland and Company, 2012.
Laredo? Performed by The Kingston Trio. On College Concert. By Frank H. Maynard. Adapted by Bob Shane, Nick Reynolds, and John Stewart. 1962. Roach, Joyce Gibson. The Cowgirls. Denton, TX: University of North Texas Press, 1990. First published 1977 by Cordovan Corporation.
Royce, Joyce Gibson. The Cowgirls, Denton, TX: University of North Texas Press, 1990.