As an aspiring museum professional, I really enjoy when projects require me to walk through the gallery to gather guns. For example, I've examined the Embellished Arms Gallery, the Parker Brothers display, and seemingly limitless walls of Winchesters for firearms decorated with waterfowling scenes. I also roam around to find interesting firearms to further research and post to the Museum's social media accounts.
This is valuable experience, partially because it helps me conceptualize the exhibit design process—why are the guns arranged the way they appear now? But I have also gained hands-on experience working with firearms in another context. The Cody Firearms Museum has approximately 3,900 firearms on display, but about 7,000 firearms in its collections in total. When firearms are not on display, they are in the vaults. Yes, vaults are important because they store the collections not currently visible to visitors.
Yet a vital task takes place there as well: I have been fortunate enough to be trained by the Assistant Curator Ashley Hlebinsky to conduct firearm identification. In plainer English, it's the "vault work" of physically handling guns, trying to figure out each one's profile. The most important information from a museum perspective is the firearm's manufacturer, location, model, approximate age, action type, caliber, and serial number.
This vault work is done because we want our records to be as accurate as possible—to know as much as we can about each firearm. The internet is certainly helpful. As one might suspect, by no means is all of the information on the Internet regarding firearms accurate. For that reason, it's crucial to use a few different reference sources and try to ascertain which are most trustworthy.
Still, a lot of the identification relies on curious eyes—markings on the barrel, on the lower and upper tang, and on the receiver can reveal the manufacturer, location, model, caliber, and patent date(s). Yet, sometimes the markings tell very little. In these instances I examine the action type (for example, percussion, lever action, or bolt action?). A specialized tool measures bore caliber. Serial number placement is far from standard, and sometimes even nonexistent on older firearms.
And there's more "detective work" than that. For example, if the wood in a firearm's stock or forestock is not flush against the receiver or barrel (we call this "gapping"), that may indicate that parts of the firearm have been replaced. It is important to pay particular attention to Winchesters in this respect, because they are known for excellent construction with no gapping. The examination is not over once the firearm's model is identified, however. If any metal part has tiny red specks on it, active rust may potentially be forming and we let the Center's superb conservation department know so they can take a look.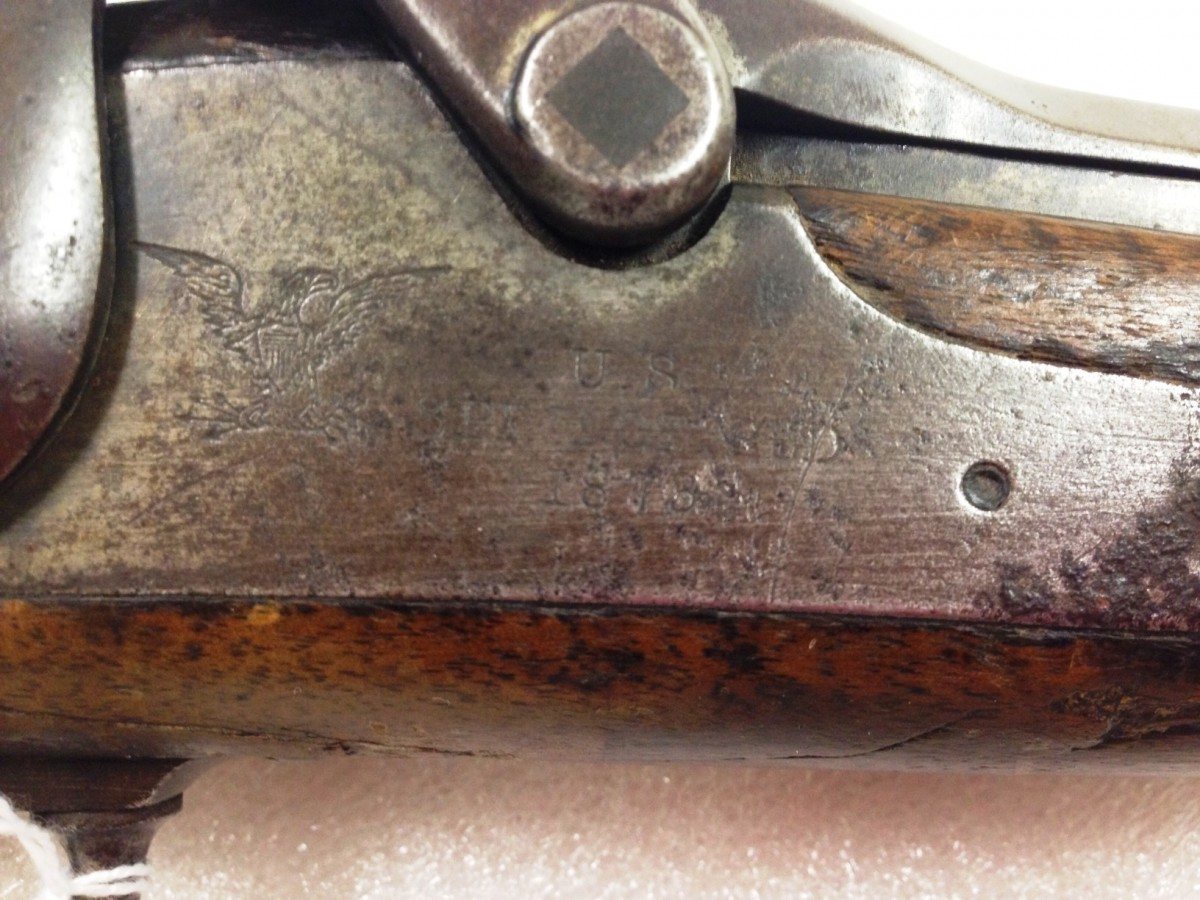 All of this investigation is significant for telling information about our collections. Yet the hands-on work and analysis doesn't always completely tell the story, as established knowledge of certain manufacturers, models, and firearm timelines helps fill the gaps. With that being said, we may never know, for example, the exact year an older firearm (lacking a serial number) was made. In my opinion, that is part of what makes working at a history museum exciting—knowing the potential to educate even if a firearm has a less-than-technically-complete profile. Each of our relics is an interesting puzzle, important in tracing the firearm's evolution through history.
Please check out our Facebook and Twitter pages to learn more about the Cody Firearms Museum!