A passion for firearms—whether it be rooted in their historical impact, mechanics, recreational shooting, or hunting purposes—can strike at any age. Yet, it's very apparent that a significant portion of firearm enthusiasts were introduced to the field at a young age. My story is a bit different than that. I've always supported firearm ownership, but I didn't truly become a gun fan until my cousins took me to shoot sporting clays with shotguns at a beautiful outdoor range in Maryland.
For this somewhat late-in-life exposure and other reasons, I think firearm safety education is interesting. So many people seem to learn the safety basics when they were, say, younger than 10, but how do you best teach adults in a simple but serious way?
To answer this question, I researched and synthesized the tips presented by three major American firearm organizations: National Shooting Sports Foundation (NSSF), National Rifle Association (NRA), and International Hunter Education Association (IHEA). There is a wide variety of topics under the umbrella of gun safety, but for this blog post I chose to focus on the basic guidelines of safe firearm usage.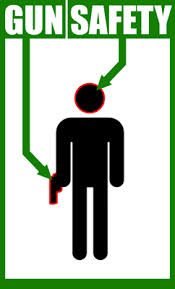 PREPARING TO SHOOT:
Act like the gun is loaded. Guns should always be stored unloaded, but turn the safety off, remove the magazine if present, and prove to yourself that the chamber is empty of ammunition.
Always keep the gun pointed in a safe direction. As NSSF puts it, "A safe direction means that the gun is pointed so that even if it were to go off it would not cause injury or damage."
Never rely on the safety. Don't shoot or recklessly handle a gun with the mindset that the safety will prevent you from causing harm, because:
"The 'safety' on any gun is a mechanical device which, like any such device, can become inoperable at the worst possible time." (NSSF, "Firearms Safety")
You may think the safety is on, when it's actually off!
WHEN SHOOTING:
Only use proper ammunition. Verify with the gun's instruction manual and the labels on the ammunition. Shooting with improper ammunition can destroy a gun, possibly harming the shooter and others around him or her.
Protect ears and eyes. Shooting is loud, and can emit various forms of debris (especially when outside) like twigs, falling shot, or small pieces of clay targets.
Don't touch the trigger until ready. The trigger should not be engaged unless you are absolutely certain that it is safe to shoot at your target and beyond.
Never point at something you don't want to destroy. Be aware of what surrounds your target—what is potentially in the projectile's path?
NSSF cites the National Sporting Goods Association in reporting that "more than 34.5 million Americans participated in at least one of the shooting sports in 2009." (NSSF, "The Writer's Guide") It's great that so many people are engaged in this activity, but each and every one of them should follow these safety tips to ensure an enjoyable shooting experience for all.
Want to learn more about the Cody Firearms Museum? We're on Facebook and Twitter!