Guns of the Week: September 15 – 19, 2014
Unloading the Myth – You can't Always Hit a Home Run
During the Great Depression, the Remington Arms Company marketed this redesigned bolt-action magazine rifle to the U.S. Army. Unfortunately for Remington, the Model 1935 Military Rifle failed to gain traction for these reasons: 1) excess World War I surplus rifles, and 2) the 1920s advent of the M-1 semi-automatic rifle.
This .30-06 caliber firearm was manufactured in Ilion, New York in 1935. After WWI, Remington shut down its Eddystone and Bridgeport Plants. At the Ilion location, they sought to convert the M1917 into a civilian product, which was known as the Model 30. The Model 30 and its variants had modifications that were different from the '17. Overall, the Model 30 did not do well on the market and tanked after the Great Depression. And this is where the 1935 enters the story. Remington then manufactured a Model 1934, which was an improved 1917. They were able to sell that gun on contract with the Honduran army. Remington hoped to piggy back off that success by modifying the 1934 slightly and rebranding it for the U.S. government as the 1935. But the government already had so many left over Model 1917s that they didn't bite.
They encountered more success in 1941 when they started modifying the U.S. Model 1903 rifles chambered for .303 initially and then the .30-06.
Unloading the Myth – Not that Kind of "Brownie"
Mossberg is known in today's industry for their rifles, shotguns and accessories. But the first firearm they produced was a .22 caliber four-barrel pepperbox pistol endearingly called the Brownie. Between 1919 and 1932, O.F. Mossberg & Sons from New Haven, Connecticut produced about 37,000 of these guns.
At first glance, this firearm looks like a slim semi-auto pocket pistol, but when you open the breech, the barrel is actually comprised of four bores that fire individually thanks to a revolving firing pin. In the wake of the success of the Brownie, Mossberg went on to produce an array of .22 caliber rifles and shotguns.
Unloading the Myth – New York State of Mind
The Manhattan Firearms Company was founded by several New Jersey businessmen in 1856. They would later be known for their revolvers, but before that, they were known for single shot pistols and pepperboxes.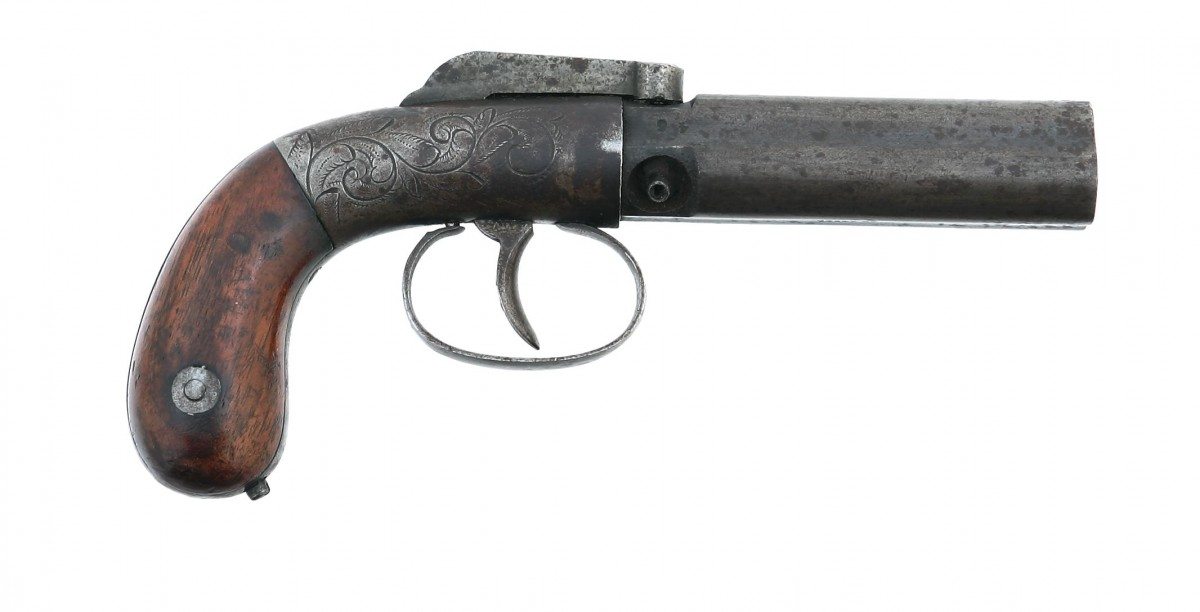 In 1857, Samuel Colt's patents expired, and several companies, including Manhattan, surfaced in order to compete in the revolver market. The company began manufacture in Norwich, Connecticut. Their initial superintendent was Thomas Bacon.
The Manhattan Pepperbox Pistol was manufactured at the Norwich location between 1856 and the late 1850s—about 2500 – 3000 produced. They produced several models, including this three-shot, .28 caliber pepperbox. The three-shot is one of the more rare models of Manhattan pepperboxes.
In 1859, the manufacturing building was moved to Newark, New Jersey. While their firearms were never produced in New York, the company itself was incorporated there.
Don't forget to check out our Facebook and Twitter pages