It is always an exciting time when artists in our permanent collection make the trip out to Cody to come see us. This past weekend I had the pleasure of meeting Jared Sanders and his wife Paula. Jared's painting, Landmark, 2013, came into our collection last year and now hangs in our Contemporary West section of the gallery, which celebrates living artists' depictions of today's West.
For the Whitney, Landmark, is an important painting that bridges the artistic divide between realism and abstraction. Sanders presents the viewer with easily digestible geometric forms. His simple structure and defined landscape offer immediately identifiable points of interest for the viewer. The sense of comfort, familiarity, and understanding with the work allows the artist the freedom to create abstraction within these realistic frames of reference.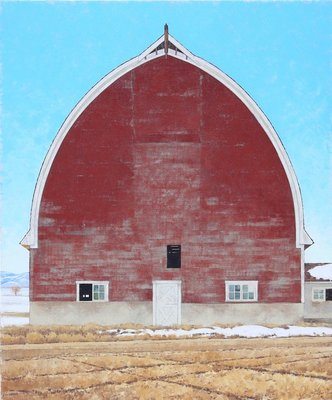 For instance, though Sanders creates some sense of depth with the placement of the field in the foreground, the shape of the barn itself is essentially flat, without volume. Depth comes into play through the artist's rendering of mud and dust on the face of the barn. The weathered pattern creates shape, texture, volume, and age. The windows come alive through his play of whites and darks, creating boxes of light that draw the eye to and through the barn to its very recesses.
To find these relics of the landscape, Jared and Paula take trips across the West—Utah especially—in the search for barns in various states of care. Landmark features a working barn near Logan, Utah, during the winter thaw. By leaving out all the elements of human and animal use, Sanders creates a timeless composition that says more about the artist's own vision of a landmark, than the barn itself does.