Photograph, Gertrude Vanderbilt Whitney with her Buffalo Bill – The Scout sculpture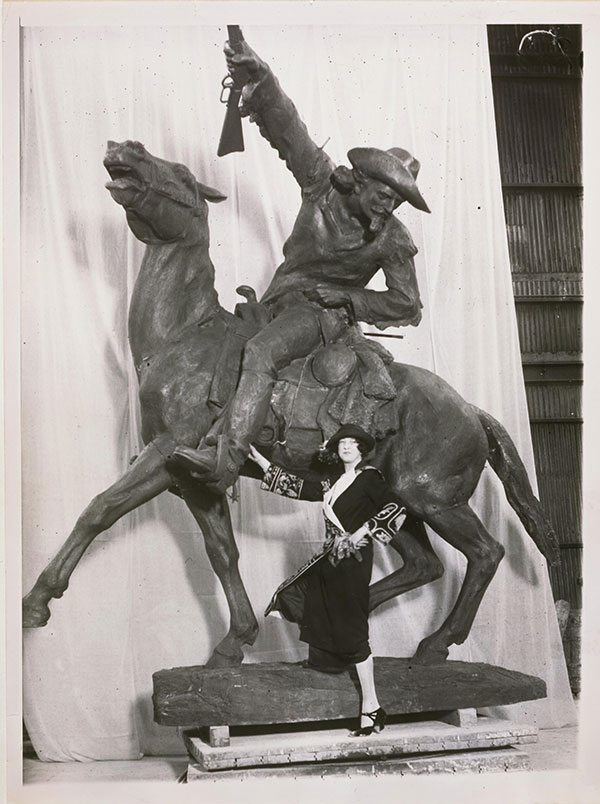 When the townsfolk of Cody, Wyoming, set about creating a monument to their namesake, William F. "Buffalo Bill" Cody, they chose Gertrude Vanderbilt Whitney (1875 – 1942), a New York sculptor who hailed from the wealthy Vanderbilt family. She was commissioned to produce the monumental Buffalo Bill – The Scout, considered the cornerstone of the Whitney Gallery of Western Art [now the Whitney Western Art Museum] collection, which still stands on the very spot where it was installed in 1924, just north of the Buffalo Bill Center of the West. Thus began a long relationship with the Whitney family.
No doubt inspired by his mother's Scout—and his own admiration of Buffalo Bill—Cornelius Vanderbilt Whitney donated the funds for a new western fine arts museum in Cody "on the fringe of the Rocky Mountains." In 1959, the new Whitney Gallery of Western Art was born; on June 21, 2009, it celebrated its fiftieth anniversary.
Here, Gertrude Vanderbilt Whitney stands before her monumental Buffalo Bill – The Scout, ca. 1923. Original Buffalo Bill Museum Collection. P.69.185