Originally featured in Points West in Summer 2010
Mixed media sculpture, Spirit House—Heart Mountain 1942 by Peter Jacobs, 2006
Colorado artist Peter Jacobs (b. 1939) collaborated with William Hosokawa, a Japanese-American journalist and author, to create Spirit House—Heart Mountain 1942. Hosokawa (1915 – 2007) was detained at the Heart Mountain Relocation Center near Powell, Wyoming, during World War II, an experience that stayed with him for the rest of his life. More than sixty years later, he worked with Jacobs to create a powerful artwork based on that place and event.
Jacobs' work depicts a wooden camp building balanced on a tall base. The base, wrapped with barbed wire, symbolizes confinement and hardship. A tar paper silhouette of Heart Mountain covers the sides of the structure, along with English and Japanese graffiti with messages of courage and pleas for help. Branches on the roof signify nature slowly reclaiming and purifying the structure as time passes. White prayer flags on the branches bestow prayers and good wishes for goodness and justice.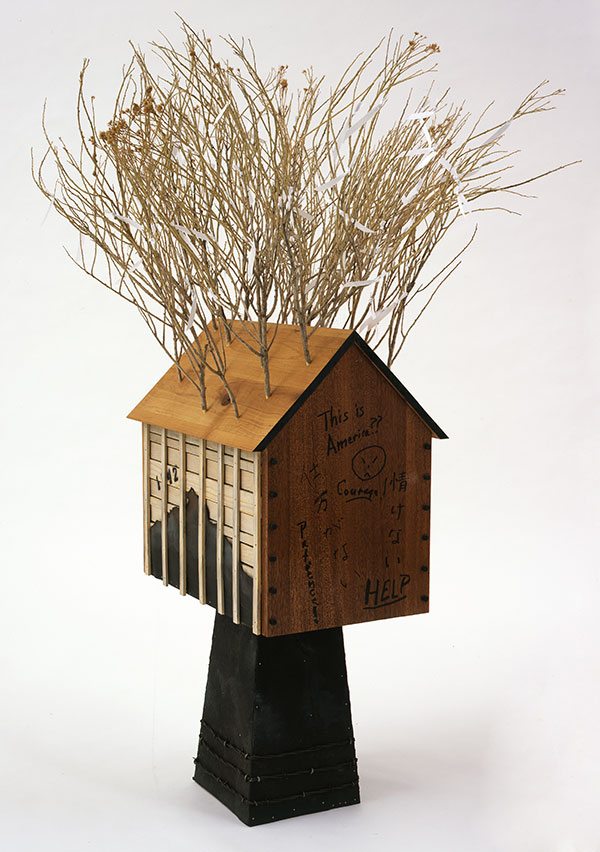 Jacobs brings attention to the story of 10,767 people who stayed at Heart Mountain Relocation Center and the 120,000 Japanese-Americans interned throughout the United States. The artist encourages viewers to remember this event in American history so that it may never happen again.
Peter Jacobs (b. 1939). Spirit House—Heart Mountain 1942, 2006. Mixed media, 38 x 14.5 x 18.75 inches. Gift of the artist. 6.06
Post 040