Treasures from Our West
Multi-bladed folding knife
Smithsonian's National Firearms Collection
Although this object is not in our own collection, it is indeed a treasure. At the time this post was published, it was on loan to the Buffalo Bill Center of the West's Cody Firearms Museum with 63 other objects from the Smithsonian's National Museum of American History. This knife from the National Firearms Collection was part of the special exhibition Journeying West: Distinctive Firearms from the Smithsonian.
Often described as "the Mother of all Swiss Army knives," it was actually made by the John S. Holler Company of Germany around 1880. It measures more than 9 inches long by 3.5 inches wide and thick. Created to be displayed and not carried (and you thought that new iPhone was a bit large for a pocket), knives such as this one were difficult to make, so were only attempted by the firms with the most skilled artisans. In the nineteenth century, items like this might have been seen at fairs and industrial expositions.
This particular knife was used for show in the Holler company's cutlery store in New York City, where it highlighted the fine craftsmanship available to customers. Its workmanship and complexity makes it one of the best examples of the cutler's art. At the time, German firms were trying to establish themselves in the American market, then dominated by Sheffield, England, firms.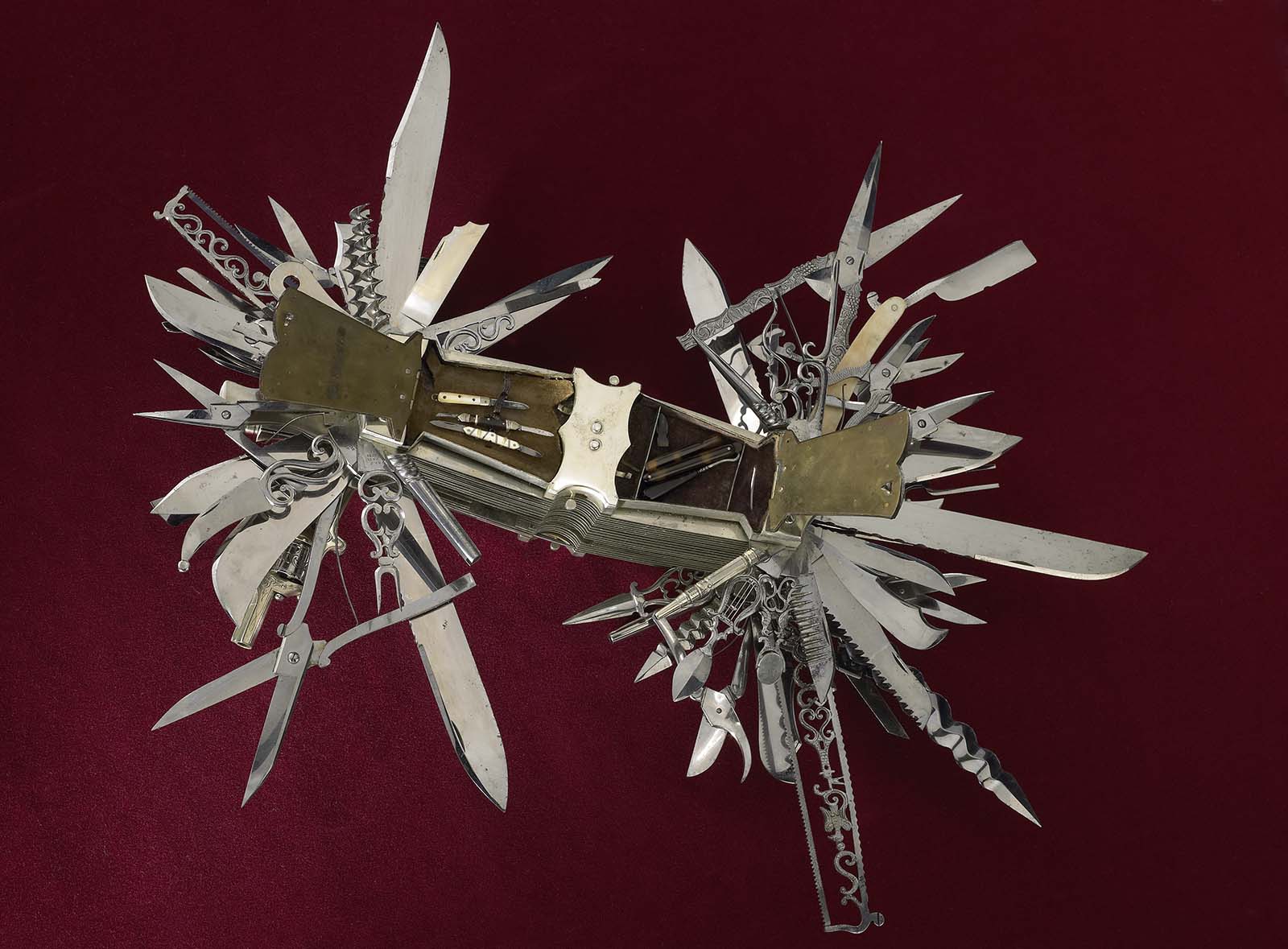 Why would this knife, impressive as it is, appear in an exhibition of rare and significant firearms, you ask? Because among its one hundred blades and utensils is a tiny .22 caliber, five-shot, pinfire revolver. Spot it near the scissors toward the bottom left. Some of the other interesting finds on the knife: pocket knife blades of every style imaginable, a serrated blade, two dagger blades, several different types of shears and scissors, an auger, a corkscrew, two saws, a lancet, button hook, cigar cutter, tuning fork, pens and mechanical pencils, a mirror, and a straight razor. Why no bottle opener as Swiss Army knife aficionados would expect? The bottle cap as we know it today wasn't invented until 1892.
Please note, the Journeying West exhibition has closed, and the objects returned to the Smithsonian.
Click here to see the National Museum of American History's record on the knife.
Multi-bladed folding knife with .22 caliber pistol, c. 1880. Made by John S. Holler Company, Germany. Smithsonian Institution, National Museum of American History, Kenneth E. Behring Center. L.373.2012.5