A man saddles up his horse and rides over to the museum to donate an object. The object is not a painting or a bronze, but the saddle itself. When does a functional item become a museum item? Perhaps it is the moment that the museum staff removes a saddle from a horse in their clean white gloves and walks it through the doors. Although a true story, that is not the actual history for the saddles we're working on in the conservation lab right now. But the general idea is the same.
Currently the conservation interns are cleaning a saddle that belonged to William F. Cody ("Buffalo Bill"). This saddle was well-used before anyone ever thought Buffalo Bill's personal effects were worth preserving. Although in theory this object can still be operational, its integrity is more valuable than its function. Once in the (figurative) hands of a conservator, the care of this kind of object is vastly different than the care it would receive in the outside world. Typically owners of saddles would "feed" the leather with oils or waxes in order to maintain its suppleness. However, in a museum environment, flexibility is not a concern. Furthermore, the stability of proprietary lubricants is not well understood and they do not adhere to the conservator's rules of reversibility (Dirksen 1997). Restoration efforts will not be made on this saddle either to show the evident use of the object. This is also true of the other saddle that is in our lab, but in a more discrete way.
This California mission saddle was used much more infrequently than Cody's saddle. This saddle is clearly a show saddle and was used on only special occasions. Although wear can be seen upon close inspection, the most interesting sign of its use is the horse hair present on the underside of the blanket. This might be something that would be quickly removed by its original owner to keep it clean, but in a museum environment it is a trace of its past function. In the lab we will probably leave the hair, as it will not harm the blanket, and we will bag a sample for the use of future researchers. (To learn more about the treatment of these saddles please refer to the blogpost: "Spit Cleaning: Conservation's Dirty Little Secret)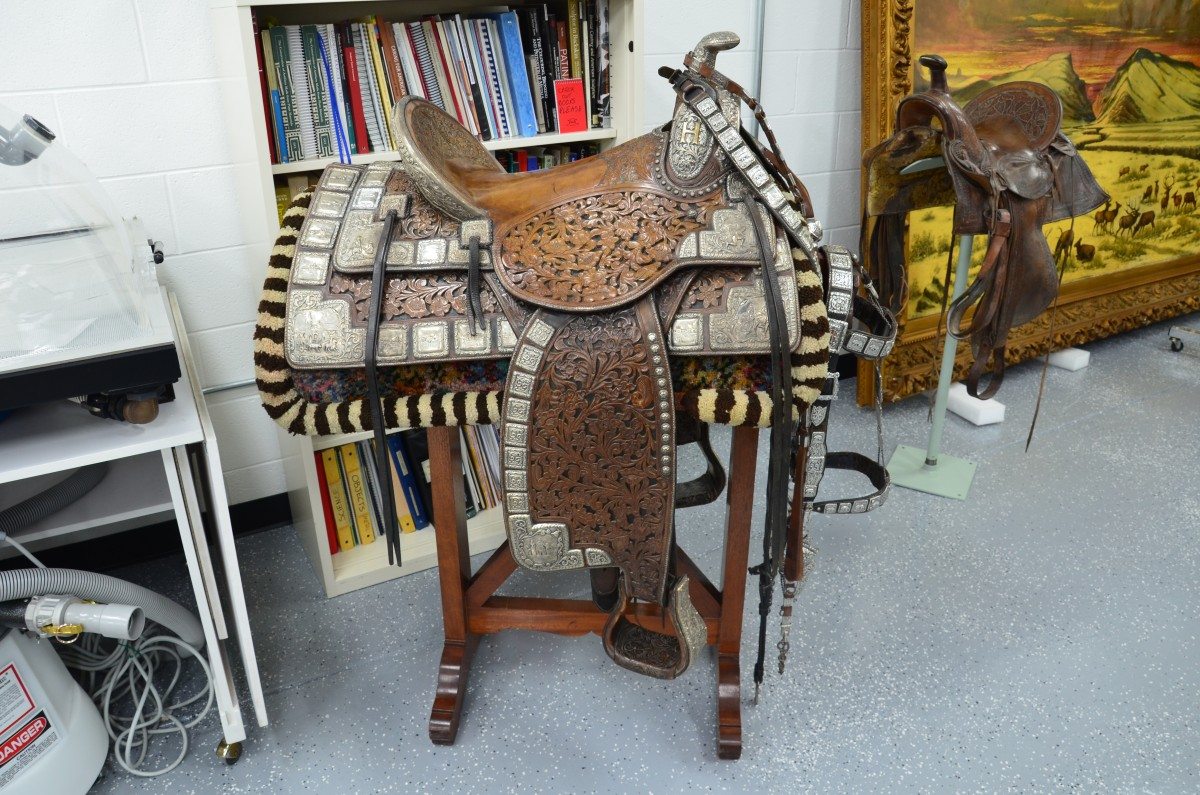 In the lab we also have a pair of tanned deerhide gauntlets worn by Buffalo Bill. These gloves exhibit native Crow beadwork. Again, the dirt and grime present on the palms indicate that these were once functional. It is important to note that once evidence of purpose is removed it cannot be reinstated. So if we were to clean these gauntlets to their perfect pristine state, data describing the original use would also be lost. However, some of the beadwork has become loose and shall be consolidated to prevent loss of material.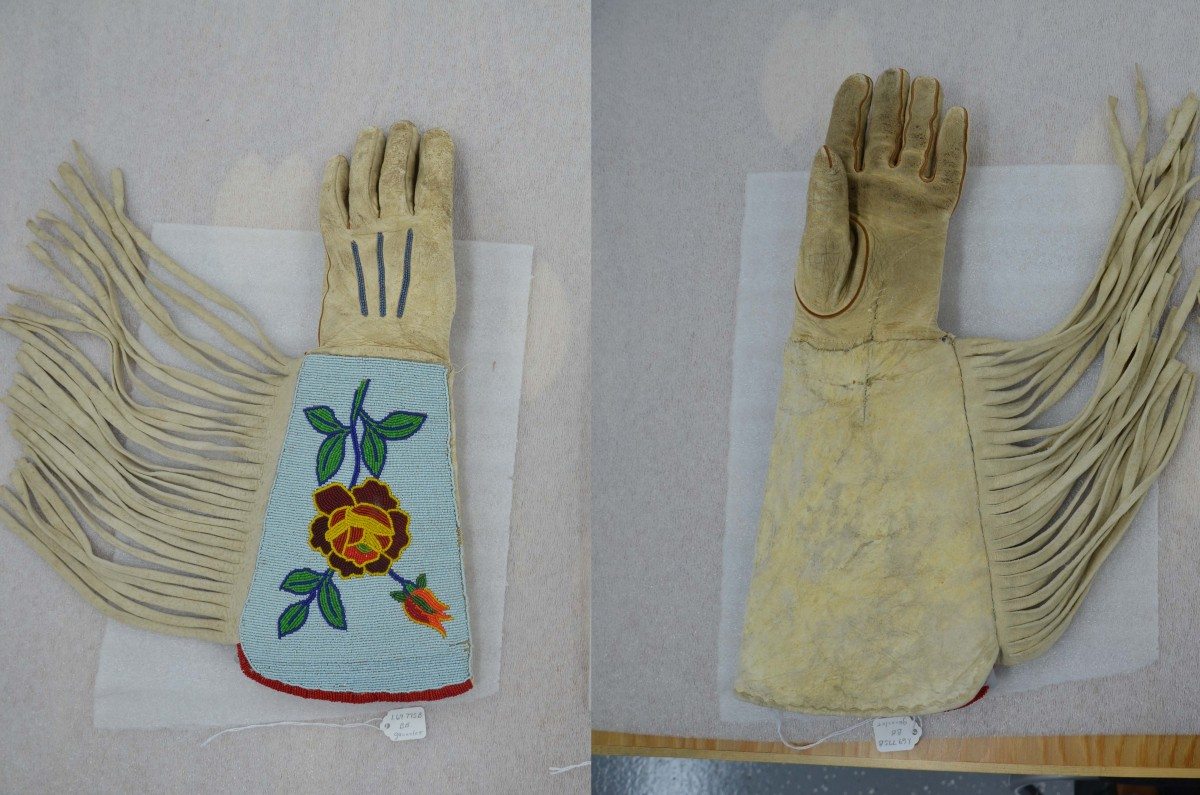 In museums, such as those that present fine art paintings, there is little confusion about what is a museum object. But in a collection such as those of our Buffalo Bill Museum or the Plains Indian Museum, the distinction is blurred. Careful consideration must be made to determine the action, if any, to be taken on these kinds of items in a conservation lab.
---
Dirksen, V. 1997 "The Degredation and Conservation of Leather" Journal of Conservation & Museum Studies, No. 3 http://cool.conservation-us.org/jcms/issue3/dirksen.html#ref14