The yearlong National Park Service 100th anniversary—officially taking place on August 25, 2016—is celebrated daily at the Buffalo Bill Center of the West. The adventurous spirit of the National Park Service is woven throughout each of the Center of the West's five museums. In fact, many travelers find that the Center is the perfect place to kick off their own sight-seeing expeditions in Yellowstone National Park.
In addition to the National Park Service 100th anniversary, the Center's own centennial also takes place next year! While the Center celebrates Yellowstone's beauty within its museums, it also celebrates 100 years of providing an authentic American West experience, as well as a window into the stirring scenes of the past.
Whether visitors are interested in learning about the wildlife and ecology of Yellowstone in the Draper Natural History Museum, or viewing the paintings of Old Faithful's unmatched beauty in the Whitney Western Art Museum, there is something to interest everyone.
The essence of the National Park Service can be experienced through four current exhibitions that celebrate Yellowstone's vast beauty. These exhibitions include Invisible Boundaries: Exploring Yellowstone's Great Animal Migrations, Inspiring Sights: Yellowstone through Artists' Eyes, Putting Yellowstone on the Map, and Yellowstone Discovered.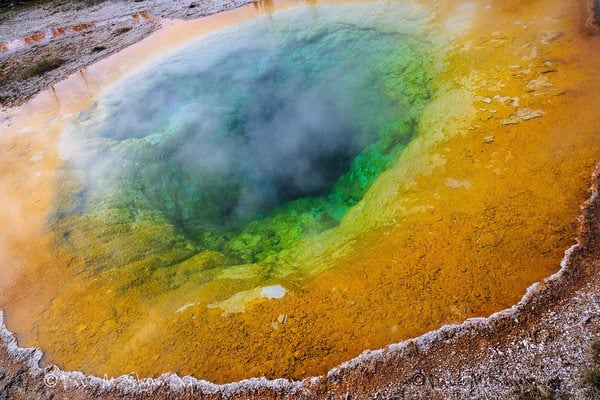 The Inspiring Sights exhibition in the Whitney Western Art Museum is only one part of the Center that illustrates the importance of the National Park Service's preservation of Yellowstone, so travelers have the opportunity to witness, for themselves, the Park's breathtaking attractions. The artwork displayed in the Whitney represents the stunning wildlife and landscapes of the Park, such as the Morning Glory Pool, which is pictured above. To view more of Shumway's Yellowstone photography, click here!
Karen McWhorter, the Center's Scarlett Curator of Western American Art, notes, "This exhibition encourages visitors to view the world's first national park through the eyes of artists who've been inspired by its wild beauty."
To learn more about the National Park Service 100th anniversary, click here!
Also, don't forget to visit centerofthewest.org/calendar/ in order to keep up with our latest lectures, activities, and field trips.