Note: This article was originally featured in the 1978 edition of a Buffalo Bill Center of the West (formerly known as Buffalo Bill Historical Center) winter newsletter and is authored by Ron Peister, former Museum Store Manager and teacher of Annie Oakley history.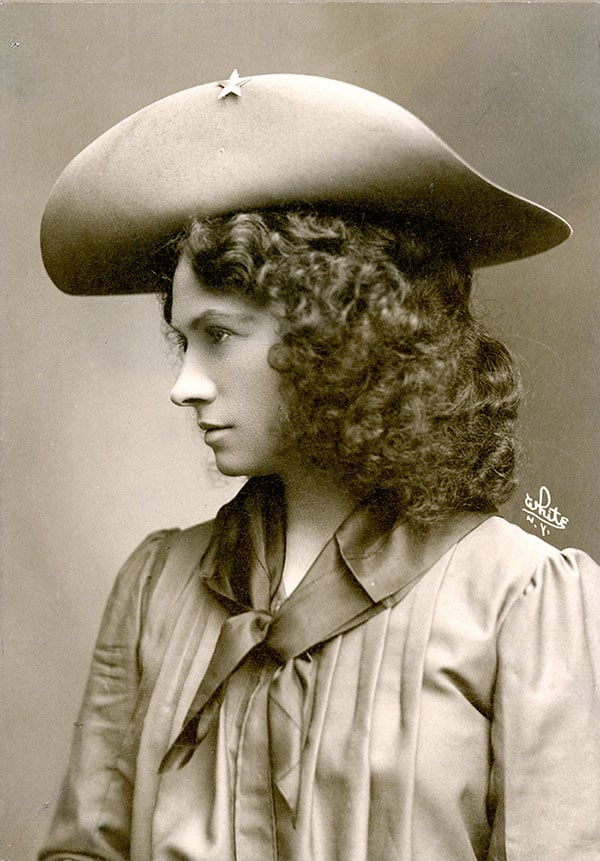 Annie Oakley is still known the world over for her shooting skills and, thanks to the musical, "Annie Get your Gun," her marriage to another sharpshooter, Frank Butler, is also well known.
Annie and Frank first met as competitors. The occasion was a trap shoot arranged at a local shooting club in Cincinnati as a contest between the two. Annie, at that time a 15 year old girl on her first trip to a large city, was shooting against a man who was ten years her senior and part of a sharpshooting act playing at a local theater.
Frank Butler broke 24 of 25 clay pigeons, but Annie broke 25 of 25 and won the $50 stake put up by the promoters of the match. Annie was so flustered after the match at having beaten a professional sharpshooter that she forgot his name and called him "Jimmy." This mistake gave Annie a pet name for Frank Butler which she used throughout their lifetimes. They were married a few months after the contest on June 22, 1876.
Phoebe Anna Moses was Annie Oakley's name at birth. In childhood, her sisters gave her the name of "Annie," disdaining the use of her given first name and changing the second to suit themselves.
"Oakley" was chosen by Annie as a stage name, but the reason for the selection is unclear. Some say it was taken from a beautiful suburb of Cincinnati or simply picked at random because Annie liked the sound. It might have also been an old family name on her mother's side. There is evidence that her original last name had caused her some grief as a child because of taunts from her schoolmates concerning the name which was used in a popular derogatory verse of the time.
"Frank and Annie" or "Jimmy and Phoebe," the names were not as important as their shooting showmanship. During the first years of their
marriage, Frank and Annie began traveling, and Annie gradually worked into the sharpshooting acts, always improving and adding to her repertoire of shooting tricks. As the Butler and Oakley show gained fame and moved on to better shows, Annie became the star while Frank relegated himself to a secondary shooting role, then dropped out of the act to become Annie's manager. They spend seventeen seasons with Buffalo Bill's Wild West, and Annie became one of the best known show business women of the nineteenth century.
Although Annie and Frank were seldom apart during their lives, when Annie died in Greenville, Ohio, on November 3, 1926, Frank was in Detroit on business. In the same month and year, a half century after their wedding, Frank also died, just 20 days after Annie's death. The famous lady and her husband were both buried in Brock, Ohio.
The Buffalo Bill Center of the West [formerly known as the Buffalo Bill Historical Center] is fortunate to have a fine display of Annie Oakley memorabilia located in the Buffalo Bill Museum.